So Cindy and I have decided we are going to be postponing our planned short road trip that was supposed to happen next week.  There are a few reasons for the cancellation.  The last race I am timing is at the end of the month, a few days after we were scheduled to get back.  I would feel better being around the week leading up to the event to make sure everything gets handled smoothly.  With Cindy's daughter sort of living with us there are more potential unsettled waters ahead the next few weeks.  I would feel better being around to handle whatever comes up.  Finally, my dad and step mom are supposed to be coming down for a week in early October so that will be a lot of fun by itself.
Sure it's a bit of a bummer not having a road trip on the docket for 2016 after the monster 6600 mile journey last year followed by the holiday visit to NYC.  Seeing all the blog posts from last year's road trip popping up on the YEAR AGO sidebar of the blog has made me feel further nostalgia. We have logged a couple weekend ComicCon trips this year but we have not crossed any state borders as of now.  If we don't hit the road this year it won't be the end of the world but we definitely will be hitting it next year, hopefully executing the northeast route I was thinking about originally.
I still plan to take those days off, using some of that time and money on a staycation which will include getting some stuff around the homestead knocked out.  We might mix a fun daytrip into the mix as well. It's all good.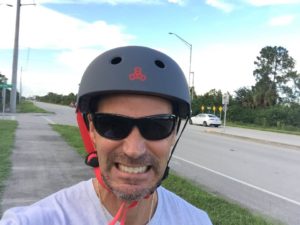 Tonight if it's not raining I have an interesting/long ride on the Ninebot One planned.  I want to do a one way ride to the gym Cindy works at, somewhere around a 9 mile hike.  She is teaching a class from 6-7 so I figure I will ride there and hitch a ride home afterward.  I am hoping I can avoid the low power tiltback problems that dumped me off the bot a couple weeks ago.  I shouldn't be riding into a stiff headwind this time so I expect things to go smoother.