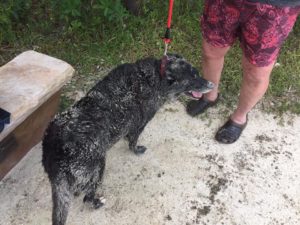 Last night we again chilled at the house.  I rented The Infiltrator starring Bryan Cranston.  I am now of the belief that any movie he has a major role in will be a good film.  Infiltrator proved my theory correct, unlike Logan's Run, it was a quality flick from start to end.  I think my dad actually liked it, a rare thing. I'd give it an A-.
Cindy and my step mom were up early and out the door around 7 for their quick two day visit to Key West.  Cindy was toying with the idea of taking the Segways to cover a lot more ground with but decided against it.  I got a text around lunch that they had arrived safely.  I am sure they are having a lot of fun exploring.
I was out the door relatively early as well, meeting up with my timer buddy John to drop off my timing hardware that he will be using for a few events.  I was happy to let him borrow it as it gives me a preview of the extra space in the house I will reclaim once all of the timing related stuff has been sold.  On the way home I stopped at the county recycling center to drop off my AV equipment that was fried from the surge.
Dad and I decided it would be fun to take Maggie and Clara to the dog beach.  On the way there we stopped at Tijuana Flats for lunch, enjoying it at their small outside seating area.  I had not been to the dog beach in a couple years, I was surprised by how much the shoreline had changed since my last visit.  The beach during low tide used to be relatively wide.  It has almost become entirely consumed by mangrove growth.  To get to the main beach area you have to walk through a narrow path in the middle of a mangrove clump.  It's sort of nuts.
The dogs wasted little time before heading into the water.  Clara, who normally is not a fan of water had no problems getting wet, she was running around having a great time.  Dad found a stick for Maggie that she retrieved time and time again as dad threw it into progressively deeper water, loving every second of it.  There were a lot of people and dogs there, I was surprised that there were no real fights between the dogs. Everyone just got along.
Eventually we had to chill out with the stick throwing, Maggie would literally go until she dropped if you let her.  We sat on the shore and chilled out for a little while and tried to get the dogs to drink some water which we were only mildly successful at.  We packed up after maybe a little more than an hour at the beach, it was definitely long enough.  The funniest moment of the trip came after we had just finished hosing down Maggie.  Dad wasn't paying close attention to her.  In the span of a few seconds she managed to roll around in the sand, turning herself into a corn dog.  We gave her a second hosing, making sure to keep her upright the second time around.  I was quite glad we took dad's Subaru instead of my truck as the inside of it resembles a wet sand box right about now.
Tonight we plan to go to a nearby sports bar for dinner and to chill.  I feel somewhat bad that there has been no extensive touring of southwest Florida during the visit but it seems like dad really is content getting more relaxing time over on the go sight seeing.  He has been here enough that he has seen most of the typical tourist destinations in our immediate area. It's all good with me as I can use some down time as well.