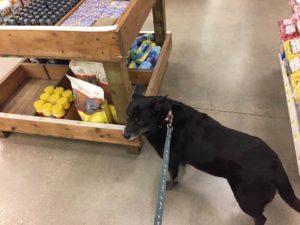 The weather for most of this weekend was odd for Florida with mostly overcast skies that looked like rain yet yielded little more than a few sprinkles.   At least the cloud cover kept the temperatures down although the humidity level was not nearly as pleasant as last week. I did some normal yard work in the morning before Cindy and I took Sadie for a ride to one of her favorite places, Rural King.
Later in the afternoon Cindy and I went out for a ride on our wheels in Valencia Lakes, a nearby development.  While we were in there we tracked down the house of our friend Kerri  who we know from the running club.  Her and her son watched our chickens for us during our road trip last year.  We hadn't see her in quite awhile so it was nice to catch up.
Saturday night we headed to the movies for the first time in a few weeks to see Inferno, the third movie based on a Dan Brown book.  I have read all of his books, including Inferno a year or two ago.  I enjoy his writing style as well the subject matter that walks on the edge of controversial subjects like the hypocrisy of religion.  Inferno, is based on another controversial subject, explosive human population growth and the brick wall it is hurdling us towards at a rapid pace.
The first two thirds of the movie seemed to follow what I remembered from the book pretty faithfully however the last third felt foreign with a number of things that I did not remember happening.  I was not sure if I was just suffering from poor recollection of the book details or if they did make some wholesale changes.  Well the answer is somewhere in the middle.  After the movie Cindy looked it up and there were a number of deviations from the book including a very major one.  I almost felt like I needed to go back and reread the last 50 pages of the book to see just how poor my recollection was.  Anyway, my spending the last third of the movie reconciling between the book and film may have affected my overall enjoyment of the movie.  I'll give it a B+ although in reality I am feeling more B'ish about the whole thing.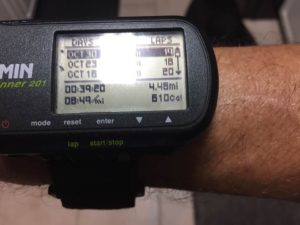 Despite getting home late from the movie I woke up before the 6AM alarm to get up and run.  I felt exhausted but compelled to keep up with the minimal once a week running program.  I got out on the track about 15 minutes earlier than normal meaning it was literally pitch black when I started.  I like that by the time other people start showing up I am nearly finished.  Despite nearly 20 degree warmer temperatures and higher humidity than last week I turned in what I think was my fastest run of 2016.
Katie came over mid-morning to join us on what is becoming our traditional Sunday morning family ride on the Segways.  We decided to take her to North Collier Regional Park, a spot Cindy and I have rode before.  Not only is it a great spot to ride but they also had early voting available so Cindy and Katie could take advantage of it since neither had voted yet. This was actually the first time Katie had ever voted so it was cool to be there for her first time.  With as long as the ballot is, I can only imagine how long the lines will be on election day.  If you live in Florida and don't take advantage of early voting you are crazy.
We had a fun ride after that although Katie had a few near falls.  The Segway Minipros are very stable normally but they do have the same tilt back mechanism that my EUC does in order to limit rider speed.  Basically when you cross 11mph the unit will start tilting you back, slowly at first and then more if the speed is still too high after a couple seconds.  Twice Katie got hammered with severe tilt back that took her off the path although she didn't fall off.
The tilt back safety feature is really a catch 22.  Once the rear tilt reaches a certain angle your natural reaction is to lean forward to keep on top of the bot.  The forward lean is interpreted by the wheel as you wanting to go even faster so it tilts you back even harder.  The best way to deal with it is to just not go into tilt back speed area.  Katie had one more near crash incident when she squeezed between a parking stop and curb and got one wheel up on the curb in the process.  I'm not sure how she avoided falling that time but it made me think a helmet and wrist guards would be a good addition to both of the girls riding attire.
One of the things I like about the new wheel I am getting (arrives today) is the tilt back behavior can be customized.  The higher speed capability of the wheel should make tilt back a thing of the past as I don't intend to run it out to it's top end speed.  25+ mph on a unicycle is a bit crazy.
Sunday afternoon Cindy and I took Sadie along to Home Depot to get a couple things including a nice yard wagon that will make transporting things to the back yard not necessarily require a trip through the gate with the Tacoma.  We also bought an inexpensive Thanksgiving themed inflatable for the front yard, hoping to build off the popularity of our big red spider.
I got to play a lot of WoW Sunday afternoon which I enjoyed.  I literally have a mountain of virtual things to do in game if I chose to do so.  So far I have been echoing the feelings of other players regarding the new expansion that launched a month or so ago, it's really good.  So far I have only touched two of my eleven characters.  There is just so much to see and do.
So of course I tuned in for the Eagles/Cowboys game.  I am not sure why I am feeling so negative about the loss today as going in I thought the Birds didn't have a great shot to win.  I guess it's because the Eagles played well enough to win and had a 10 point lead early in the fourth quarter that they gave away.  I was not very happy pushing my waking hours to midnight (considering I got up before 6) just to see the defense collapse, allowing the Cowboys to score a TD on their first possession, easily. So before I start naming names and pointing fingers, let me once again say that I did not expect the Eagles to be good this year, so the fact that they have been doing better than expected is not lost on me.
Ok, Carson Wentz completed something like 32 passes but only threw for a little over 200 yards?  When has that ever happened?  The dink and dunk passing attack was a bit maddening and a testament to just how mediocre the Eagles wide receivers are.  They scare no one.  There is no deep threat on the team.  You would think normally that a lack of speed would at least be countered by sure handedness?  F no, these guys routinely drop easily catchable balls.  Last night another four or five balls hit receivers in their hands and wound up on the ground.  If the team had a true number one caliber wide receiver I think it would make a huge difference.
The Eagles cornerbacks blow, especially Mills.  I am so sick of watching him get burned or penalized repeatedly and then wagging his finger when someone assigned to him doesn't catch a ball, through nothing he did well.  I mean he wags his finger if the ball is uncatchable, like he did something significant.  Stop with all the gesturing and just play better.  I still don't understand how a 7th round rookie draft pick is a starting corner for the team but oh well.  He also fell asleep at the wheel on special teams, allowing the Cowboy punter to run for a soul crushing 30 yard scamper.  You suck buddy, leave the taunting and gesturing to the guys that actually make plays.
Fletcher Cox, what the hell dude?  I recall during the tumultuous Eagles off season that I asked why in the world the team thought Fletcher Cox deserved to be the highest paid non-QB player in the NFL?  His stats were good, not great, and certainly not deserving of such ridiculous wads of cash in my opinion.  Well he has basically been a ghost this season doing nothing well unless you count  getting blocked or falling down as positives.  I focused on him during several series and he really looked like he was going through the motions with no motor at all.   He was an absolute non-factor once again last night.  That was definitely money ill spent.
Doug Pederson, the kicker made a 55 yard field goal not once, but twice at the end of the first half after the Cowboys called a time out to ice him.  When you have a slightly shorter FG opportunity late in the game to make it a two score game you instead punt it away which resulted in the Cowboys immediately marching down the field and scoring?  That was my first coaching wtf I had so far with Pederson this year, hopefully there aren't a lot more of them. So ok, rant over, it felt good to get it out my system.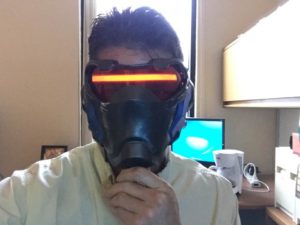 Tonight for Halloween I totally expect to get zero trick or treaters, just like every year for more than decade.  Just in case we have a small bag of candy ready to go although I am sure Cindy and I will be the ultimate consumers of it.
Like I mentioned above my new MSuper electric unicycle is arriving a day or two earlier than I expected which is an awesome surprise.  I can hardly wait to give it a go.