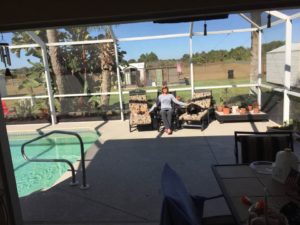 The weather this weekend was great with cool, crisp air most of the time.   It was good weather for dogs to play. On Friday Sadie, Elsa, and the neighbor's puppy Shadow had a rigorous play session.  The end result of it was Sadie walking around with a severe limp Friday night.  She gets excited and tries to run around like she weighs 20 pounds less than she does, which usually results in her hurting herself.  Luckily Saturday morning the limp was less severe but we tried to limit her running the rest of the weekend with some limited success.
It felt weird that as I was completing chores outside Saturday morning that the final race I was contracted to time was going on.  My timer buddy John had offered to time the race for me in a barter arrangement which was fine with me.  With the completion of the event my plate is officially cleared of Green Machine Timing business.  I have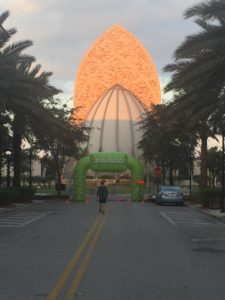 sold almost all of the equipment already and feel no regret in doing so.  The motivation I had for starting GMT was fueled by a lot of "f u" energy that has faded over time.  With that change along with the lack of financial pressure to supplement my income, it just feels good to let it all go.
Saturday afternoon we took the dogs on their first tandem road trip, hitting up Rural King and Home Depot.  It was weird that we just randomly met Elsa unexpectedly a week prior at Rural King and a week later she was living in our home.  Both dogs behaved well as we walked around the stores.
I was hoping to get out on my electric unicycle early in the afternoon since I hardly had any ride time during the week due to lack of daylight and other time commitments.  However I wound up getting sidetracked for over two hours working on a computer problem.  For some reason Windows file explorer kept crashing whenever I did anything that required browsing the file system.  There had been no major changes recently so I had no idea why the behavior would start all of a sudden.  I looked the problem up online and saw three possible remedies, I tried them all and none of them worked.  I even went so far as to do a system restore from Wednesday, still no dice.
I then logged on as a different user and saw explorer was working just fine so at least it meant my problem was profile specific and not system wide.  I decided to back up my documents and data and blow away my profile to start a new one.  Doing so fixed my problem but then required me to do a lot of tweaking to get things in the new profile working correctly.  I was quite frustrated by the entire process.
I finally got out on my wheel around 4PM.  I drove to the Target shopping center and parked there.  I then rode the 10K big loop that surrounds the North Collier Regional Park.  I entered the park as part of the ride and tooled around for awhile.  During the ride I rambled on about a bunch of various topics you may or may not find interesting.
On Saturday night we stayed in and watched Concussion, the movie Will Smith felt he deserved an Oscar nomination for.  It was an interesting movie that dealt with just how horrible the side effects of repetitive head trauma can be.  There were a number of players named in the film that died/killed themselves as a result.  The only two I was aware of before the movie were Mike Webster and Junior Seau.  I was shocked and amazed that I didn't know the infamous Eagles safety from the Buddy Ryan years, Andre Waters, was another player that took his own life after battles with mental illness.  The film, although slow at times, does make me look at the only professional sport that I actively root for differently. B+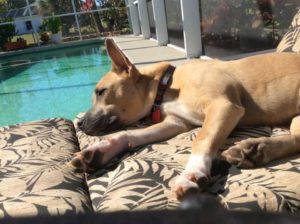 So overall, Elsa has been pretty easy to merge into our daily routine except for one thing, house breaking.  A handful of times she has done number one and two in the house which I guess is expected, however the way it has been happening is a bit maddening.  Twice she has taken a dump in the dining room literally minutes after we just had her outside to go to the bathroom.  Last night Cindy was walking her around out front for a good 10 minutes to avoid this exact scenario.  She did nothing outdoors and promptly shit in the exact same spot in the dining room a few minutes after coming back inside.  Obviously this behavior needs to be corrected but other than that, she has been an ideal addition.
Sunday morning I got out for another 4+ mile run.  The temperature actually dropped 5 degrees between me arriving at the track and leaving.  Some cool air was blowing into town.  The run was challenging as the incoming cool air meant that half of every lap I was running into a pretty stiff headwind.
Katie and her boyfriend were unable to join is for our Sunday morning PTV ride because they had to run their dog to the vet.  Cindy and I wound up riding around the Barron Collier high school area for maybe 5 miles or so.  Riding in the cool air required a sweatshirt but it still felt great.
After the ride we stopped at Bed, Bath, and Beyond.  Their ad had a cool Christmas LED projector that I wanted to enhance our 2016 X-mas display.  The projector literally blankets the front of your house with clear laser red and green images that cycle and move.  We tried it out last night, it is coooool.
Katie and Daniel must really enjoy our Sunday rides, they asked if we could still go out Sunday afternoon, after they got back from the vet.  The Eagles didn't play until 4:30 so I was fine with it.  We went back to the middle school I run at since they had closed in basketball courts that would be good for unicycle training.  At this point Daniel had the basics mastered, Katie was now the one trying to get up and rolling on one wheel.
She had very early success, being able to ride from one side of the basketball court to the other.  Within 15 minutes of that it had "clicked" for her.  She was rolling along impressively, turning, starting, and stopping at a level that took me several weeks to achieve.  It was another testament to the power of youth.  She quickly got to the point where she was maxxing out the speed of the training wheel which was tilting her back hard.  We had her get on the Ninebot One which she again quickly adapted to.  It was amazing.  She did have a wipe out that ended her riding session.  I didn't see the whole fall but I think she ran off the edge of the asphalt momentarily.  Luckily she was wearing the new safety equipment we had bought for her so she escaped without any serious injuries.    I was very impressed with her progress.  Both her and Daniel picked up the skill much faster than I ever would have expected.
So that Eagles game was pretty brutal to watch, the Seahawks really did a good job of putting a spotlight on the Eagles weaknesses like their corner backs and wide receivers whom are both below average, at best.   Carson Wentz had his worst game of the season.  His numbers look better than they really were from junk yards at the end once the Seahawks went into prevent.  To add injury to insult, the top two Eagles running backs, Ryan Matthew and Darren Sproles left the game with injuries.  It was just a depressing game to watch and was a reality check for the team.  Although the Eagles are better than expected this year, they have several key problems that will prevent them from becoming a contender.