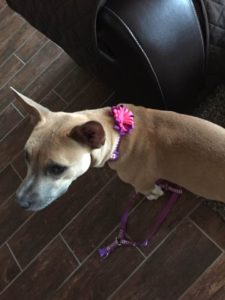 So now after having Elsa in the house for around two weeks we have both been getting more used to each other.  She is just extremely cute and seems very happy in her new home.  However neither Cindy or I have been able to figure out why she is so skittish in some situations.  We wonder if there was something about her old living situation that created this fear or if it's just the way she is.  Anyway, we will keep just smothering her with love and hope it eases whatever worries she has.
So I stayed up to watch the Eagles game although I flipped it off with about six minutes left, knowing the team was going nowhere.  It was a very frustrating game to watch.  The defense appeared to have no answers for Aaron Rodgers, he picked them apart masterfully.  The Packers converted something ridiculous like 10 of 12 third down conversions.  The few times the Eagles did actually stop them they committed stupid penalties to let the Packers move the chains anyway.
The front four of the Eagles just did not get the job done.  Fletcher Cox who for some reason was deemed worthy of being awarded the highest non-QB contract in the off season has been the biggest disappointment of all.  He has 4 sacks this season, the last one coming during the loss at Detroit. Yes, that was SEVEN games ago.  You never hear his name called for making a play.  The only time I heard his name last night was when he allowed the Packers to extend another drive with a 3rd down roughing the passer call.  He is a rancid, stinking example of a player getting the big money and then laying an egg.  His play has been very disappointing.
Carson Wentz had another sub-par game.  Of course it is not entirely his fault.  The Eagles wide receiving crew, which was already poor was short handed because Agoholor (another huge bust), didn't dress because he has hurt feelioma or something along those lines.  They could cut every WR on this team and replace them with waiver pick ups and not lose a step.  The interception Wentz threw was a bad one.  He has repeatedly exhibited a tendency to have balls "sail" on him during his rookie year.  Last night's example landed square in the chest of a Packer defensive back. I just don't get how a team that looked so balanced and disciplined for the first three games of the season has unraveled to what we have seen the last couple months.  At least the 2-6 record after the 3-0 start has put in focus what areas of the team are just not good enough.
During the game they flashed a stat that surprised me.  The last 17 times the Eagles have been behind entering the 4th quarter behind on the scoreboard, they have lost.  Wow talk about a lack of resiliency.