So it was cool to have my birthday on a Friday this year.  I went home after work and got changed so we could head back out to Carrabbas for a birthday dinner.  It seems that all of the sterilization of the Naples location over the years, most of which I have complained about repeatedly is evidently annoying other former patrons as well.  Katie and Daniel were able to get immediately seated at 7PM which would have been WTF crazy a few years ago.  A 90 minute wait on Friday night was not unusual.
Again some of the shortcomings of the chain were front and center during the meal.  The wait staff which used to be very interesting, good, and stable since they made good money, has now become a carousel of faces.  I never recognize anybody from one visit to the next.  The guy we had as a server was in training and had another woman helping him.  Even with tag teaming the table the service was sloppy and slow. The "glasses" the draft beer come in are ridiculously small, an obvious cost cutting/profit padding move.  The reason glasses was in quotes is they don't even use real glasses anymore, they are plastic.  Plastic glasses break less = more $$$.
Our food at least was half decent and I was surprised they actually had staff sing happy birthday in Italian to me, another tradition that had been ditched a few years back.  It was another subpar experience at what used to be my favorite local restaurant.  That title clearly needs to be up for grabs.
So although the dinner was only so so we had a fun activity planned afterward.  I had all of the PTV's loaded up in the back of the Prius.  We planned to go see the awesome Xmas light displays in the Victoria Park development on them.  Cindy and I had checked out the lights a couple years ago cruising top down in the SSR and at the time I thought that was an awesome way to experience the sights and sounds.  Well doing it on the EUC's and MiniPros was way better.
We parked in a shopping center about a half mile or so from the development.  Cindy had brought some battery powered mini-Xmas lights that she wrapped around each one of us to add to the festive spirit.  Once we got into the development it was awesome.  The degree of decoration on nearly every house was just great.  People were really interested in us of course, wondering what the heck we were riding.  We looked like rolling UFO's.
Riding around all that traffic was a bit challenging at times but we managed ok, mostly staying on sidewalks but even when we were on the road the pace of traffic snaking through the development was very slow so it wasnt a huge deal.  All four of us had a lot of fun.  I could hardly believe we were riding until 10PM.  Riding at night definitely is a different kind of cool.  It was so much fun that we are hoping to get out on the wheels one more time this week after work out at Ave Maria.
On Saturday morning Cindy and I were outside early attending to some normal yard chores.  We planned to have a pretty mundane day since we were supposed to do a nighttime Xmas 5k at 6PM.  We picked up Sadie mid-morning and then took both dogs to Rural King to grab a couple things.
While we were eating lunch at home we were watching something on the DVR.  I had saw Elsa go out the dog door early on in the show but didn't give any thought to the fact I didn't see her come back in.  After the show was over we were looking for Elsa in the house and could not find her.  I remembered I saw her go out on the lanai so I assumed she was still out there.  When I went out there and told Cindy I didn't see her, things got serious.
Cindy went into full fledged freak out mode.  I had the far side door cracked as I was filling the pool with a hose.  I quickly surmised that she pushed the door open.  After calling her a couple times she came trotting up to the door, crisis averted, or so I thought until I looked at her face.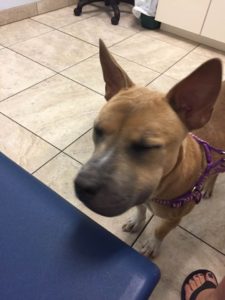 The left side of her snout looked like she was punched, it was visibly swollen.  My first guess is she got stung by a bee.  We have a certain weed in the grass that creates tons of tiny white flowers that the bees love.  Elsa was acting normal otherwise but Cindy was in panic mode.  My thought was we should ice her snout and give her Benadryl.  Cindy was worried the allergic reaction could be severe so she contacted an emergency vet and took Elsa there immediately.
There evidently was another bite or sting on her back as well.  The vet wound up giving her a couple shots.  By the time they got home the swelling had gone down and Elsa seemed back to normal.
There was an unfortunate casualty from the Elsa scare, our Xmas 5K.  The vet said we needed to observe Elsa for a few hours to make sure all was well.  We certainly couldn't leave her home alone while we did the 5K.  I was really looking forward to the race and paid a pretty steep price for the entry fee.  I have NEVER not participated in a race I registered for so missing the event was very disappointing.  Cindy had picked up our bib and race shirt already the day before but we missed out on a pretty epic finisher medal by not being there.  Oh well, sometimes things just don't work out even though I am not all that good at accepting that situation.  Instead of running we spent Saturday night eating pizza and watching DVR content.
Since we missed the 5K I absolutely had to get out running Sunday morning to atone for it.  I was not thrilled that although it was exactly one week before Christmas it was 70 degrees and humid at 6:30 in the morning.  It made for a much sweatier December run than normal.  I survived it, getting in with an average pace just under the 9 minute miles.
Katie and Daniel came over for our Sunday morning ride.  We didn't do anything thrilling, using DD as a home base to explore two different nearby developments.  We wound up putting in over 7 miles on the ride.
Instead of watching the Eagles/Ravens game Cindy and I decided to go see the new Star Wars movie, Rogue One.  The 1:50 matinee was sparsely populated which was nice.  The movie itself was nice but not great.  The first half of it felt sort of slow.  The second half of the movie was more exciting for sure but I still felt much less excited overall than I did after seeing The Force Awakens.  There is some disturbing facial CGI going in the movie that will stand out like a sore thumb when you see it.  I'd give the movie a B+ which is lower than I hoped for going in.
When I got home I installed a new cabin filter in the Prius.  Most people don't think about them but they do get pretty damn gross.
Even though I didn't see the Eagles game, it followed a now familiar script, losing a game they could have won.  Unfortunately in pretty much every close game this year the Birds are the ones who ultimately choke at the end, a disturbing trait that needs to be shaken off via new personnel or coaching techniques.