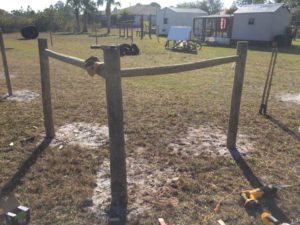 I was up and outside early Saturday morning ready to begin hopefully my last fencing project in my lifetime.  Things got off to a slow start as Cindy and I had some confusion about the layout I had outlined with rebar and mason line.  Even though to the eye it looked like a pretty even rectangle the measuring tape showed otherwise.  It was showing such a difference that I went back and measured twice to make sure I didn't misread it the first time.  Even after we were done tweaking the numbers didn't totally match up but it looked good to the eye which is all I cared about.  We weren't fencing the Taj Majal, just our 10 chickens.
So finally I broke ground on the first corner post.  I decided I would start in the rear of the fenced in area.  I figured I would rather "practice" my technique in the back and have all the rust knocked off by the time I got to the front which we will see everyday.  My plan was to do all of the corner posts first as they are the most important and most grueling to dig since each one requires a three and a half feet hole to be dug.
The posts I got from Jack and Ann's were far from straight. Most of them had bends in them which made leveling a pain in the ass.  We would just do our best compensating for the curves.  I guess it makes the fence look more "rustic".  Cindy and Katie helped me some as well, digging some of the smaller holes for the line posts as well as back filling them.
We took a break during the afternoon to run to Rural King for a couple things I needed, most importantly two 8 foot posts to frame the front gate.  We brought Bowser and Elsa with and took Katie's Dodge Ram, the only vehicle in the house that would hold three people, two dogs, and have room to carry fence posts.  I drove, my first time behind the wheel of a Ram, it is a very big vehicle.  This was Bowsers first time in RK, he was VERY excited.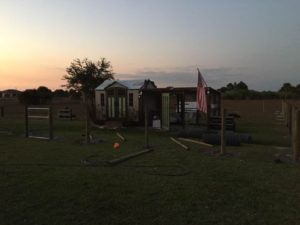 When we got home I was ready to go full tilt back into fencing.  We all worked until the sun was setting.  I had all corner posts in the ground as well as having all of the line posts in except for one side.  I felt good about what we accomplished.  I took Katie and Cindy out to dinner Saturday night to thank them for their hard work.
I awoke Sunday morning sore but popped a couple Advil to mask the pain.  The fog kept the temps nice and cool early on which I took advantage of to get the rest of the line posts in.  It felt good to know I at least had dug my last hole.
I then started on the next phase of the corner posts, installing cross members and using brace wire to lock it all together.  If you have ever installed wood post fencing you will know this is not a very fun job.  I again started in the back since it had been probably close to 10 years since I last did post work.  The technique came back to me quickly.  I had the left rear corner done before we took a mid-morning EUC ride break.  We went down to North Collier Park to ride around.  It definitely felt good to do something fun amidst all of the unfun work the weekend had been filled with.
Once again when we returned I was full fence mode.  I was so focused I forgot to take another dose of Advil which really hurt me later. It took me the rest of the day to get the cross posts and brace wire installed everywhere it needed to be.  I thought I was going to run out of brace wire and actually had Cindy and Katie run to Rural King to get me more.  It turned out I just had enough with a couple feet to spare.
My body was absolutely destroyed by the end of the day.  My left big toe felt like the nail was coming off, my hands and forearms were paralyzed from all the gripping and twisting and my back  had jolts of pain radiating through it if I tried to do anything beside sit still.  My body just can not hold up to this type of work anymore.
I took a shower before sitting down to watch the Super Bowl, the first year I have not had an official Super Bowl party in a long time.  Ali and I used to have them as well.  This year the circumstances just didn't seem conducive to holding a party and by the time we even took a breath to think about it, it was a week ago, too short of a notice.  Of course the fencing project would have made being a party host even more of an impossibility.
It was different being able to just sit and enjoy the game instead of dealing with all of the ancillary party host things.  It turns out that if there was ever a year to be able to pay full attention to a game this was it, probably the most amazing game in Super Bowl history.  Early on it was crazy because the Falcons were dominating, something nobody would have expected.  At one point they were up 28-3.  I believe I saw a stat that no team has ever come back from more than 10 point deficit in Super Bowl history.  I, like most others assumed the Patriots were done.
Well the comeback was nothing short of miraculous.  There were so many things that went the Patriots way, penalties against the Falcons to keep a drive alive, Matt Ryan taking a stupid, massive sack to knock the Falcons out of game icing field goal range and of course THE CATCH, where Edelman gets his fingers under a ball that was bouncing off three Atlanta defenders, a fraction of an inch from the ground.  The Patriots had to convert on two two point conversions just to force the game to overtime.  It was just an unbelievable series of events.
After driving the team down the field in overtime to score the Patriots their 31st unanswered point to win Super Bowl 51, Tom Brady pretty much locked up his title as the greatest quarterback in NFL history.  Love him or hate him, the guy delivers in the clutch like no other QB I have seen in my lifetime.  To put on that sort of performance in those conditions was just insane and something I doubt will ever be replicated again.
It wasn't like Atlanta went into some soft prevent either, they were still applying pressure throughout the entire comeback, Brady just made plays anyway.  Falcon fans must feel like they were told they had a winning lottery ticket only to have it blow out a window in the middle of a hurricane.
So today I begin day three of the fencing project.  To be honest going in I thought I possibly would have been able to get it all wrapped up in two days.  As is often the case, my estimate was not accurate.  I am just hoping my body, heavily supplemented by Advil is up to the task.