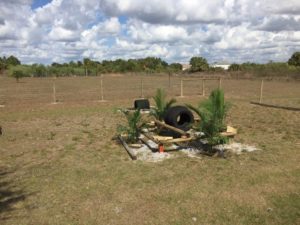 Yesterday was the last day of my four day weekend, the first three of which had been almost entirely consumed by fence construction.   So although the chickens are now secured within their smaller confines there is still more to do.
Cindy and I wanted to do some things to the area to offer the chickens some more protection, shade and entertainment.  Cindy and I did a run to Home Depot in the morning to get a few palms, top soil, and sod.  Unfortunately they had absolutely no sod so that part had to be put on hold.
When we got home we went right to work.  I spread the top soil along the portion of the fence line that was a little off the ground because of low spots.  We will then drop sod on top which will eventually grow through the fencing to lock it to the ground.  We also used a combination of left over fence posts and left over lumber scraps to make a "chicken deck".  I did not spend much time leveling or squaring corners, I sort of wanted the structure to be haphazard looking.  Cindy had the idea of putting some of our old tires down a rail in the middle to give the chickens something to go under and/or through.  We planted palms around all four sides which will hopefully provide a nice shady hang out spot as they grow. I took the other three tires we had and buried them halfway in the ground to give the birds something else to hide in on jump onto.
Early in the morning I put my Mavic up in the air to get some aerial shots of the end result of our three days of fencing labor.
Mid-afternoon, despite still having a very sore back and other fence building ailments I got the idea to go take my Msuper to the swamp to ride around.  Cindy, Katie and I had talked about doing it at some point and I thought it would be cool if I went and scouted it out ahead of time to see how suitable the path is for one wheel riding.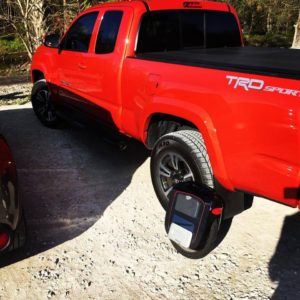 I drove the Tacoma there instead of riding to the swamp. Very early on I ran into obstacles on the boardwalk.  Someone strung some pink caution tape across marking a huge foot or more section of decking that had fallen out.  That boardwalk is in very, very bad shape.  I won't be surprised if they close it down for awhile so they can replace all of the decking sometime soon.
So as I exited the boardwalk and onto the walking path for the first time ever on an EUC.  I was VERY cautious at the onset and it was necessary as the compacted trail had a ton of exposed roots, waiting to knock me off.
My original idea was to maybe go a couple miles into the swamp, just as a test.  However I was enjoying the ride, despite the additional complexity of the terrain.  I found myself at the portion where the trail becomes one big loop.  Once you head in it's a long time until you come back out.  I decided to go for it.
So up until that point I had really not seen any wildlife outside of birds.  About 10 minutes into the loop that changed.  I saw a long black obstacle half on the path.  Of course I knew it was a gator.  I have experienced this before when I rode the trail on mountain bike with Randall.  At that time we just gave the gator as much room as possible and rode by as quickly as we could.  I decided to use the same strategy although I felt more vulnerable being on a single wheel instead of two.  I accelerated past the large gator without it flinching.
Within another few minutes I encountered another large gator and this one had me more concerned because there was a much smaller gator next to it.  I theorized this could possible be a mother gator with one of it's kids.  This scenario held more danger in my eyes because I have heard how female gators can get very aggressive if they feel their kids are endangered.  I stood there for a minute or two weighing my options.  Even though the gators had their heads facing the water, I was imagining a scene where one or both of them suddenly flailed, knocking me off the wheel.  I was genuinely scared when I took a deep breath and launched myself in their direction.  I zipped by them without either moving a fraction of an inch, whew…..
What followed from that point was pretty surreal.  I rode by at least a couple dozen gators on the path and saw many more in the trenches and water by the path.  The ride around the loop seemed to go on forever.  It went from exciting to ridiculous eventually.  Not only did I have to deal with the gators, I was dealing with terrain that was beating the hell out of me.  The ruts and roots were taking a toll on my already sore back.  At one point a hidden rut threw me off the wheel right by another large gator.  Luckily the sound of the crash scared the reptile into the water.
As I was deep into the swamp I did think repeatedly how it was not the smartest of things to make this trek solo.  If I hurt myself or the wheel died for some reason I was on my own and depending on spotty phone service in the area, out of reach of help.  I knew at that point my only option was to keep moving forward.  There were a couple areas of the trail that were washed out.  One point was really treacherous with the only path across the water being a couple small logs haphazardly thrown across the ditch.  I carefully walked across the logs while trying to balance the 45 pound wheel in my left hand, freaking out about the possibility of me falling into the muddy water with my expensive electronic unicycle.
Finally I found my way back to the feeder path that lead back to the parking lot.  I was very relieved to return to the truck and resolute that I don't need to ever do that entire loop again on a single wheel.  Once was enough.  I highly recommend you set a half hour aside to watch the video of the ride.  You get a good sense of just how nuts it was at certain points.
It has been another one of those "vacations" that I am glad to get back to work from.  My body feels like it was thrown into a grinder.