Last night before dinner I wanted to get a quick ride in before dinner so I hopped on my Msuper and headed to the first cross street.  I quietly carved back and forth as I traveled both ends of the street under the bright full moon.  It always feels good to just get out and ride.  Even brief 10-15 minute sessions like last night helps clear the mind and dull some of the sharp things jabbing me in my daily grind.
I was surprised and happy to hear that Cindy was actually out on her wheel in the backyard yesterday practicing, using the new chicken fence as a support.  She said she actually launched herself away from the safety of the fence a few times and free wheeled it.  She said she feels less danger when the potential for falling is on grass instead of asphalt or concrete.
So today on my way to work I had two annoying things happen with my Tacoma.  Shortly after pulling out of the driveway the RPMs on the truck jumped way up, it almost felt like the truck was in neutral.  I immediately backed off the gas.  After doing so when I reapplied the gas the truck felt normal but it concerns me because of the widespread transmission issues that have been reported with the new Tacomas.  I already had mine at the dealer once to have a reprogramming done to the transmission controller to address shifting problems.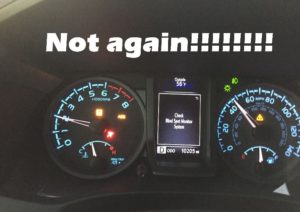 Then about five minutes later my information center lights up with alternating ABS/BSM warning lights, the same problem the truck spent 3-4 days at the dealer for a couple months ago.  At that time they replaced the driver side wheel sensor and the problem had not reappeared, until today.
I have to say my new Tacoma ownership experience has not been as smooth as I had hoped it would be.  These various electronic gremlins, transmission issues, and dealing with a shitty dealer have been the source of a lot of frustration, the sort of frustration you hope to avoid by buying a new vehicle.  I turned the truck off and on which made the error disappear but I am pretty sure it will be back.
This weekend I hope to do one more big load of sod and topsoil to raise certain areas in the new chicken run and patch up areas that are bare.  It is always dirty, unfun work but I am hoping it will be the last of it for a little while.  I'd like to take the wheels down to Marco this weekend to try riding around the hilly areas.  We will see how that works out.