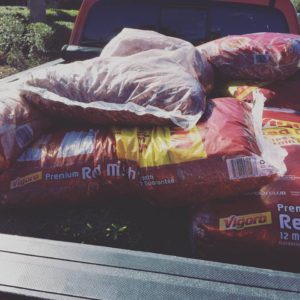 So Saturday I had another back breaking session of labor.  I loaded up the back of the Tacoma with 10 bags of mulch 10, bags of top soil, and 25 pieces of sod.  I was a bit annoyed and a little more amazed by the Hispanic family that was parked in front of both the mulch and sod, making my loading process more of a hassle.
They jammed an INCREDIBLE amount of things into their Ford Expedition SUV.  I saw at least 6 patio chairs, a table, a bunch of mulch, at least 20 pieces of sod, and at least a dozen medium sized potted variegated plants.  The vehicle had to be stuffed from ceiling to floor.  Oh, and the couple had to jam their three children in there as well somehow.
After they were done I was commenting to another customer about how amazing it was they managed to get all of that stuff inside the Ford.  The sod went on the back seat, that must have been neat and tidy.
So once I got home I got busy.  I parked the truck right outside the front gate of the new chicken grounds and used our little pull behind wagon to cart stuff into the fenced area.  I spread the mulch first.  A bunch of it went into the center of the chicken play area we created.  My thinking was I knew they loved digging through mulch around the yard so I wanted them to have their own collection of it.
The rest of the mulch was used around the pond and the small area that has the birds of paradise.  In the past couple years it had become pretty pointless to add mulch to landscaped beds because the chickens would destroy it with their endless scratching shortly thereafter.  It felt sort of strange to place mulch down and realize it would actually stay put, making those areas look nicer than they have in quite awhile.
I then worked on getting the top soil and sod down.  A lot of the grass went around the perimeter of the coop.  When the chickens dig, quite often they like to do it against some sort of structure.  Putting a thick sod border around the coop is one way to encourage the chickens to excavate elsewhere.  Even though the temperatures were nice and cool to start the day it quickly got warm.  I was out there a good five hours plodding away.  Even though I certainly did not enjoy it, having the chickens mulling around me wondering what I was doing most of the time made it less annoying.
I picked up Sadie Saturday morning so she had a bunch of crazy play time with Bowser and Elsa.  It seemed most of the time Bowser and Elsa would tag team Sadie which for the most part Sadie was ok with.  A couple times it got a little out of hand and Sadie let out a quick warning snarl that let the other dogs know a boundary had been reached.
I have had an issue with the connection to the outlet of the pool pump leaking for awhile.  I have tried to fix it by applying fresh pvc cement to the outside of the joint but it accomplished nothing.  The only way to fix it correctly is to rip that section out and replumb it to the input of the filter.  If pressed I could probably do it but with something like this my preference is to just pay a professional to do it to minimize the potential for future leaks.
So when I got more chlorine at Pinch-a-Penny I made arrangements to have someone come out to do the work.  In addition to fixing that section I am also going to have them pull out the pool heater that has been broken for at least five years.  Once it is pulled out they will have to replumb the lines some more.  Even when the pool is warm in the summer we hardly use it, putting in a new pool heater would be a huge waste of money not only in up front costs but also the ridiculous impact it has on my electric bill.
On Saturday night Cindy and I went on our Valentines Day dinner early to Stir Crazy.  We invited Katie along as well as we didn't want her sitting home being bummed out.  The food was good but our waitress, Nicole was pretty awful.  From the first word out of her mouth you could tell she hated being a waitress.  Although the entrees came out lightning fast, things that seemingly did not require much preparation like draft beer and desert had these inexplicable delays.  She brought out plates and forks for desert 10 minutes before the desert actually arrived.  We actually got the check before we got desert.  It was bizarre.  Nicole did not clean up in the tip department as a result.
Sunday morning I was up pretty early.  I gave Cindy a break from chicken duties since she does it pretty much every other day.  Katie had said she was interested in riding EUCs Sunday morning but was still asleep so I kept myself busy for awhile.  First I put my Mavic up to get some more updated aerial video of the additional improvements we made to the chicken area.  I am still fumbling around trying to figure out everything the drone can do.  I have only grazed the surface thus far.
I then sat down and paid my bills for the week which took extra long since it was credit card reconciliation time which is tedious and annoying.  Katie was still asleep so I grew tired of waiting, I didn't want to have half the day pass before getting out.  I was just loading the truck up to head out on my own when she came out of the room.  She said she still wanted to go so instead of a solo trek, Cindy and her piled in the truck for a ride at the Greenway.
The weather was really nice for riding and we were having a great time.  When people see us on the wheels it is very common to get comments like "Wow, that's cool!", "What is that??" and other statements of intrigue or interest.  Well as I was exiting one of the boardwalk areas I passed an older couple whom were obviously not born in the US based on their accent.  As I was passing them the old man says, "the sign (at entrance of the boardwalk) says no motor vehicles"  I at first thought the guy was just being funny as universally, we have never had anyone be negative about our EUC riding.  I told him in a friendly voice, "well this is basically like an electric bicycle" (bikes are allowed).
Well the old prick continued "well that thing still has a motor doesn't it???"  Instantly I lost all patience with this guy.  I now used my overtly sarcastic, fake friendly voice as I told him.  "well why don't you go ahead and report us then.  Have a great day!"  as I rode away from him.   They walked by me again when I was stopped by Cindy who was practicing on Katie's EUC.  The guy had no additional commentary for me, good for him.
Like I said, Cindy who rode the MiniPro for most of the ride got more practice in on the boardwalk on Katie's wheel.  Cindy likes the height of the rail as a support if needed.  She did well, riding without support for 50-75 feet a couple times.  She stepped off it a bit awkwardly during her last roll and called it quits.  When I was learning I always made sure the last ride I did was not a fail.  I think it helps a lot to get right back on and have one more small success before stopping.  It just helps build confidence going forward.
After the ride we stopped and grabbed lunch at a pizza place.  The main pizza maker used to work with Katie at her old waitress job, his name was Tommy.  I could immediately tell he was from NYC.  I don't know if you could find a more stereotypical pizza guy.  He looked and talked exactly as you would imagine.  He was very funny and had all of us laughing throughout the meal.  The pizza was very good.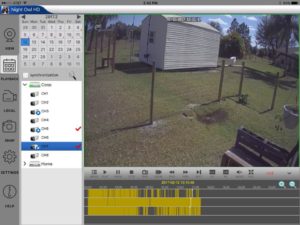 We didn't get home until after two.  Cindy was shocked when she discovered Kristen, our white chicken outside the fence.  She was able to quickly grab her and put her back before Bowser could react.  When reviewing the security dvr she saw the escape on video.  Kristin was able to simply fly up to the cross post and jump over.
Well obviously we can't have that and chickens have a lemming mentality, when they see one do something they are apt to try it as well.  We had to do some wing clipping.  We only trimmed the wings of four of the ten chickens, Pumpkin, Peaches, Stephie, and of course Kristin.  They are the smaller birds with good flying/jumping ability.  The process only takes 30 seconds per bird so it wasn't bad.  Early on when the chickens became adults we had issues with a few of them flying over the main fence but they eventually stopped trying.  We are hoping they come to the same conclusion with the new fence as well.
I got some WoW time in the rest of the day as well as some backyard EUC riding just for fun.  Tonight I need to go to a jewelry repair place to get my beloved Casio G-shock watch repaired.  I broke the main pin that connects the band to the watch body when I was chasing down Bowser a couple weeks ago.  The attempts I made to replace the pin myself have been utter fails.