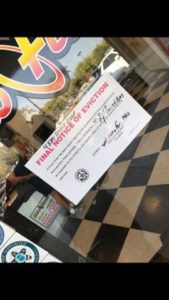 So when I walked into the gym yesterday the eviction notice was on the door indicating as of Tuesday the gym would be officially closed.  It obviously was a depressing thing to see but not unexpected, despite my being told flat out by the gym manager that the gym would not be closing.  He claimed the gym was "transitioning" to being a corporate owned location which would be a good thing.  At the time when he told me that I hoped he wasn't the type of person to lie to my face.  Evidently, he is.
So it felt strange going through my last workout with my bench press buddy.  Despite my various complaints about the gym over the years it still was probably my best gym experience since moving to Florida outside of the one year or so World Gym was around before Planet Fitness took it over.  I tried my best to make my last day at Retro memorable, attempting to decline bench press 250 pounds for the first time ever.  I got close but required a slight spot to get it up.
I talked to some of the remaining staff before I left, telling them I appreciated them sticking around to the end.  I had not seen the manager for the last three or four days.  I exited the building with a slim glimmer of hope that I may work out there again someday if the space is reopened under a new owner, something that has been talked about as a possibility.
So what went wrong?  What caused the gym to go out of business a second time under a different owner? Bad management would be my first guess.  Ironically the gym reopened with the same manager it closed with previously.  At the time the talk was the ownership was the problem, not letting the manger run things.  All that was supposed to be different the second time around.  It was different, the owner let the manager run things as much as I could tell.  The end result was the doors being locked, again.
Almost as soon as the gym reopened less than two years ago they began work on renovating an unoccupied adjacent space.  It was supposed to be a huge group class room as well as having offices for other wellness services like chiropractor and massage services.    Well for some reason, perhaps non-payment of contractors, just like their rent money, the renovation took FOREVER, only completing a couple months ago.  The gym also never did any marketing to announce their reopening, I never saw any advertising for the gym outside of a few Facebook ads.
They didn't do a good job of upkeep, as I mentioned before, they had a LOT of broken equipment, however with their apparent dire financial situation I guess I can understand.  The one thing that I didn't understand was a lack of simple maintenance and cleaning that doesn't cost a dollar.  All it requires is someone giving a damn.  In the past month they actually hired a woman that was doing a good job of cleaning the place, finally.
Cindy was one of those employees that had been unpaid up until this point.  She got lucky and finally got paid last evening, in cash, as all bank accounts for the gym have been frozen.    I wish I had my phone with to take a picture of the sign apologizing for the lack of paper towels and toilet paper, they had no funds to buy any.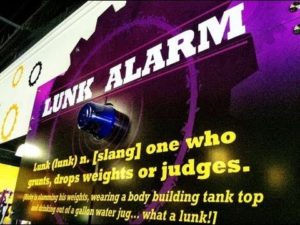 So my plan for today is to verify the doors at Retro are locked and if they are shoot over to Planet Fitness so I can join on a month to month basis.  I will be holding out hope that Retro reopens under some other name within a few months.  If not I will be forced to work out in the house the Lunk Alarm built for the foreseeable future.
Cindy and I watched the Walking Dead season finale.  Let's just say it left me feeling unfulfilled.