So no, I have not deceased recently, I have just been busy, really busy.  From last Thursday on has been one big blur that I don't really feel the need or time to cover in depth.  It was all just necessary energy spent to get roughly 35 people transplanted from our building to a temporary home a little more than 1/4 mile away.  Our entire department busted our ass to make it happen, including working into early Friday evening and over half of the day Saturday.  When the building opened for business for the first time yesterday there was one important thing I had overlooked that took about 90 minutes to remedy, but after that the day went pretty smooth.
I will have a lot on my plate for the foreseeable future but I at least have an opportunity to catch my breath a little bit here and there.  Hell I haven't even had time to go to the gym since last Monday so you know things must have been crazy.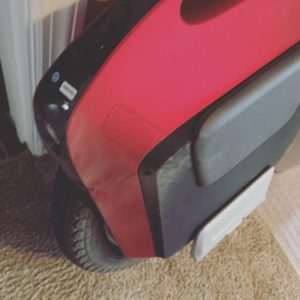 My shortened Mother's Day weekend with Cindy was nice.  We scored an incredible deal on a new computer desk  for her.  Cindy had been wanting to replace the old desk that dates back to my married days for a long time.  We rode our EUCs both on Saturday and Sunday.  Unfortunately those rides resulted in my Monster hitting the deck not once but twice, putting some big nasty scrapes and scratches on it's shell.  It was bound to happen sooner or later, I just hoped it would be later.
I did my best to make Cindy's Mother's Day as bright as I could since her daughter was out of town.  We ended the day with a fun dinner at Fuzzy Taco's with Cindy's mom and niece.  The food was again excellent and the beer was cold.