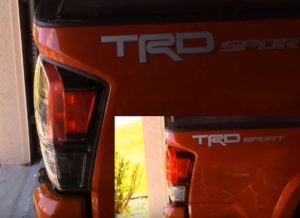 Yesterday the new tail lights I ordered for the Tacoma arrived.  They are the tail lights that come on the $45,000 Tacoma TRD Pro trucks.  They have a more blacked out appearance which goes well with other black accents I already added to the truck like the grille, nerf bars, and tail gate letters.
Installation of the new light assemblies was easier than I anticipated with only two bolts holding each in along with a couple clips.  In total the job probably took 20 minutes including time futzing with the camera.  The light swap gives the back end of the truck a sharp new look.
I actually went nuts and ordered the TRD Pro front fog lights as well which should show up next week.  The dealership I bought them from actually cut me a break on price and shipping because I told them I had been mentioning them in my other videos.  I like mutual back scratching scenarios.
This weekend we hope to finally get out to see Guardians of the Galaxy 2.  I also have a number of home chores on my mental list as always.  An EUC ride or two would be fun as well.