So I saw/heard a good chunk of the James Comey testimony yesterday.  To me it seemed pretty clear that he is an honest, experienced and intelligent man.  When an individual of his character testifies that he started documenting his conversations with the president because of a "gut feeling" regarding the type of person he was dealing with, that says a lot.  How Trump could hear all of the Comey testimony and spin it into some sort of vindication for him because he was not officially under investigation, while ignoring the mountain of other damning details is typical of how he operates.  It's just insane that things are to the point where I would prefer that a guy that thinks you can "ungay" people through therapy would make a better President than the man-child who is occupying that chair right now.
Today we dropped off Cindy's car to get it's windows tinted.  Coincidentally my boss/buddy had decided to have work done on his car at the same place on the same day.  Cindy drove the Ioniq while I drove the Prius with Elsa riding shotgun.  We then all met there so we could carpool to work in the Prius.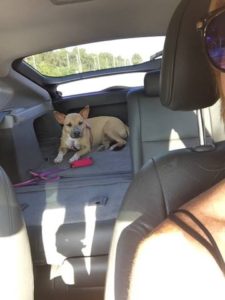 It was the first time Don met Elsa.  She was cautiously friendly towards him which is rare.  We actually are going to be dog sitting Don's dog Lucky next week so Elsa will have fun.  We had watched Lucky a couple times before we got chickens.  Now that the birds are fenced in Lucky should not be a threat to them, something Don was worried about. We are going to have Lucky for almost a week so he and Elsa will have plenty of time to become dog buddies.
This weekend I need to run into the office briefly to do some server work to be backed up by work around the house as always.  Hopefully we can have more normal levels of precipitation compared to the deluge of last weekend.