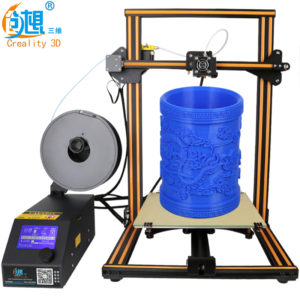 Over my adult life I seem to have hobby or interest phases where I get very focused or interested in something and dedicate a LOT of time to it.  Some things totally fade away, others just see less time dedicated to them. Some of the things that have rotated on and off that list are volleyball, cars, bar fitness, WoW, race timing, RC planes/drones, and electric unicycles.  Well it seems that 3D printing may be officially on that list as well.
After buying my FlashForge Finder a few weeks ago CIndy and I have been on a 3D printing tear. The majority of that printing has been stuff for Cindy's Widowmaker costume for Supercon but I have made a lot of other cool things as well.  There is something very satisfying about being able to create an object out of nothing.
Well I expanded my 3D printer collection by ordering a printer that is taking the 3D printing world by storm, the CR-10.  It is so popular because it is able to produce HUGE prints in multiple materials with very good quality.  There are lots of printers that make really nice prints however what makes the CR-10 so crazy is it is only $400, $100 less than what I paid for my FlashForge printer.
This printer does require some minor assembly and is definitely not as targeted to the 3D printing novice as much as the Finder is.  I did a decent amount of reading and researching on the CR-10 and unlike so many things in life, it actually seems to not be to good to be true.  It's a high quality, huge volume printer for a very affordable price.  I'm really looking forward to digging into it once it arrives and see what I can do.  I expect some more technical challenges with this type of printer but nothing that I can't handle.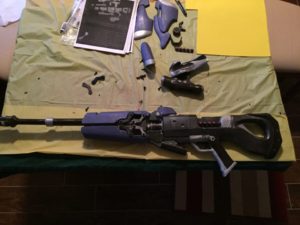 Speaking of 3D printing, Cindy has been busting ass getting the dozens of 3D parts I printed assembled for her rifle.  She is almost there and it looks great.  It amazes both of us that we were able to create something of this detail and realism ourselves, as complete 3D printing novices.
So I wanted to do a different kind of EUC ride for the 4th of July.  I suggested to Cindy we drive all the way down to Marco Island to ride around the hilly area, something we never tried before.  Cindy was enthusiastic about the idea.  The drive took between 45 minutes and an hour so it was significant time investment.
We parked at the same spot the Marco Hill Run is based out of, a race I timed for years.  I was initially frustrated when I turned on my GoPro and realized I left my micro-SD card in the reader at home.  However I was able to run into the Publix and grab a 16GB card to save the day.
The ride was really fun, scenic, interesting, and challenging.  I have NEVER ridden any EUC on hills that big.  I have seen a number of videos of fellow riders on the internet pushing their wheels up and down big hills and having the bot overheat or implode.  As we were riding I was using the app on my phone to make sure both the Monster and Msuper were not getting too hot from the added load.  Both wheels stayed safely in the normal operating range thankfully.
Riding hills requires a different technique.  Depending on the length and degree of climb you have to really pitch your body forward and shift your weight to your toes to keep the wheel going.  It also feels weird going down steep declines as your speed can very quickly ramp up to uncomfortable levels.  Cindy got a bunch of seated riding in too, despite the terrain.  It was a great ride and I hope we can take the wheels down there again to explore other parts of the island.
So when we got home after lunch I went directly outside to mow the back yard, the area I missed on Saturday due to a downpour that submerged the yard once again.  I gave the back yard a matching  haircut and finished up just as it started to rain, again.  By the time it stopped the standing water was back again.
We spent a lot of the rest of the day doing stuff we enjoyed, me playing WoW and Cindy working on her gun.  We were trying to estimate how much time in total we have spent on the Supercon costume/gear but it would be too staggering to add up.  Despite all the work, it's something Cindy really enjoys doing so the hours don't really matter.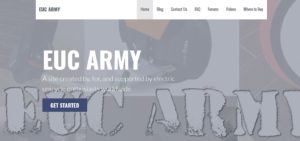 I forgot to mention I have now put up a a web site for my EUC Army moniker that I established on YouTube awhile ago.  I took down the running club website that I still had alive in one of my WP hosting slots on GoDaddy and installed eucarmy.com there instead, a much better use of my resources.
My thought process is when we are asked about the wheels we can simply say, "go to eucarmy.com to find out more"  The site explains some of the basics as well as links to more information, a forum, and recommendations on where to buy EUC's.  I like the visuals of the site, it will be interesting to see how much traffic it will generate for me.
Our 4th of July celebration was a minimal as you can imagine.  When we took Elsa out for her final walk of the night we each lit a single sparkler that was waved around for a few seconds.  I had no desire to go fight traffic and crowds to witness the fireworks at the Naples Pier and there were plenty of backyard firework shows going off all around us.