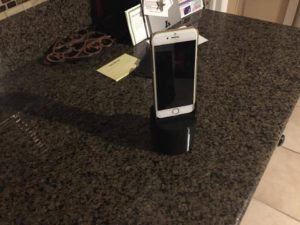 Yesterday afternoon another line of storms blew through delivering yet another standing water blow to the backyard.  I headed out there and fired up the pump immediately.  By this morning it had drained enough that I could turn the pump back off.   Although pumping surely won't keep the area dry it certainly helps keep things less submerged.
I did more 3D printing yesterday, printing out a cool WoW themed iPhone 6 case and a cupholder iPhone mount for Cindy's car.  The phone case did not last very long, I cracked the top of it trying to remove the phone which is not a huge deal and sort of expected.  Something like a phone case would be best printed in ABS plastic as it is more flexible and durable than PLA.
This weekend Cindy and I would like to get out to see Spiderman, do some EUC riding along with the mandatory house chores/maintenance that are a staple of our existence.