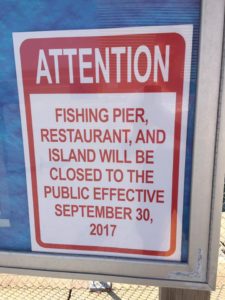 On our way into Rehoboth we went over the Chesapeake Bay Bridge-Tunnel, something I have seen a number of times but new to Cindy.  I was a bit shocked when they asked for a $15 toll to cross the span but I guess inflation has kicked in since the last time I was here.
We stopped mid-span at the visitor center.  I was surprised when I saw this sign posted multiple places.  Evidently at the end of the summer they are beginning a five year project to construct an additional tunnel.  In the process they will be eliminating the mid-span visitor center, permanently, leaving only the fishing dock intact.  I was a bit saddened by the news but an employee inside said it was necessary to increase capacity to accommodate the roughly 4 million vehicles a year that travel on the bridge.
The tail part of the drive into Rehoboth seemed to drag on, we arrived at our hotel about 6:45.  After our terrible lodging experience in Charleston, Cindy was concerned the EconoLodge that we reserved for two nights in Rehoboth would be shitty as well.  She saw a couple online reviews that used the same "disgusting" adjective Cindy used so frequently to describe the Creekside Lands Inn.
When we went into the lobby the clerk confirmed our room as two queen beds with smoking.  Cindy immediately freaked out and said we wanted non-smoking rooms.  When we reexamined the printed out confirmation slip it did clearly say SMOKING.  The woman said it isn't that unusual when you book rooms through third party sites.  They flash a low rate and in very unnoticeable text they mention it's a smoking rate.  Evidently this was another example of that practice which seems moronic to me.  If a bunch of people get mislead about what their room is it's only going to piss them off and make them very unlikely to use your service again.
So staying in a smoking room was not an option.  The problem was they had no other non-smoking rooms available except for ONE suite.  Well we had little choice in the matter since the error was technically ours and not theirs.  We agreed to the extra $30-$40 per night charge.  We hoped the upgrade would make the odds of the room being nicer more in our favor.  Our gamble did seem to pay off.  Sure the room looked like it hadn't been updated since 1989 but at least it was clean and everything works.  We were quite glad to not have shitty accommodations for our only two night stay of the trip.
So we had been in contact with Todd as we approached.  He had arrived a few hours earlier.  We agreed to meet up at the Rusty Rudder for dinner, the spot we hoped to spread my mom's ashes at.  There have been a number of things that have changed since I was last in the area and one of them is how you park.  They have this system where you pay with an app which is just stupid.  I miss the good old days where you throw a few quarters in a meter and you are good to go.
The Rusty Rudder, which I likely have not patronized in over 20 years was much as I remembered it but maybe slightly bigger.  We sat on a covered portion of the deck.  It was the first time I saw Todd and Caroline since my Dad's 70th birthday party in January.  I had not seen Mindy and her daughter McKenna since my sister Meghan's wedding which was something like three years ago.
We all enjoyed a couple drinks and a nice dinner.  We decided we would try to do mom's ashes now as the weather forecast for Monday was pretty awful with strong storms predicted to roll in most of the day.  I contacted my sister and quickly got her up on a Skype connection so she could be a remote part of the process.  Unfortunately the audio of our connection wasn't great, she had a hard time hearing us.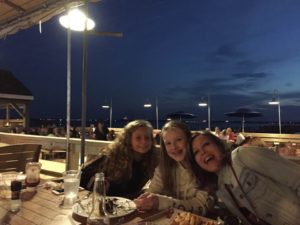 It was dark so we decided to walk out towards the end of the fishing/boat pier.  Cindy handed me the water soluble bag of mom's remains while she read the same touching poem she did at her original memorial service in Naples.  After she finished we said goodbye to mom one last time as I released the bag into the dark water below where it quickly vanished from site.  Of course it brought tears to our eyes and we did one last group hug.  I was glad and relieved that FINALLY her remains were dispersed in an appropriate place instead of sitting in the office.  Mom loved the beach, sun, and water all of her life.  For her to be a part of all three things now feels right.  I can only hope somewhere she knows, and is happy.
We decided to meet back up in Rehoboth on the boardwalk.  Todd was staying closer to the beach than we were so they met us as we were in the midst of Cindy playing a few games of skill.  We originally hoped to play some mini-golf at Ryan's which is on the roof of a building but they had closed for the night shortly before Todd and the kids arrived.
It was very interesting for me to see how much things have changed in the last 15 years, roughly the last time I recall being in the Rehoboth area.  Thankfully the feel of my favorite childhood vacation spot remained but there certainly have been a lot of changes along the way.  There have been entire new shopping districts created, roadways reworked, condos/hotels erected and of course the irritating new parking system enacted.
So since golfing was out the kids played a bit in Funland and we said we wanted to ride the Haunted Mansion, the backbone ride of Funland which has been around for 38 years, meaning I rode it during my prime childhood years.  I needed to go put money in the parking meter to extend our time.  Unfortunately it was a long, long walk back to the car.  I bet it took me close to 30 minutes before I got back.  By the time I did everyone was in the long line for the Haunted Mansion.
Standing in line gave me plenty of time to reminisce.  It just seemed so weird looking around at what was one the core highlight experiences of my childhood.  Funland was a bit different than it was in the late 70's and early 80's.  They used to have a TON of arcade games in the covered areas of the building that complimented the rides and games of skill.  The arcade games are entirely gone, replaced with mostly kiddie rides.  That was the great thing about the boardwalk, there were three or four arcades you could choose from.  Last night confirmed that the arcade I knew as a kid is officially dead, killed by the high end gaming consoles of today.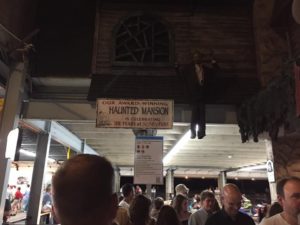 So as I Cindy and I got on the ride I was curious if anything had significantly changed.  The answer I came back with was "very little".  The ride is nearly identical to what I remember as a kid and that isn't a bad thing.  It was fun to once again worry that the skeleton that was holding a hose shooting water across our path would stop just in time or not to keep us dry.  All the corny silliness was more or less intact which I appreciated.  Although I knew the ride so well that nothing scared me, Cindy was not so lucky.  She screamed and jumped more than once.
So after the ride Cindy and I were really beat.  We had been on the road for roughly 12 hours and both were running out of gas.  We told Todd and the gang we were packing it in for the night but we would get ahold of them the next morning to maybe hook up for lunch at Grotto's.  After taking showers I enjoyed my best night of sleep in several days, pretty much sleeping straight through the night until the sun came up.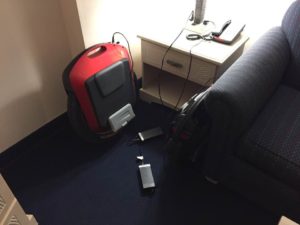 When we woke up Cindy immediately flipped on the weather channel.  The outlook was not good.  It wasn't if it was going to rain hard or not, that was a certainty. It was a matter of how long it would take to get here.  I told Cindy I wanted to get moving so we have some time to eat and then ride the wheels around the boardwalk, one of the highlight rides I imagined on the trip.  The skies looked foreboding but nothing was falling.  After eating breakfast we threw the wheels in the Ioniq and headed for the beach.
At first Cindy was very hesitant riding up on the boardwalk, there were a LOT of people up there walking, running, and riding bikes, all likely with the same idea as us, enjoy some time outside before the storms blow in.  In addition to all of the human obstacles, riding one direction went into a massive headwind which made riding more challenging.  As a result early on Cindy was stepping off the wheel a lot and walking around some stuff however after we rode around for awhile she was doing much better, S'ing back and forth around people with relative ease.  She always underestimates her ability on the wheel and gets mad at me when I express more confidence in her riding skills than she does herself.  I really enjoyed riding the boardwalk area and if it was solely my decision I would still be up there right now, in the rain, lol.
So we got off the wheels and went in some stores on Rehoboth Ave.  T-shirt creation/shopping was another highlight of my childhood memories here.  I loved getting t-shirts made with those cartoonish muscle car images on them.  The process seemed magical as the shirt store worker transformed a plain t-shirt into something cool in a matter of minutes.  I couldn't find any cool car decals but I did have an Eagles shirt with a Punisher logo made which is pretty sweet.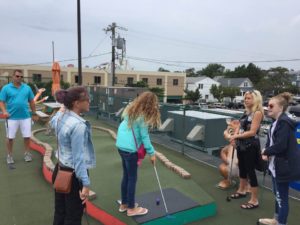 So we contacted Todd and let him know the mini-golf was open and we could get in a round hopefully before the storms started.  He said they would walk up so we could give it a go.  It started to rain around hole four or five but never hard enough to make us quit.  We went into high speed Putt Putt mode and finished 18 holes in probably less than 25 minutes.  Despite being rushed it was still fun to get a round in.  Cindy beat me.
We then walked to Grotto's which was a few doors down.  It's been a decade and a half since I last had Grotto's pizza and I missed it.  It's some of my favorite pizza on the planet.  Since it was lunch I did not indulge in any big beers but I may add that to my to do list for this evening.  Todd and Mindy both had already checked out of their hotel and had to work tomorrow.  They planned to make a pit stop on their way home at the Tanger Outlets.  We told them it was great to see everyone and encouraged them to make a Florida trip sometime in the winter.
Ironically, my friend and former co-worker Cheryl just happened to arrive in Dewey in the last hour or two.  I have not seen Cheryl in eons and she has never met Cindy.  We hope to hook up for some more Grotto's with big beers this evening before we shove off for Washington DC early tomorrow morning.
This brief return to Rehoboth has been filled with a variety of feelings.  Finally departing with mom's remains was something I really wanted to do because I have felt guilty for a long time about not honoring her wishes sooner.  Although I think she would have been ok with that dispersion happening in the Gulf of Mexico, doing it in Rehoboth certainly is even more special as it held many great memories and happy moments for her as well.
Of course to try to fully engage and enjoy in the area much more time would be required.  That is a luxury we just don't have right now.  I am glad to at least been able to reconnect with an area that was borderline sacred to me at one point and time.  I'm not sure when I'll be back again….