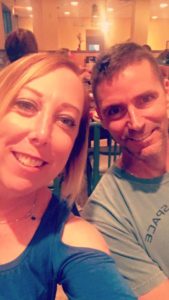 So on Sunday I got a FB message from my friend Cheryl that she just happened to be arriving in Dewey Beach for a short vacation on Monday afternoon.  It was quite the coincidence but we decided to take advantage of it.  I had not seen Cheryl in many years, the last time when her and her ex-husband came down for a visit.  We decided to meet at the Dewey Beach Grottos.  It was my second Grottos patronage of the day but since I only get to do it once a decade or so, I didn't feel badly about it.
As I mentioned previously, Cheryl was a former co-worker of mine when I worked for Entre/AmeriData/GE Capital ITS.  She has had a lot of changes in her life lately.  Not only is she recently divorced, she also scrapped her IT career and decided to start selling real estate full time, something she finds much more enjoyment in.  I always knew Cheryl had a decorators eye and she restored and flipped one investment property herself. Cheryl's friend, daughter, and daughter's friend also joined us which was cool.
I wasted no time ordering a Big Beer, one of my favorite items at Grotto's outside of their pizza.  I consumed many victory and defeat big beers during my time playing volleyball tournaments in Rehoboth with my volleyball gang from PA.  I was happy to hear they had Miller Lite on tap.  I consumed two of the monster mugs during dinner.
So even though we had not seen each other forever and rarely get to talk, Cheryl and I had little problems just picking up and talking about stuff.  She is one of those rare people in my life that I can talk to easily for prolonged periods of time without significant effort on my part.  It just flows.  I really enjoyed getting together and felt very lucky that our paths just happened to cross at the exact right time.  Hopefully it isn't another decade or so before I see her next time.
Unfortunately my sleep last night was not nearly as solid as the night before.  The AC system was evidently on a preprogrammed schedule that had the temp cranked down to 64 degrees.  I awoke about 4AM, freezing.  After I got up to turn off the air I really never fell back to sleep.
We grabbed our included breakfast.  While I was there I saw some head shaking gluttony going on.  There was a significantly obese man at the self serve counter.  I was behind him, waiting to get to the cereal.  Only after I realized I had been standing there for a couple minutes did I bother to see what the hold up was.  This guy had loaded up a standard sized paper plate with 6-8 bagel halves and 8-10 donuts.  The plate was stacked at least 7-8 inches high with wall to wall baked goods.  The man quickly left the dining area with his massive plate, presumably to devour it in his room.
So as we were finishing up our modest breakfast and throwing out our trash I was astonished when I saw the same man, at the same counter, loading up the same plate with the same amount of shit. I couldn't believe it, it was something to see.  I hope he gets what he always wanted for Christmas, insulin shots.
So we pulled out for Washington DC before 7:30.  The skies were still very foreboding and we drove through some rain in the beginning portions of the drive.  The trip to DC was a pretty short two and a half hour drive that had some frustrating traffic as we approached.  It was only a preview of the incredibly annoying experience to come.
Our first step was Arlington Cemetery where Cindy's step father is buried.  I missed a turn that tacked another 15-20 minutes onto our arrival time.  We finally got parked and made it into the visitor center.  There are shuttles that will run you out to the section of the cemetery you are visiting which is cool.   Cindy also had an app that uses GPS to take you right to the grave site you are looking for.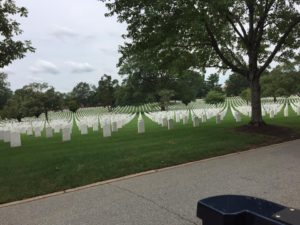 The visual inside Arlington is pretty shocking with perfectly aligned rows of gravestones as far as you can see in every direction.  As we walked across the graves of others I found myself feeling suddenly emotional.  I just felt a great sense of loss.  We arrived at Cindy's stepfather's grave which faces the Pentagon.  It was very emotional for Cindy which in turn made me more sad as well.  She called her mom to let her know we were there.  She took a few pictures for the family and we headed out after spending a bit more time.
There were funerals going on all around us.  ON average there is something like 30 funerals a day at Arlington.  Supposedly there were 27 taking place today.  We hitched a ride back to the visitor center and then bought tickets to ride the tour tram which takes you around the 650 acre grounds.  Cindy and I really only had one other thing we wanted to see there, the Tomb of the Unknown Soldier.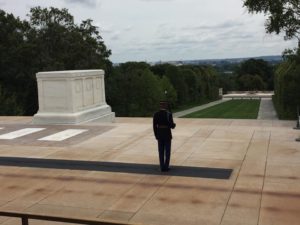 The ceremony was really something to see.  We got there to see the actual changing of the guard that happens once every 30 minutes during the summer.  The robotic precision of every movement the soldiers performed was so fascinating to watch.  Each patrol back and forth is exactly 21 steps, every time.  The ground the soldiers patrol has deep wear marks from countless exact steps placed over the years.  Cindy shot video of the entire changing ceremony which we will post later.
So our plan was to next head into Washington DC to check out a few of the monument sites.  It seemed like it shouldn't be a big deal, certainly Washington must have clearly marked and easily accessible parking for the thousands of visitors that flock to the area annually.  Uh, no.
So we got to the monument area easily enough and started looking for signage to tell us where to park.  There was none.  WTF, how can this be?  There appeared to be no easily accessible parking.  From driving around there appeared to be two options, try to find streetside parking or parking in a garage in a building far away from the memorials.
Cindy and I both got incredibly frustrated as there appeared to be no nearby parking.  We did find one small streetside space that I squeezed into with Cindy's help only to notice that it said only "special permit" vehicles could park there.  We then went into one garage and wound up turning around because it was a valet only deal.  We wanted easy access to the car so we had to do an awkward three point turn in tight quarters to get out of there.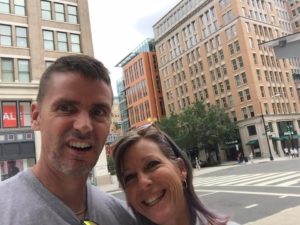 In addition to being annoyed as hell with the parking accommodations or lack there of, we were both starving at this point.  We circled and circled and wound up eventually parking in the basement of another building in a spot we probably were not supposed to park in.  All of the time we wasted trying to find a place pretty much eliminated any chance of us doing any more sight seeing as we needed to get into Connecticut by tonight.  Instead we just parked, walked up to street level, ate lunch and left immediately.
We were so frustrated we sort of turned it into humor.  I guess it's our bad for not doing any homework about the parking situation in DC.  How dumb of me to think they would make it relatively easy.  To put a nice cherry on top of our Washington DC experience, traffic getting out of there was an absolute quagmire.  Neither of us have any desire to revisit the area using a personal vehicle in the future.
We are now on the Jersey Turnpike trying to make up time on our trek to Fairfield Connecticut.  We are hoping this rather miserable day of travel will set us up for a fun next couple days in Boston and Maine where we get to see an entirely different way of life and scenery foreign to us.  Even though we are still relatively early in the trip it already seems like we have jammed a huge amount of things into a small segment of time.  It's a feeling I expect to grow.