So I told Cindy Friday night that I was getting up and running Saturday morning as long as it wasn't raining, even if I don't want to.  Because of Supercon, the road trip, and being beat up from yard work I had not run in at least 5 weeks.  When the alarm went off at 6AM I confirmed it was not actively raining so I threw on my running clothes and headed out into the warm and humid morning.
The 12 laps around the track were slow and not enjoyable, just as I expected them to be.  But I did complete the roughly 5K run and body willing, I will be back there next weekend to continue the punishment.  Running at my age and with my joint conditions is probably a dumb endeavor but I plan to hold onto it as long as I can, as I try to desperately fend off the relentless effects of time.
When I got home I wasted no time getting outside to tend to the chickens, weed, and a few other things around the yard.  At some point the onslaught of rain began.  I was in the mindset where I didn't care, I finished up the last of the chores in the midst of a downpour.  Once you are that wet, more rain doesn't really matter, at least in my mind.
After drying off we put Sadie and Elsa in the Prius for a coffee and Rural King run.  This was the first time I ever saw the Rural King parking lot flooded.  That is how much rain we had gotten the last few days (it's still raining btw) The dogs just love car rides and Elsa loves them even more when Sadie is sharing the back seat with her.
When we got home Cindy went right back into the guest bathroom where she was doing some of the final touch ups.  The side splash piece of matching quartz we ordered from Home Depot showed up Friday so we installed that with construction adhesive which was pretty much the last piece of the puzzle. The small room really looks completely different and all the credit for the design, color, and motivation to do it belongs to Cindy.
With the latest multi-day rain event the chicken area once again has become a flood zone.  Instead of allowing them to walk around in the muck all day we once again have allowed them access temporarily to the entire yard to find high ground.  The chickens definitely like having some drier land to explore but they still seem to like spend a lot of time while it's raining on the perch inside the coop run.
So I bought the McGregor-Mayweather fight when Cindy showed interest in seeing it.  She had said something about going to a restaurant/bar to see it but in retrospect I was VERY glad we did not go that route.  So the PPV event said it started at 9PM, a little late for my tastes but ok.  Well since I am a boxing PPV noob I had no idea that it really meant the main fight would not start until roughly midnight!  Prior to that they show three fights with boxers I care nothing about.
Cindy made us some late night coffee to help keep us awake.  I spent most of the prelims playing WoW.  Cindy was in a funny mood and at one point decided to put on her Wonder Woman costume AND ride her electric unicyle around inside.  Nothing surprises me so my reaction to this was measured.
So even though I knew it was unlikely, I was really pulling for Conor to win somehow.  Mayweather just annoys the f out of me with his attitude.  But hey, the guy is 49-0 so he backs it up.  So the first three or four rounds of the fight Mayweather basically did  nothing yet somehow the majority of the judges scored three of those four rounds for him. Conor was clearly the aggressor and landed a number of punches although none of them appeared to really hurt Mayweather.
As the rounds went on it became clear that Mayweather was basically just waiting for McGregor to start to fatigue.  Once that happened Mayweather started to become more and more active.  By the time the fight was stopped in the 10th round Conor had no legs left underneath him although it didn't seem like Mayweather had knockout power.  It was the expected outcome but I was still disappointed that Conor couldn't at least hurt Mayweather a little bit.  I was also disappointed that we didn't get to bed until after 1AM.  This was the first and likely last boxing PPV I will ever buy.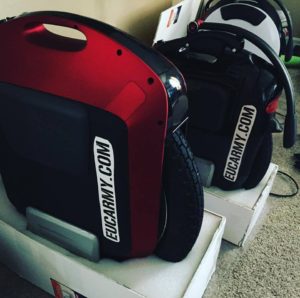 Sunday morning we awoke to MORE rain.  It was just miserable outside.  Cindy and I still wanted to get out and ride some so after I paid my bills for the week we threw the wheels into the car and drove down to the parking garage in the government complex, a place we rode once before.
The five level, mostly empty garage was a great, dry spot for us to do some skills practice.  I worked on mounts/dismounts with my opposite leg I normally use, backwards, and one footed riding.  Cindy worked mostly on learning to ride backwards as well as agility on her V5F wheel which is easier to throw around.  We rode for around an hour as the rain continued to come down steadily.  It was cool that we still managed to get some one wheel time in despite the precipitation.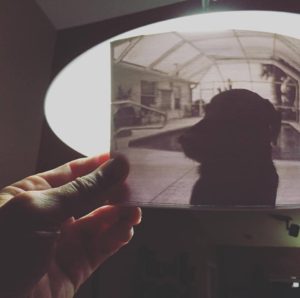 The rest of our rainy Sunday was laid back.  I got to play a lot of WoW and had the 3D printers working hard.  Over the weekend I reprinted the lithopane of Nicki, fixing the negative image I got the first time.  It turned out really well, I gave it to Ali as I thought she would like it.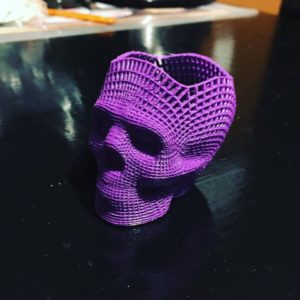 I also installed FlashPrint on to Cindy's computer so she can start messing around with 3D printing things herself.  She printed this very cool small mesh skull for her first print.
Despite the rather miserable weather I had to remind myself that things could be worse, much, much worse.  All I had to do was look at the photos of the aftermath of Hurricane Harvey on Texas to place things into perspective.