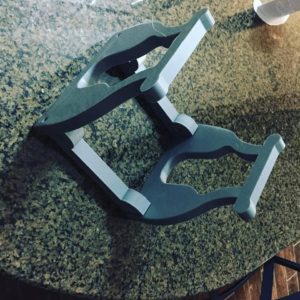 This morning I popped off the last piece of the EUC stand I 3D printed.  It's thick and strong in order to support the weight of a unicycle.  I am confident it can hold my 45 pound Msuper.  I am not quite so sure how it will hold up to the 60+ pound Monster.
My next printer mod should be here today, an auto leveling kit which includes a new logic board for the printer and a special sensor that is mounted with the extruder.  Supposedly once you get this kit installed and dialed in correctly, bed leveling problems become a thing of the past.  Although to be honest, lately the Cr-10 has been pretty consistent with it's prints doing it the old fashioned way.
I took off Thursday and Friday for multiple reasons.  First it will allow me to recover from the fantasy football draft party that I am once again hosting this year.  I normally drink and eat way too much at these events so it will be nice to not have to roll into work the day after.
Taking these two days translates into a five day weekend for me since Labor Day is Monday.  The extended time off will allow me to tackle a number of projects both 3D printing related and other things rolling around in my head.  For the next few weeks at work there is going to be weekend work as some staff is moved from the temp building back here and another set of staff relocates to the temp building for a period of 3-4 weeks.