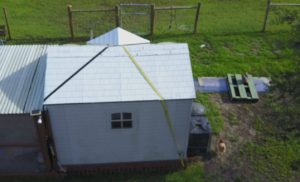 So unfortunately the forecast track for Hurricane Irma has been consistently getting worse and worse for us.  The track which at one point was very east coast has now become very west coast and depending on it's final steering winds there is a possibility the f'ing eye of the storm could be crossing our property.
Cindy and I busted our ass all day yesterday as you can imagine.  We had my plywood shutters I made back in 2004 up on the house by 9:30.  Unlike prior hurricanes where I left a small section of the rear slider exposed we are thinking about boarding it up completely.
As we took stock of our hurricane supplies I pulled out the portable AC wall unit I bought back in 2005 and plugged it in.  At first I was excited that it seemed to still work despite a noise like the fan was hitting something as well as a bunch of dirt/animal/insect excrement that blew out the front.  Well my excitement was short lived as soon the fan stopped and the unit just started to buzz.  I pulled it apart to see if I could fix it but was unsuccessful.  Something obviously was inside at some point and gummed up the works.  Until I can secure a new unit, if/when we lose power our only cooling will be via fans, not a great option in Florida in September.
So although obviously we are focused on keeping the house intact, I spent the most time of all yesterday hardening the chicken coop.  I do NOT want the coop destroyed and I did everything I can possibly think of to prevent that scenario.  I screwed a bunch of boards into the deck along the base of the walls inside, hoping to further lock the floor of the shed to it's sturdy platform.  I then used two pieces of 2 x 2 lumber to connect and further support the interior trusses to give them additional stability.
My most drastic coop work was criss-crossing ratchet supports across the roof and securing them to the deck underneath.  One of those straps is actually our slack line which was a great suggestion by Cindy.  Not only was the strap long, it's incredibly strong with a breaking strength of something like 2.5 TONS.  Today after the coop is cleaned I will be doing even more hardening, blocking the windows and front door.  If the coop goes down it won't be from a lack of my effort to save it.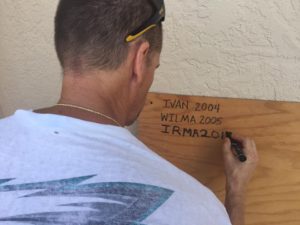 We were buzzing around the house until damn close to 6PM.  We were both exhausted but knew there was more yet to do.  We did our best to enjoy what may be our last "normal" night in quite awhile.  We watched some hurricane coverage on the news but found it to be rather less than helpful after awhile.  I tried to escape the drama for a short while in WoW, knowing the next 48 hours were going to be pretty hellish.
The scene here as you can imagine is rather chaotic.  Pretty much all businesses closed yesterday.  People are scared and even I, whom does not easily succumb to panic am worried. People are FLOCKING to the emergency shelters.  The first round of shelters reached capacity quickly so they opened more.  Cindy just saw pictures of people sleeping outside of shelters that are scheduled to open today, just so they could get in when they open mid-morning.  It's crazy.
I am considering cutting my pool screens this morning ahead of the storm to try to save the pool cage.  Replacing pool screening is a lot more feasible than waiting months and months for someone to rebuild your cage at premium post-hurricane pricing.  We will likely be working well into the afternoon trying to secure every possible thing we can.  Our final tasks will be closing up the last section of the slider door and transporting the chickens to their temporary housing in the garage.
I did walk the property and shoot video of the prep.  I also put the Mavic up in the air to get some aerial views of the property before that can be contrasted with after.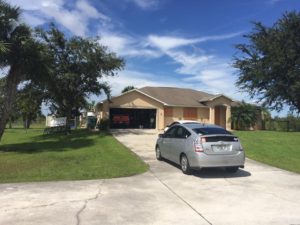 This will likely be the last blog entry out there before some basic services are reestablished.   I will continue to hope for a best case scenario and even if things don't go well I am confident Cindy and I will be able to handle whatever comes our way.