So I received back my virtual estimate for roof replacement that was calculated using info from GIS mapping and Google Maps. I really had no idea what to expect but figured somewhere between the 10 and 20k range.  The quote for a metal roof slid in just below that top number at 19,000 and change.  The cost to reshingle the roof was around $15500, a small enough difference that I would absolutely go the metal roof direction without question. This quote included completely stripping off the old shingles and underlayment and renailing the deck surface.  This particular company won't lay metal on top of shingles which I assume is the best way to go about things, it just costs more.
So now I am sort of in circling mode.  I have a Home Depot rep scheduled to come out two weekends from now to give me a second quote for comparison.  I have had absolutely no luck finding anyone willing to even give me an estimate of fixing up the pool cage which isn't all that surprising. However what I really need is to hear back from my homeowners insurance to see what they offer me for settlement.  I also need to see how quickly I can get my HELOC reopened to help me offset the expense of everything.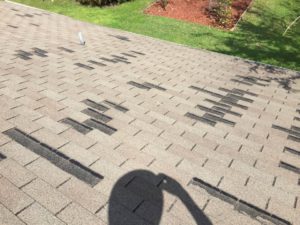 When I came home yesterday I saw a crew of guys on my neighbors roof laying down blue tarp.  I was confused, I did not know if these were roofers that were tarping the roof as part of their service to protect it before they could repair it.  It turns out they were actually a crew hired by FEMA that tarps damaged roofs for free.  There is an application process to get it done which I hope to have Cindy investigate/apply for me today.  In all likelihood my roof is not going to get replaced for at least six months so I should take advantage of the program to minimize the chance of water seeping in between the damaged shingles.
A good portion of last night was spent in the hobby room.  Despite my repeated efforts, the area designated for 3D printing kept turning into a mess and I was sick of it.  Cindy had made a good suggestion that we should mount some pegboard along the wall behind the desk to allow me to hang and organize the various tools and supplies I use regularly for 3D printing.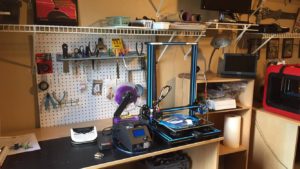 I picked up the pegboard last night after work, which was a bit of an ordeal since I had the Prius.  Home Depot only sells the stuff in big 4′ x 8′ sheets which would not fit.  I waited to have an employee cut the sheet in half so I had two 4×4 squares.  Even so it was a very tight fit, requiring me to flex the pegboard pretty severely to fit inside the car.
I cut a piece further at home so it would fit in between the shelf supports. Cindy and I came up with a weird but effective mounting method which involved cutting off small sections of a foam pool noodle into little donuts that we tie wrapped to the back to keep it away from the wall a bit.  We then used more tie wraps to attach the top of the pegboard to the shelving above.  It worked out really well and should do no damage to the wall behind it. After the board was up I spent another chunk of time hanging items on it, organizing what wasn't hanging and throwing out stuff that was not needed.  I'm happy with the end result and I am sure it will get tweaked a little further down the road.