So I used a vacation day yesterday primarily so I could make the famous chocolate birthday cake for Cindy.  Although I had already bought a birthday present for Cindy I thought I would give her another gift of effort.  Since Irma the pool cage area has been wide open to organic debris, bugs, and frogs thanks to the numerous missing screen panels.  Cindy had commented repeatedly how she didn't like the situation.  I thought I would surprise her and make the situation better.
I left in the morning to Home Depot.  I told Cindy where I was going but not why, just that it was a birthday present.  For some reason I just assumed that by now pool cage screening would once again be readily available.  That assumption was defective.  Home Depot had very little screening and none of the wide rolls that are normally needed for pool cages.  I didn't want to give up on my plan so I headed to Lowe's which was about 7 or 8 miles away.
Lowe's didn't have the real wide rolls either, the widest they had was five feet which I did not think was enough to cover the sections completely but I figured it would be better than nothing.  I grabbed three 25 foot rolls of the stuff and headed back home.  As soon as I got home I got busy.  First I had to clean out any channels that had any old spline or screen in them which can be a pain in the ass to varying degrees.
I then used the small bit of wide enough screen I had left over to cover the two sections missing by the main door we use.  I figured those two would be the best to be covered completely.  I did not worry about making sure the screens were tight as a drum as it was all temporary.  As long as they keep out debris, frogs, and bugs for the most part my goal would be attained.  So as I expected the rolls I bought were about 6 inches too narrow.  What I wound up doing was securing the top edge and then just get as much tension as I could on the sides which left a two three inch gap at the bottom.  I then went back and cut smaller strips of screening that I affixed to the bottom to create an overlap.  My plan is to loosely secure the two pieces together on the seam using a hook needle and fishing line, far from an elegant solution but hopefully effective.
Hanging screen by yourself is never much fun.  I was pretty beat by the end of it but managed to get all of the side sections covered. The only remaining opening is a strip across the roof of the cage which I hope to cover by the end of the weekend.  Mid-afternoon I mixed in cake prep with screen repair, alternating between the two as time allowed.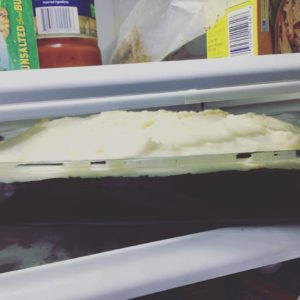 My day off was pretty much totally filled with work which I didn't mind as the goal was to make it a good day for Cindy.  She was surprised by the GoPro Session camera I got her as a main gift which should be fun to experiment with.  I even made dinner to go along with the cake which Katie stopped by to enjoy.