So as I expected, trying to trudge through hurricane remediation has been a pain in the ass.  I have been patiently waiting for my insurance company to contact me with a settlement offer after they told me I needed to wait up to 14 business days for them to receive the information from the adjuster company.  The adjuster was at my house on September 26th so this past Monday marked the end of those 14 days.  So I still had not heard anything so I called.
The representative checked my case and said they still had not received back the information from the adjuster which seemed crazy.  When the guy was at the house he told us to expect about a week until the stuff was sent in.  They gave me a direct number to call the adjusters although I questioned why Tower Hill doesn't do this themselves?  Why is the customer responsible for making sure the claim is processed correctly….
So I call up the adjuster and tell them that I was told they had not submitted their information yet.  She looked in their system and verified that it indeed was still not completed, it was waiting for review by their "desk adjuster".  I went on a bit of a rant asking why was I told a week and we are now three weeks out and it wasn't done.  The woman apologized and said they would get it processed that day and sent in.  I asked for someone to call me back to verify it was done.
So the day passed and by late afternoon I still had not received a call back so I called again.  A different woman told me that the system now shows the information as being submitted and I should hear something back from Tower Hill in 24-48 hours.   I didn't bother asking why no one called me to tell me this, I was just glad it was finally done.
So I waited another two days as instructed, hoping for a call but expecting to not get one.  I pick up the phone and call back yesterday, 48 hours later to Tower Hill, once again asking what's up.  Imagine my delight when they tell me they STILL do not have the information from the adjusters.  I told the rep she must be mistaken as the adjuster confirmed on Monday it had been sent.  She didn't know what to tell me but forwarded me to some "escalation" number that nobody answered and went straight to voicemail.  I supposedly was escalated on Monday as well and received no follow up.
So, I call back the adjuster company again, telling them that for some reason the insurance company says they still don't have the information.  The woman on the other side sheepishly tells me that the info actually had not been sent yet.  There was one more part of the process that had not been completed.  I unleashed a barrage of anger at their incompetence, asking why they would tell me it was sent when it wasn't, how can that be a hard thing to get right?  I reminded her that their continued delays make my efforts to remediate my issues more and more difficult.  Of course this woman just answered the phones but I had no one else to aim this frustration at.  She assured me it would be transmitted today and promised a call when it was, to confirm it.  Later in the day I did have a voicemail on my cell phone stating it was sent which I will be keeping for verbal proof.  Now I need to wait another day or two to allow Tower Hill to digest it. I am already anticipating this escalation when after all of this delay, Tower Hill comes back with a lowball offer that won't be acceptable.  I can only hope I am wrong.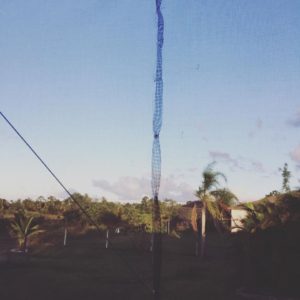 Last night after work I put my plan to "sew" together portions of the temp pool cage screen together.  I threaded some fishing line into a big hook needle I bought and worked on the vertical seam near the one door.  I stitched it every 5-6 inches which seemed to close it sufficiently to keep unwanted animals/objects out.  It turned out well and I plan to use the same strategy to connect the half dozen or so horizontal seams as well.
This weekend I hope to tackle the open roof section using two 4 foot wide strips.  It will be a two person job as I need someone to toss me screen while I secure one edge along the roof line.