So I finally got a call back from my insurance company, well to be clear, I got a call back from the company my insurance company sub-contracts out their claim handling to.  I am less and less impressed with the way Tower Hill does business now that both the adjusters that did my assessment and the people cutting checks both are not actual Tower Hill employees.
So anyway, I tell this woman how the number they came up with was much lower than the estimates I have received from contractors. (roughly 5-6k)  I told her I had emailed those estimates in earlier in the day.  The conversation was very difficult to hear, she sounded like she was talking inside a box and there was a lot of background noise.  I wouldn't be surprised if it was intentional, making a call annoying makes you want to end it sooner.
She said that after looking at the estimates the only way she could authorize paying out additional funds was if she contacted these contractors to see why their quotes were more than the insurance company estimate.  I laughed out loud at this as I knew it was utterly ridiculous.  To think a contractor, who is already buried in work is going to sit there and waste their time on the phone justifying their quote to some insurance company call center minion is laughable.  I indicated that this didn't seem to make any sense but she repeated that was the course of action to follow.  I gave her permission to contact them but I don't expect her to get anywhere with it, but she already knows that.
The interaction to me was just very transparent.  The entire goal here is to delay and frustrate the homeowner to the point where he just wants to get stuff fixed so they accept the initial offer.  However in my situation I have the house and pool cage temporarily fixed enough that I can play a long game if need be.  I plan to consult the public adjuster I spoke to initially and see what she thinks my best course of action is at this point.
I tried to give myself extra time on Saturday to work on the pool cage by getting the weeding out of the way on Friday evening.  In a way it was sort of nice as the temps were in the low 80's and dropping.
Saturday morning Cindy was helping out a friend with a 5K walk that supports cancer research. She suggested I get my run out of the way on Saturday so we could sleep in on Sunday.  I took that advice and started running even earlier than normal since Cindy had a 5AM alarm.  I took my first strides a little after 6.  Since I pushed my run to 16 laps when Cindy showed up last week so I felt obligated to run more than my normal 12 times around the track so I added a 13th lap.  I didn't feel too bad.
After getting back and tending to the chickens I wasted little time before I started working on the pool cage screen.  I first did my amateur seamstress impersonation, sewing up the sections of screen that had a gap.  The end result is far from visually pleasing but I think it will do a half decent job of keeping unwanted critters and bugs out of the pool area.

I then grabbed my bag of 2″ Nylotec pool cage screws and replaced all of the screws in the 1″x 2″ header piece, most of which were completely rusted.  These nylon head screws will basically never rust and make the cage look much better.  I replaced about 30 screws and have a lot more to go.  I have a kit to replace the smaller screws along the bottom and I need to get one more size to replace the real big cement screws which are the worst looking of all.  Installation of the new screws is easy, back out the old screw and insert the new one, which has a slightly larger diameter, allowing you to use the existing hole.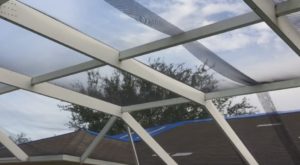 Cindy was gone longer than I anticipated but when she got home I asked her to help me with the last and most difficult screen fix I had left to do, a roof section.  I had a similar issue as I did with the sides, since I could not get screen rolls that were wide enough to cover it completely I was going to use a long four foot roll, overlapping two pieces.
Getting the strip of screen stretched across the opening was a difficult task in itself.  I had the roll up on the roof with me while Cindy had the other end, trying to get it over the edge of the cage so it could be pulled over top.  The gusting wind turned the screen into a sail, making the work even more frustrating.  Eventually we got the first piece in place.  I splined it in along the roof gutter and then came down and did my best to pull it tight and attach it on the other side.  My best was not good enough as the wind ripped it out.  I had to reattach it a couple times.
Getting the second piece on was equally if not more frustrating.  Eventually we got it into place enough that I told Cindy I could take it from there.  I was not pleased with the way things were.  The one strip of screening had a fold along the edge that I could not reach.  With the long strip only being secured at either edge I knew there was a good chance it would come loose quickly so I felt that somehow I needed to secure it more on top.
At first I entertained the idea of simply scaling the pool frame like a circus act however thankfully visions of me getting blown off balance by the wind and crashing through the screen to the concrete below made me reconsider the plan.  I did come up with a plan B however.  After I climbed back on the roof with the Gorilla ladder I proceeded to pull the ladder up on the roof with me.  I then put one end of the ladder on the roof and rested the other end on a roof beam of the pool cage, creating a shaky scaffolding.  I then carefully crawled out across it, some 15-20 feet in the air, hoping that my demise would not come from the ladder suddenly breaking in half from using it in an unintended way.  I somehow managed to get some spline in a couple spots on top of the cage that hopefully will keep the screen in place for now.  I was glad Cindy was not outside to witness this act of daring. (stupidity)
Saturday night Cindy and I went to see the Kingsman sequel at Silverspot.  Unfortunately our favorite theater at Coconut Point is STILL closed due to hurricane damage.  The parking garage was a bit of a mess coming in but a cluster fck getting out, reminding me why I prefer seeing films elsewhere. The movie was very entertaining in a different and bizarre kind of way at times, much like the original.    It was entertaining enough for me to push into A- range.
On Sunday morning I had the idea to try to ride my Gotway Monster all the way to Ave Maria and back, a roughly 30 mile trek.  It was much further than Cindy would have wanted to ride so she stayed home while I shoved off solo.  I thought I would have absolutely no problems having the battery capacity to do it.  I figured my 1600WH battery would be good for around 50 miles of riding.  Well for almost the entire ride there I was going into a heavy headwind.  When I stopped in town and looked at my battery indicator I was a bit shocked to see it was down to 50% after only going 15 miles. I had visions of running out of juice before I could get back home.
Luckily for me that headwind turned into a tailwind on the ride back, plus I tried to keep my speed down a bit.  If you watch the video you will see I ramble about a number of different topics along the way.  My calves and feet were completely numb by the time I pulled back in the driveway.
Cindy and I ran out to Home Depot and Rural King when I got back, taking the dogs along.  They love to be in the car.  Sadie loved going into stores too.  Elsa gets more freaked out being around strangers but we keep trying to expose her to the environment to help her settle down.
I spent the majority of the rest of the day doing video production and again clubbing away at my CR-10 problem.  I wound up buying a new hot end assembly but in order to install it I had to utilize my very poor soldering skills to splice the new end into place.  I am worried that my connection will not hold up to the endless back and forth movements the printer makes but time will tell.
I put everything back together and my clogging problem seems to be fixed but I still need to do a recalibration of the printer to get it printing correctly with the new stuff in there.  I shot some video of the process and then somehow proceeded to lose the SD card the footage was on.  I must have set it down somewhere while cleaning up the mess I had on the desk but I spent a good 20-30 minutes looking everywhere for it to no avail.  When combined with the frustration I was already feeling with the printer shit it was not a good time. If this latest round of attempted repairs does not work out I think I am just about ready to say F it and just wait to get a Prusa i3 MK3 which has similar print capacity with a whole less frustration.