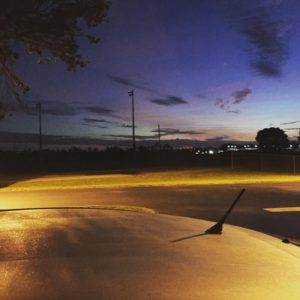 Once again on Friday night I got out and did the weeding when I got home to give me one less to do for the weekend. The first thing that got done on Saturday was another run.  The temps in the upper 60's definitely helped make the session feel less miserable than normal.  I again opted for 13 laps as I am actually doing a four mile "race" this upcoming Sunday so I figured more distance made sense.
I spent most of the rest of the morning mowing the grass.  As I did I clearly recall thinking how nice it was that everything was now totally dry and the miserable days of standing water were behind us for awhile.  Six hours later, it was back.
There was a fast moving tropical storm that buzzed by Florida that had no serious wind on our coast but dropped a shitload of rain.  I am sure we got at least four inches.  Neither Cindy or I were happy to see things underwater yet again, reenforcing that 2017 has been the worst rainy season since either of us have lived in the Naples area.
We watched XXX the Return of Xander Cage on dvd on Friday in bed.  It has been sitting in it's Netflix envelope for weeks and weeks.  We just have not been motivated to watch it.  That lack of excitement was merited, it was a C+ flick at best, oh well.
Saturday night we went to the Prado movie theater in Bonita, a theater I had been to once or twice but Cindy had not.  Coconut Pointe was STILL closed and I did not feel like dealing with the crowds we had at Silverspot.  The Prado is quite nice and less expensive than any other theater in the area, we will be going there more often I think.  We saw "Thank You for Your Service", a movie about the terrible toll many soldiers that come back from Afghanistan/Iraq wars are forced to pay.  It was certainly a very sobering look at the reality of war and why the people that profit massively from international conflict should perhaps spend some time with their own boots on the ground.  It just might change their perspective on things.  It was an A movie.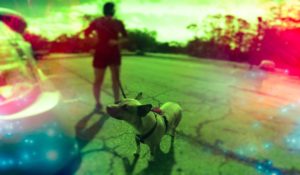 Sunday morning after tending to the chickens and paying my bills we went to Veterans Park.  Our plan was for Cindy and Elsa to walk while I rode my Msuper around a bit.  Veterans has a dog park but we were bummed to see it was closed due to hurricane damage.  A lot f trees went down and in the process damaged a lot of the perimeter fencing.
I never rode my wheel there so it was cool to travel the outer perimeter to see what was what.  We didn't spend much time there but it was nice to at least get out for a short while.
So in the past a game like the Eagles had on Sunday against the winless 49ers would be a trap game.  There have been so many times over my decades as a fan where the Eagles would play down to the level of their competition and in many cases lose to team that they just should never lose to.  For the first half of the game it looked like that may once again be the case with the score being only 3-0 as the teams approached halftime.  However in the second half the Eagles really asserted themselves and imposed their will, pulling away to an easy win, moving their record to a much unexpected 7-1.
As a lifelong Birds fan I just never feel comfortable truly believing this could be the year the team actually goes all the way.  They have been close so many times only to squash my hopes in the end.  I still assume the wheels will come off at some point but it still has been great to have this sort of a start to a season, something that has not occurred since the Donovan McNabb heyday.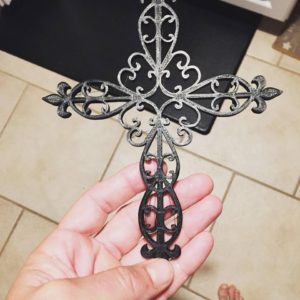 After the game I once again dug into my CR-10 trying to get it to print an ornate cross for Cindy.  It has been desire to get this cross printed for her that has driven my many, many hours of frustration trying to get several printing issues corrected.  Overnight that effort was finally rewarded when I woke up to a very clean print that more or less duplicated the cross Cindy had that broke when it was dropped.
The design work was done by my buddy Mathias in Norway.  I sent him an overhead picture of the broken cross.  Since the cross is symmetrical he was able to flip and reverse the unbroken portion to correct where it was broken and turn it into a 3D model.  Cindy was very happy with the outcome and is looking forward to us trying to print it several times in different colors/filament styles.
At this point next week we should all be moved back to our renovated space in the office, ending what has been a nearly six month headache with a major hurricane thrown in just for fun.  That's good news but the bad news this project ends just in time for us to start getting very deep into another project where we are outsourcing the majority of our backend systems to a cloud provider.