I apologize for going dark for the latter half of last week. We finally completed the second half of our renovation at the office and I worked my ass off getting our department moved from our temporary building back to our renovated space.  There were movers scheduled to come on Friday to move our furniture but I didn't want to wait.  So starting on Wednesday I used my Tacoma and hand trucks to move tons of heavy metal desks and tables.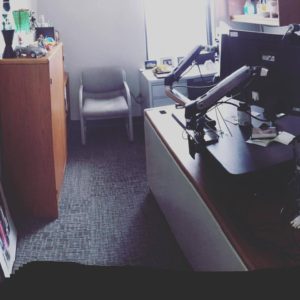 I worked straight through each day with no gym/lunch break.  I had no need for supplemental exercise as I got plenty of it hauling everything around.  My body was beat to a pulp by the end of it.  Both of my arms are heavily bruised from having the furniture wedged against them.  My lower back was one big knot of pain as well.   To me the pain and soreness was worth it as by the close of business on Friday I was more or less situated back into my original office.
I used the final move as an opportunity to rearrange my office.  I turned my desks into an L configuration and lost a couple pieces of furniture to give me more space.  The end result was the window in my office is now in my field of view all day long instead of to my back.  I like the configuration much more.
On Saturday I was busy buzzing around the house.  After weeding the yard I had to get out the ladder to address a couple things.  The rig job I did on the OTA antenna finally failed.  The partially snapped center extension broke all the way and was laying on the roof of the shed.  I went up there and undid the dog leash and wash line that held it together after the hurricane.  I hoped what remained would still get us some TV.  We do still get channels albeit fewer than we did when the antenna was in one piece.  It will do in an emergency which is all it is for at this point.
I also had to put the spline back in for my haphazard temporary roof screening repair.  The wind had managed to partially pull it out.  I am looking forward to having the cage rescreen professionally, whenever that may be.  I am hoping to complete one piece of the puzzle to make that happen this week.  I am supposed to close on reopening my home equity line this week which allows me to more conveniently fund whatever part of the repairs that won't be covered by insurance.  Of course coming to an amicable agreement with my insurance is an entirely different issue which I am still in the middle of fighting.
During the afternoon I spent a bunch of time replacing pool cage screws with the new ones that I bought that are designed to look much better and last much longer.  Specifically I was replacing the big concrete screws that are used to attach the cage to the deck.  Each support had a minimum of four screws attaching it to the cement.  In every support but a couple, half of those screws were corroded to the point where the head snapped off.  The screws that went through an L bracket directly into the cement remained intact but pretty much every screw that went through an L bracket and then through the 1″ x 2″ piece of cage frame into the cement were destroyed.  In those situations roughly an inch of the bolt was left exposed to the air/elements.  Evidently the bolts were not designed to hold up in that situation.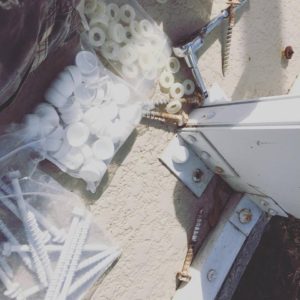 So now I have to either drill out the roughly four inches of snapped off screws in each hole (probably at least 20 of them) or install another L bracket which allows me to relocate that hole elsewhere.  Either way it's going to be a pain in the ass.  The screws that I did manage to replace look great.  They install on top of a nylon washer and have a weatherproof cap that snaps into place on top.  The combination looks clean and seals off the fastener from the elements.
Saturday night Cindy and I went to see the new Thor movie.  We again saw it at the Prado theater which I think has now become our theater of choice since Coconut Point  inexplicably remains closed.  This time we paid extra to see the movie in their VIP theaters which have reserved seating in beautiful and comfortable power reclining chairs.
When I bought the tickets I thought I bought seats in the top row in the middle.  It turns out the theater diagram was the reverse of what I expected and we wound up being in the first row.  It was disconcerting at first but with the way the seats reclined it made viewing the film less than ideal but bearable.
The movie was not what I expected.  If I were to describe it, I would say it was a comedy first and a conventional Marvel superhero action movie second.  Don't get me wrong, it succeeded in this role, I laughed out loud a lot.  The film still gets a shiny A rating from me, it just got there in a manner I didn't expect.
So despite going to the movies AND this being a daylight savings weekend where you lose an hour of time, I set my alarm for 5:30 to go compete in my first race of 2017.  The race was an unheard of  FREE four miler held by a group that is trying to get a foothold into putting on events in our area.  The race was held at North Collier Park, a spot we ride the wheels at quite a bit and the place where Cindy and I did a lot of our tri-style training the first year or two we were together.
I arrived about 40 minutes before the 7Am start time.  I could not believe that our free entry to the race also included a free, high quality dri-fit t-shirt as well.  Hell they even had finisher medals at the end.  As far as how the actual running part of the event went, I struggled.  It was the only the second time this year I ran four miles so I was not in a position to try to push pace, I just wanted to complete the distance.
Early on I had some of the old familiar struggles where I saw people that shouldn't be ahead of me, ahead of me.  However as is often the case, a lot of those people slowed down or stopped to walk, allowing me to take the spot in front of them.  For the last half of the race I was the one doing the passing, except for once case where a teenager girl whom I passed was able to return the favor as she had more gas in the tank than I did as she pushed towards the finish.  My finish time of 38:30 was about 45-60 seconds per mile slower than what I could do comfortably 4-5 years ago but to be honest I really didn't care.  It just felt good to get out there and still prove to myself I could endure.
Mid-morning Cindy and I pushed off to ride EUCs with a twist.  Cindy saw they had a food truck/autoshow event going on on Vanderbilt Beach Road.  We parked the Prius and rode the roughly mile to the event.  We did a good job of maneuvering our wheels through the crowd which was pretty dense at spots.  We got TONS of comments and double takes as we rolled around the event.  We saw a lot of sweet cars and enjoyed a nice lunch from a food truck that wheeled over all the way from Miami.  It was a good idea by Cindy.
We got home shortly after the Eagles game started.  The game quickly turned into a blowout, so much so that much of the second half was not televised locally.  The big win left the Eagles sitting at an unbelievable 8-1, going into a bye week.  Maybe, just maybe, I am starting to think the team has the chance to go deep into the playoffs.  Their recent acquisition of Ajayi from the Dolphins paid immediate dividends after he had a long TD run and ran hard.
I have a short four day week thanks to Veterans Day falling on Friday.  I have a lot to do in those four days but look forward to the three day respite.