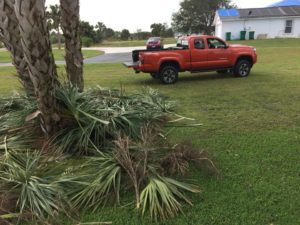 So just like last year, I spent my observed Veterans Day holiday working myself into the ground, ironically doing so at the top of a 20 foot ladder.  It was once again time for my once a year trimming of pretty much all of the trees on the property, consisting mostly of cabbage palms.  Last year I thought I would be smart and rent a longer ladder from Home Depot to do the work so I could safely get higher into the trees.  However the ladder weighed so much that I soon said f it and went back to my lightweight aluminum 20 footer.  This year I didn't waste the money on a rental.
That is not to say that I couldn't have used a longer ladder.  There were a handful of trees where I was perilously close to the top rung.  In those situations I "anchored" myself by either grabbing onto an uncut branch or literally hugging the tree with one arm while I cut branches with the sawz-all with the other..  With as many years as I have been doing this chore I really am surprised there has not been a serious fall.  I have been tempting fate regularly.
So trimming all of the trees took all morning.  After a refueling lunch I headed back out for phase two which involves picking up the hundreds of branches/fronds and assorted debris and hauling it back to the fill pit one full truck load at a time.  When I had the 99 Tacoma I used to be able to take back more with each load since I would overload the bed to the point where stuff was spilling out over the roof since the paint was already a mess.  With my 2016 I try to keep everything touching the plastic in the composite bed and no painted surfaces.
So I finally dumped my last load around 4 PM.  It was a grueling day but I had already ideas about one thing I wanted to get done before the sun went down.  I hopped on the tractor and mowed the EXTREMELY high grass/brush (4-5 feet in some spots) beyond the perimeters of the fence.  My property actually extends a good 100 feet beyond the rear fence line.  Dumping all the debris in the pit gave me a first hand look of how jungle like the grass out in that area was.  Mowing it on the tractor was an excruciatingly slow process, requiring me to go at a sub-turtle pace and going back over the same spot multiple times.
As I was doing this the chute cover on the mower deck broke off.  Not having the cover actually helped make mowing more efficient as grass was able to shoot out of the deck unencumbered.  However it also turned into an organic matter shower.  My exposed sweaty skin quickly became corn dogged in dirt, sand, and grass.  When I finally went inside as the sun was setting I had absolutely no doubt that I made the most of the day.
When I awoke on Saturday I assumed my body would just be destroyed, as it normally is after tree trimming day.  I had some soreness but nothing close to what I expected.  My only explanation has been my recent regimen of taking CBD oil which is basically hemp oil.  A gym buddy of mine said he and his girlfriend started taking it a little while ago and it has made a dramatic difference in how they both feel on a day to day basis, especially aches and pains.  I have been taking three drops in the morning and at night under my tongue.  Google it, so far I highly recommend it and no, it doesn't get you high.  There is no THC in the oil but if you look at the benefits the list is pretty staggering.
So Saturday morning I again was on the tractor, this time for a couple hours mowing down the rear half of the property, something I should not have to do again for awhile thanks to wet season being behind us.  The lack of a deck chute cover again made the grass cut very well but again I was entombed in organic matter by the time I was finished.
After I changed shirts and got cleaned up a bit Cindy and I headed out to somewhere I never expected to be going, to a RV dealer.  For almost as long as I have known Cindy she has had this thing where she wants her own space or as popularly referred to nowadays, a "she shed".  She at one point tried converting our smaller shed into such a space but it was too small to be of much practical use.
So for awhile her idea was to buy a true shed and then customize it.  It was not all that practical of an idea for several reasons.  I really didn't want to do the labor that would be required to convert an empty shell to a livable space.  Plus any shed that would be big enough for such use would be a minimum of 10 feet wide would likely not fit through any openings I have in my fencing.  So a week or two ago Cindy came up with an alternative, buying a RV trailer.
I have no idea how much time she spent online looking at endless options, it had to be well into the double digits.  She looked at new/used trailers of various lengths.  After all that research she finally narrowed it down to looking at a new trailer because of the better financing options and she wanted to look at Campers World, a national chain that had all of the models she wanted to see in person.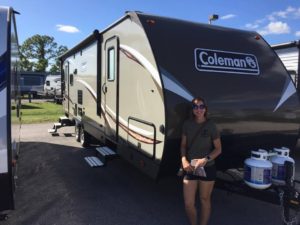 We dealt with a nice woman named Allison who just moved to Florida from New Hampshire.  She sold cars for six years up north and had only been selling RV's for less than a month.  She didn't have an extensive knowledge of the RVs but it didn't really matter since Cindy had written down exactly what she wanted to see ahead of time.
I was sort of an innocent bystander through most of the process.  This was entirely a Cindy thing.  I threw out my opinion here and there.  My main concern was size, the 30 foot plus models on her list were too heavy to be towed by my Tacoma and too expensive for Cindy's budget.
There was a cool Coleman unit we went into pretty early in the process.  It was a 26 footer that was light enough to tow, spacious, loaded with tech, and at a number that could be worked with.   Once I saw that one my interest in others waned.  Cindy and the salesgirl went in and out of a dozen more models but I got pretty burned out on it, they all blurred together.  Cindy really liked the Coleman as well and decided she would work numbers on it.  She already had a preapproved loan from USAA for an amount way higher than she was willing to spend so it was just a matter of getting the numbers nailed down.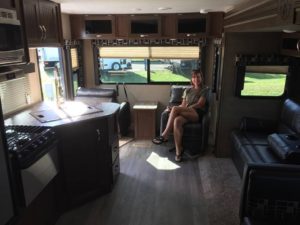 The negotiation process was nearly identical to a car dealership with more egregious add ons.  When we were out on the lot the girl quoted us the list price for the trailer.  When she brought us the sales order she said the actual normal price was 10K more and it was DISCOUNTED to what she told us in the lot.   In addition there was nearly another $3000 added in for "freight" and "prep" things that were not mentioned prior.  All of a sudden the trailer costs several thousand more than we had both already established in our head.
So of course we would not roll over and accept that silliness.  We basically negotiated almost all of those additional charges back off the deal.  Cindy was happy with the final number we got but I think we probably still left some money on the table, oh well.  So we went through the paperwork and set some tentative dates.  I don't have a trailer hitch on the Tacoma (it has the tow package however) and we both preferred if the trailer was delivered initially by a pro.   If things work out as planned the Coleman 2605RL should be parked in the back yard behind the chicken coop by the end of the week.
Cindy of course was very excited.  When we got home we checked out the best route to get the trailer on the property.  The rarely used front corner gate will allow almost a straight shot into the rear yard.  The side gate we normally use has too many turns to be able to get there more than likely.  Of course Cindy has a million ideas in her head about what she wants do with the trailer.  I was excited for her although a week ago I had absolutely no inclination we would be setting up a RV at the house.
When we got back I decided to take advantage of the beautiful weather to make an unconventional EUC ride, to the grocery store.  Since our new Publix is only three miles from the house it was a very easy ride.  Once I arrived I lifted the heavy wheel into the shopping cart and grabbed the couple boxes of Pop Tarts I was looking for along with a small chocolate milk.  Of course I got a lot of WTF looks but it was fun getting there and back one a single wheel.
Saturday night we relaxed while watching John Wick : Chapter 2.  The movie overloaded on up close and personal kill shots.  There are so many bad guys mowed down it seemed they ran out of ways to have them killed creatively.  The movie seemed about 45 minutes longer than it needed to be but it kept me entertained for the most part.  I'll give it a B.
As further testament to CBD oil, I was able to get out and run Sunday morning without any major difficulty.  I put in another 13 laps around the track with the idea that I need the mileage in case we decide to do the Thanksgiving run again this year.  The run Sunday went fine, feeling slow and steady.
We went out for a PTV ride mid-morning to the Greenway, a place we haven't ridden since well before the hurricane.  We met up with Katie and Daniel there.  I could see a number of snapped off trees but the pathway and boardwalks seemed to be in tip top shape.  While we were there we got to witness an unexpected spectacle of a bunch of young kids flipping off the bridge into the river some 15 feet below.  We filmed a bunch of it.  They seemed to be looking to get some traction in social media with the stunts, having someone film it for them as well.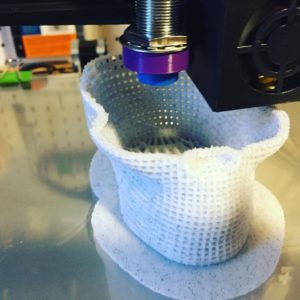 Over the weekend I was firing off prints on both of my 3D printers, taking advantage of my getting the CR-10 back online.  I printed a large, intricate 3D skull for Katie on the CR-10 and a cool Eagles coaster for me on the Finder.   I am in the middle of a another 24hour + long print on the CR-10 that appears to be going well.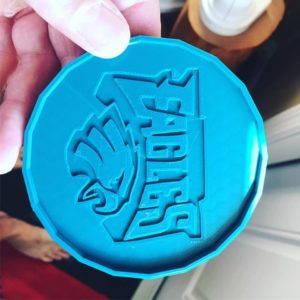 It's satisfying to be able to get my issues resolved with the printer.  It's ironic that in order to do so I have uninstalled several of the "improvements" that I thought I needed.  Sometimes the "K.I.S.S." approach to things just makes more sense.
The majority of my Sunday was pretty laid back.  I figured I earned the leisure time with the energy and effort I had expended thus far.  Since the Eagles were off this week I put some of that time into WoW and enjoyed it as always.