The four day holiday weekend truly rolled by in a flash, filled with lots of good times.  It was a near perfect conclusion to what may be some of my most memorable 10 day spans as an adult.    Friday morning my goal was to try to attend to most of the must do's so the majority of the weekend was clear.  I weeded the yard, repaired the automatic chicken coop door, and replaced the section of screen on the one lanai door that Sadie tore through a few days prior.
Randall was also due to arrive Friday around 5 for a brief visit. The main focus of his visit was for us to finally get out to see Star Wars which I bought reserved seats for at Prado, our new favorite theater.  We decided to eat dinner there as well since they have a pretty robust menu.  Cindy and I never took the time to eat there but we were pleasantly surprised, the food was pretty outstanding.  I also was pretty surprised when the bartender said the tab for Randall and my beer was $20.  My Miller Lite was $5 but they evidently yank you for $15 for a draft IPA, geezus.
This was the first time we took Randall to this theater and it seemed like he approved.  The good food combined with the reclining leather seats are a hard combo to beat.  SPOILER, skip ahead a couple paragraphs if you don't want any Star Wars commentary.  So anyway Randall approved of the theater but I wouldn't say he approved of the movie, a sentiment all three of us shared.  It just was dumb in so many ways.  Visually of course it was superb and one of my favorite parts of the movie were the alien wildlife that was injected into the film.  Of course if that is a highlight of a movie, that isn't saying a lot about the plot, dialogue, and acting.
I really don't get it.  It's my understanding that they shot all three of the movies from the reboot at the same time.  I thought The Force Awakens was GREAT and did a fine job of capturing the essence of the original three Star Wars movies from the 70's-80's.  I thought Rogue One stepped down a few notches and unfortunately The Last Jedi drops all the way down to a B level movie for me.  I just don't understand how a similar group of people could produce movies that to me, vary drastically in quality.  If I was only allowed one word to describe The Last Jedi it would be, disappointing.
Even with the less than fulfilling movie we all had fun going out.  When we got home we made Randall open his gifts from us which included a national sarcasm society t-shirt, a funny coffee connoisseur mug (Randall is The Coffee Avenger), and an EUC stand that I 3D printed for him.  Cindy had to teach class on Saturday morning so Randall and I laid out a tentative game plan where I would get up early and run and then he and I could push out for Ave Maria with he on two wheels while I made due with only one.
The Saturday run went fine.  The temps in the low 60's were nice but because of the thick fog I still was soaked from condensation by the time I was finished.  When I got home I tended to the chickens before Randall had emerged from the bedroom.  Some of the chickens have been acting odd recently.  Each night we always have to place a few of them up on the perch.  Some of them instead decide to stand on the nesting box area while some have even been on the floor.
I'm not sure what is going on but my first guess is maybe the effort to get up on the perch is starting to be too much for some.  Lucy, our oldest chicken has been on the floor the last few days.  To hopefully address the problem I modified the ladder position so there is less of a final jump required for them to get onto the main perch.  If certain hens keep struggling we may have to do further alterations. I was really worried about Peaches over the weekend because she was acting very low energy.  She seemed to rebound somewhat yesterday but with chickens you just never know, they can go downhill suddenly and quickly.
So anyway, it was still quite foggy when Randall came out.  We decided we should go grab some DD coffee with the dogs to allow the fog to burn off.  Elsa and Sadie were quite excited by our choice.  Our plan worked out well, by the time we got back it was sunny and clear.
I had once before done an EUC/Road Bike thing when Randall and I did the 20 mile DD ride.  At that time I used my Msuper to tackle the distance.  The Ave Maria ride is a full 10 miles farther so my only viable option was the big 22″ Monster that sports a 1600wh battery.  For the first 5 miles of the ride Randall was in the lead of our two vehicle pelaton however there was a pretty nasty headwind.  I suggested to Randall that I pull in front since being the wind breaker only consumed battery power for me instead of calories.  He welcomed the switch.
The Monster did surprisingly well, Randall said for a good portion of the ride out we were pacing 20+ mph INTO the wind, something I could never do on a road bike.  My upright body on the wheel also made for a nice air pocket Randall could draft inside of, making his ride more tolerable.  We made good time out to Ave Maria and enjoyed a drink at the local coffee shop.  On the way back that headwind transformed into a tail wind which helped us keep up the speed.  During the last couple miles Randall dropped the hammer to finish the strong.  No matter how hard he pushed I was able to keep up on the Monster.  He showed his top speed as being over 23mph.
Cindy picked up Publix subs that we enjoyed for lunch.  Mid-afternoon Randall and I headed out again, this time with HIS Ninebot EUC to go ride at the greenway.  My feet and calves were extremely sore from running followed by the Ave Maria ride but I would had to be crippled to not go out again.  I brought my Mten3 this time.  Randall and I had a good time cruising around there, a spot I never took him to before.  At the end of the ride I suggested a small change he could make in his riding style to give him better agility and control.  He practiced in the parking lot and by the end of the ride was doing much better.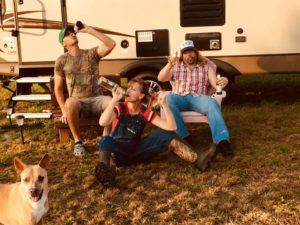 When we got home the three of us had a rather funny photo shoot out by Cindy's RV.  Randall had his redneck costume in the car that he used for my birthday video and suggested we utilize it.  Cindy loves to dress up and I threw on my camo t-shirt from 7th grade to go along with camo shorts and Crocs.  We took several very funny shots that became instant classics.  Randall headed out shortly after the photo shoot as we had a holiday party to attend held by Cindy's work.  It was a short visit but jam packed with memories which is all you can want.
So Christmas Eve once again was pretty busy, well more so for Cindy than for me as she had a lot of meal prep to do.  I had just a couple of loose ends to tie up for my holiday shopping needs which I did in the morning.  Later in the afternoon Cindy dropped me off at Vineyards Park to ride the Mten while she dropped some stuff off at her mom's place.
I spent over an hour tooling around the park practicing various skills on the small but powerful wheel.  My lower body was still hurting from all the riding the day before but I didn't care.  It's such a fun wheel to ride.
Another thing I spent considerable time on over the weekend was extracting the video Cindy produced and getting them on YouTube.  It was hard for people to pay much attention to or hear the video at the party itself.  I made two versions, one is the original version from the party and the second is shorter with some cleaned up audio and some footage from the party itself.
We spent Christmas Eve watching the live broadcast of A Christmas Story, the broadway adaptation of the popular Christmas movie.  I normally cringe at musicals but I found the show fun, entertaining and a nice way to spend the last few hours before the big day.
I have never been good at sleeping in on Christmas Day and despite now being a half century old, that tradition continued on.  I was up and out of bed by 5:30.  By the time Cindy got up at 7 I had already done some more video editing and played some WoW.  Before we started opening presents I got the chicken coop cleaning out of the way.  I gave the hens Xmas gifts they always appreciate, greens from the garden, cracked corn, and some dried mealworms.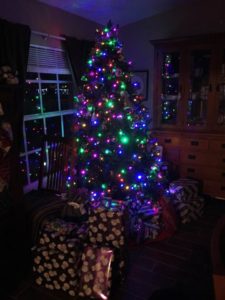 As is the case every year, the Christmas tree was decked out with ample presents, although the presents only appeared the night before.  Because of Elsa potentially digging into things the presents have been living in the hobby room and the tree has spent most of the season encased in a chair barrier which I have not been thrilled about.  It was nice to finally see the tree as it should be.
Cindy and I had good time opening presents to each other and from my family.  I made out well scoring clothing, power tools, gadgets, books and 3D printer filament and lots of it.  I think in total I now have 7 or 8 fresh rolls which will keep my printers chugging along for the foreseeable future.
Cindy was happy and surprised by her gifts, the biggest of which was a Silhouette Cameo 3, a craft "printer" that will allow Cindy to do some extremely cool things once she learns how to use it.  Another noteworthy item was an Amazon Echo Show that adds a video screen to the already impressive Echo features.  I wasted little time before configuring it.  We both noticed immediately that the speaker in the Show sounded noticeable better than the original Echo.
Once the opening extravaganza was done Cindy had to dive back into meal prep while I started working on post Xmas clean up duties.  It can be a lengthy process that includes finding a home for all the new items as well as disposing of all the wrapping paper and cardboard.  By the time I was done the dining room was pretty clear.
Cindy's daughter and her boyfriend showed up late in the morning to open gifts.  Once again this year I went a little crazy and bought Katie her second EUC as in many years, a Mten3.  She has loved mine since I first let her try it and I knew she would get so much enjoyment bang for the buck from the gift.  It made me happy to see the big smile on her face as she unwrapped it.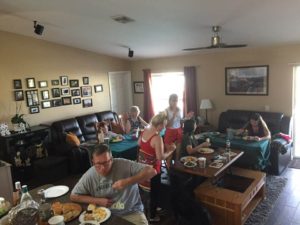 Cindy and I did some rearranging of the great room for the family meal.  Instead of eating at the big dining table like years past we ate in the great room and sort of arranged things like we do for the fantasy football draft party.  Cindy's family started showing up around 2:30.  It was her brother, sister-in-law, two nieces, nephew, mom and Katie that showed up in total.  There was a TON of food as you would expect and everything was delicious although I of course ate more than my recommended caloric intake.
Everyone seemed to have a good time, the house felt warm and "Christmasy", a feeling I always hope for.  After the meal gifts were exchanged and we even had everyone outside riding around on the Segways while Katie, Cindy, and I rode our EUCs.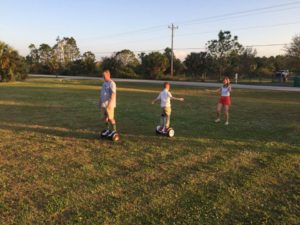 There were smiles and laughter throughout the entire get together which is all you can hope for.
Most of the crew left by 6.  Cindy's other neice Taylor wasn't able to get out there until closer to 7-7:30 but we had a nice time with her as well.  She is one of the most put together 17 year olds I have known.  She has a bright future ahead of her for sure.
Cindy and I both worked diligently on clean up, striving to get the house somewhat close to normal before heading to bed.  I took a shower and flipped on the bedroom tv to watch the Eagles game.  Starting out in bed was a mistake, I began dozing off before the second quarter started and I was out like a light before the end of the first half.  I was glad to see the Eagles pulled off what seemed to be an ugly win in the end, securing a first round bye and home field advantage throughout the playoffs.  I can only hope they take advantage of it in the end.
I awoke today feeling a bit of my normal post Christmas sadness.  It happens every year but felt a bit stronger this time around.  Not only did today mark the end of Christmas but it also was the culmination of a very special period of time that started with my birthday trip north and the incredible surprise party that I was treated to.  This holiday season has been the best one I have experienced in a long time and to see it pass is a bummer.  I will do my best to keep the Christmas good energy going all year around.