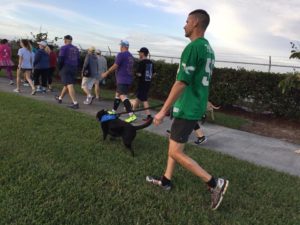 Saturday morning Cindy and I were up early to head out to the Run for the Paws, the race Ali started a dozen years ago mostly due to our experience with adopting Nicki.   Cindy and Sadie came as well.  We sadly left Elsa at home but she would have been absolutely terrified the entire time and it would have been miserable.   Cindy and I both were wearing Eagles jerseys which drew more praise than negativity at the race.
We arrived close to an hour and a half before the 8Am start.  It was nice to see a lot of the old familiar running club crew although some of the key roles are now being handled by other people.  I primarily let Cindy tend to Sadie while I lent a hand here and there in a very minor way.  It certainly felt odd to have so little responsibility in a situation where I used to have a ton of weight on my shoulders, but I'm certainly not complaining.  I have not missed timing races at all with the only caveat being the positive interactions with race organizers and participants.
So the plan was for Cindy to walk Sadie with a friend of ours and I would just run it, my first chip timed 5K in years.  With my weekly runs, a fast pace has dropped off the radar as one of the goals so I didn't really know what to expect.   I ran the race like I normally do, see people in front of me I identify as targets to pass, and then try to do so.  For the most part I took down all targets but overall my pace was slower than I expected.  My chip time just barely got into the 29's.  I knew I would be slow, I didn't think I would be that slow. Oh well, good thing I'm not qualifying for the Olympics.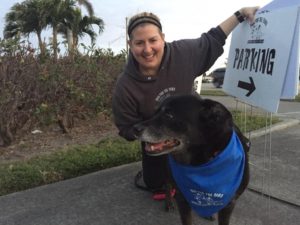 Once I finished I stood at the finish line with Ali for awhile waiting for Cindy and Sadie to finish.  After waiting 10 minutes or so I started walking back out on the course to make sure everything was ok and to walk/run in with them.  Everything was fine and Sadie seemed to be holding up well, much better than last year, to the 5K distance.  We slowly jogged across the finish line where Sadie was greeted very enthusiastically.
Last year after the race I stuck around for the entire awards and even helped clean up some but I was there by myself.  This year we had to let out a friend's dog on the way home and we wanted to get back to Elsa who was likely very unhappy. We just stayed long enough for Ali to introduce Sadie at the start of the awards and then headed out.  We didn't go around to do a round of goodbyes but we will see a number of the people at our Super Bowl party so it's all good.
So on the way home like I mentioned we had to stop to walk our friend's dog but before that we wanted to do a DD pit stop.  I was on Airport Road turning left onto Pine Ridge.  I was behind a cargo van.  As I approached the light the van partially blocked my view of the light but just as I started making the turn the turning arrow went from yellow to red.  Oh well, I still cleared the intersection before opposing traffic got a green.
Well as I am sitting on Pine Ridge I see flashing red and blue lights in the mirror.  I then realize the lights are directly behind me and not trying to get anywhere else.  Yep, I was getting pulled over.  I think the only other time I can recall being pulled over was early in my Florida residency when they had a speed trap out by my house.  I got off that time with a warning.  Well this certainly wasn't what I needed for my post race celebration.
The deputy, who was probably a guy in his late 20's, early 30's was pleasant.  He said I ran the light but it "wasn't bad".  I had my registration and insurance in hand and apologized, saying the van partially obstructed my view.  After running my plate he returned with a piece of paper, luckily it was only a warning.  I thanked him for cutting me a break.  If he was a Yellowstone Park Ranger he surely would have thrown the book at me.
So when we got home we dug right into chores with chicken clean up being first on the list.  Earlier in the week Cindy had noticed all of the cameras but one in the coop were showing offline.  I figured I just needed to reboot the DVR as this sometimes can happen.  Well when I was out in the coop run I realized that no amount of reboots would fix the problem.
I had drilled a small hole in the side of the coop that I ran the camera wires through to the head unit inside.  I filled the remaining gap with pipe foam insulation. Well when I glanced at that hole I saw it as empty with 7 sets of chewed through wires hanging there, the damn mice were at it again.  They evidently destroyed the wires and insulation in order to give themselves free entry into the coop.  I have already ordered new wire sets but I will need to modify my installation to make it mouse proof.  I have been live trapping and relocating the pests.  I have caught three so far but evidently more remain.
Despite the early rise and 5K I deemed Saturday afternoon as the time I would pressure wash the two sheds which were both various shades of green/black.  I used the gas pressure washer which has much more crud blasting power than our electric model.  It's always a bit hairy standing on the wet roof of the big shed as I lean awkwardly over the edge to blast a few of the panels.  But hey I haven't fallen yet in 15 years of doing the task, I'm a pro at this point.
Saturday night we watched our latest Netflix dvd, the most recent Pirates of the Caribbean movie.  Johnny Depp has been a bit of a joke recently with an embarrassing string of box office failures.  I hoped one of his most iconic roles could reverse the trend.  Well the best I could offer is, sort of.  I thought the movie was ok.  I once again dozed off a few times due to being up early for the race.  My general feeling at the end of it was that hopefully I had seen the last of the series.  It was a shrug my shoulders B flick, I guess.  I just didn't care.
Sunday I started off with chicken cleaning and bill paying.  Mid-morning I hopped on the Monster to ride to Dunkin Donuts.  I arranged with Cindy to meet me there with the dogs so we could go run errands afterward.  I was carrying some major speed during the ride.  I did not have a tracking app running but I am pretty sure most of the ride was at 20mph+.  I got there faster than expected, so fast that I had an extra 10-15 minutes to roll around the side paths and roads until Cindy got there.
We then hit Pinch-a-Penny, Rural King and Home Depot to pick up several things.  One of the things I grabbed were some longer weather proof roof panel screws to replace a few I saw that were loose and/or missing from the big shed.  I replaced them later in the day.
The rest of Sunday was pretty chill.  Cindy spent a lot of time working with her Cameo.  She just loves creating things on the platform and I encourage her to do so.  I too messed with my laser engraver as well as playing a nice chunk of WoW to wind down my weekend.  All was well with the world…
And now with the plugs!
Ender 2 on GearBest EU Plug – https://goo.gl/v5bNRG $159 USE COUPON – "Enderen"
Ender 2 on GearBest US Plug – https://goo.gl/v5bNRG $159 USE COUPON – "ENDERC"
CR-10 on GearBest – https://goo.gl/6M9DHi use coupon – GBCRUS
CR-10S5 on GearBest – https://goo.gl/3295a6
CR-10S on GearBest – https://goo.gl/rFztnC
GearBest US Warehouse specials! – https://goo.gl/nvL8uF
Get free cash back for stuff you are buying anyway – https://www.ebates.com/r/DUF391?eeid=28187
Esun Cleaning Filament – http://amzn.to/2zP3qwW
Creality Cr-10 3D printer – http://amzn.to/2w7yqIF
Dagoma Neva 3D printer – http://amzn.to/2hYNjoV
FlashForge Finder 3D printer – http://amzn.to/2sCllp7
Hatchbox white PLA filament – http://amzn.to/2rrIfMt
ESun white PLA filament – http://amzn.to/2sBRv42
The gimbal I use – http://amzn.to/2lJbZCa
My GoPro camera – http://amzn.to/2kkBUmJ
GoPro foam windscreen – http://amzn.to/2maDI2B
Selfie stick – http://amzn.to/2mJTJLL
Segway MiniPro – http://amzn.to/2lddTNt
Segway S1 – http://amzn.to/2A8CkQQ
DJI Mavic Pro – http://amzn.to/2kpV4Tk
My EUC protective gear
Killer 187 Wrist Guards – http://amzn.to/2p8y9m9
Triple Eight Helmet – http://amzn.to/2p8uuoH
STX Elbow Pads – http://amzn.to/2oNMrYJ
Killer 187 Knee pads – http://amzn.to/2oYtAHw
Looking for Gotway, Inmotion or KingSong electric unicycles?
Go here for free shipping! – http://ewheels.com/eucarmy
Check out all my sites!

http://duf.net
http://dufisthenics.com
EUC Army YouTube – https://youtube.com/eucarmy
Duf 3D YouTube – https://www.youtube.com/channel/UCBnqqxnkBqc5ISDQRr0YkiA
Social media
Instagram – @duf67
Twitter – @duf67
Cindy's site – http://fitfarmchick.com
Cindy's YouTube channel – http://youtube.com/fitfarmchick
---