This weekend felt like one big blur of activity that never really stopped.  I hit the track again first thing Saturday for a run that felt more like May than February.  The temperature at 6AM was almost 70 degrees and it was humid.  I get enough of those temps for 6-7 months out of the year, I wasn't happy running in the soupy air in the middle of winter.  The 13 laps felt like a struggle, just like it normally does.
Cindy did me a favor and knocked out the weeding for me on Friday.  She also had the chicken coop clean by the time I got home from the run so it felt odd to not have my normal plate of work to attend to first thing.  We instead spent a good portion of Saturday morning doing something fun.  We took the MiniPro and my Msuper to the nearby school and parked there.  We then road into the adjacent Waterways development to browse through the community yard sale they were holding.  We did this last year as well and it was fun.  It was again this year.  We didn't buy anything although Cindy did make a lowball offer on a used kayak that the seller didn't quite bite on.
We stopped home to go grab Elsa and then went to walk a friend's dog.  By the time we got home the morning had been consumed.  It was nice to not have work and more work be the start of my Saturday for once.
Saturday afternoon I dug into my automotive project, replacing the headlights on the Prius, again.  Instead of throwing another set of halogens in there I spent big bucks and got some LED headlights because they are rated to last much, much longer.  Because of the design of the LED bulbs I thought replacement was going to be significantly easier than what I normally have to do.  Well as the video depicts, that was not the case but a lot of my pain and suffering was from not paying close enough attention to the directions.
After I uploaded the Prius video, I was finally able to upload another video, my 1000 video, something I actually had recorded over the last two weeks.  Yes, believe it or not my YouTube channel actually has 1000 videos in it's catalog.  Like I said this video was a bit different as it was shot over multiple days which gives it a unique and interesting (if I do say so myself) feel.  Take a peek at if you have 15 minutes and of course, don't forget to like and subscribe!
I spent most of Saturday evening in the hobby room.  First I rearranged all of my printers.  The big CR-10 had to be moved because the workbench height was a potential problem with the shelves above it.  On a high print the CR-10 print head would actually hit the shelf.  I also wanted to make room for the new printer I was sent by GearBest.  So after a lot of shuffling I got around to opening and setting up my AnyCubic I3 Mega.
Unlike my last printer, the Ender 2, which was a kit with dozens of parts whcih required 3-4 hours of assembly time, the AnyCubic printer was a dream.  I had to attach two parts with 8 screws and I was basically done.  Within a half hour I was ready to do my first test print which turned out perfectly.  I really like the new printer for many reasons which I outline in the video.
So Sunday morning we "slept in" until 7:20 or so.  As is often the case I put my clothes on and headed out to tend to the chickens.  I opened the door to their run and they came scurrying out full of energy as normal.  I then walked over to the coop itself and opened up the doors to begin the unfun job of daily clean up.  I froze in my tracks when on the floor to the left of the perch I saw a motionless chicken.  I felt a rush of emotion as I quickly realized it was Peaches.  I looked closer to verify she was indeed dead which she clearly was.
Cindy came out to help me but I instead had to yell to her that Peaches was dead.  She gasped in horror, feeling the same weight of shock that I was already bearing.  I felt terrible sadness as I bent down to pick up her stiff body and carried it outside.  I laid her on top of the chicken tractor run temporarily.  "What the hell happened?" ran through my mind.  I then realized that although the palm rats have knocked 7 of my 8 coop cams offline, the interior camera did still work.  I knew I would be able to see what happened.
It just seemed surreal to me that the bird would be dead, she was acting 100% normal on Saturday, energetic, and looking to be first in line as always.  However there had been one odd thing about Peaches in the last few weeks.  For some reason she would not go up on the perch with the other birds on her own.  Instead she would set up over on the nesting boxes.  I never thought much of it more than just one of the weird quirks chickens have, they have a lot of them.  Each night when I put them to bed I would simply pick Peaches up, put her on the perch and she would be fine.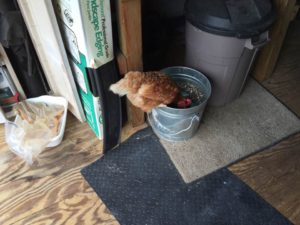 After cleaning up the coop Cindy and I went through the somber and sad task of burying Peaches.  As I dug a couple foot deep grave with tears in my eyes I thought about all the funny moments  Peaches brought to us.  Like I said she was always first in line when it came to food.  She followed us around like a disciple.  When Cindy would put down plates of yogurt and crushed shells Peaches would hop right into the middle of the plate to try to keep the other birds from getting at it.
She also was the first chicken that actually found the lawn mower as an opportunity instead of something to be feared.  She would follow me around, closely, so close that at times I had to shoosh her away so I wouldn't run into her.  She learned that the freshly cut grass was an opportunity to harvest bugs by the bushel.  She always made me smile. As we laid her still body, wrapped in burlap into the grave it was a very sad moment.
So after I returned inside we reviewed the coop footage.  She was fine until right around 3AM.  She started having issues balancing on the perch and then all of a sudden fell backwards.  Once she hit the ground there was only a second or two of movement and then stillness.  It was imagery that I didn't enjoy seeing.
The video also brought immediate guilt.  Seeing her lose balance made me wonder if the reason she was standing on the nesting boxes was because she felt unstable for awhile.  I wondered that if I left her off the perch if she would still be alive.  We also wonder if it wasn't whatever was making her wobble that killed her but the fall itself.  She could have very easily broken her neck depending on how she went down, which gave me yet another avenue of guilt.  We had talked a bit in the past about making the perch lower to facilitate older birds.  If the fall wasn't so far she may have survived it.  So yea, I felt and still feel pretty responsible for the whole thing.
Each time we have lost chickens there has been some sort of immediate response to hopefully avoid the scenario in the future.  When the racoon broke into the chicken tractor and killed our first three hens I immediately double latched both side doors of the tractor so they were coon-proof.  That attack also was the basis for us building the new coop to be as predator proof as it is. When Cocoa was taken by a coyote we installed a new security DVR system that gave full view of the coop perimeter so we would know of any weak spots.  With Peaches demise we once again took action.
During the afternoon I cut a full foot of the height of the perch.  The birds now are sitting at two feet or less off the ground which hopefully makes a fall less treacherous.  It has the side effect of possibly making cleanup less of a mess as excrement has less time to accelerate before hitting the rubber mats below.  I hope the changes help avoid this scenario playing out again.  The image of Peaches still on the floor ran through my head all day long.
We tried to keep rolling along in the day instead of dwelling on the sadness.  We hit Home Depot and Sam's Club.  I had been at Sam's Saturday to grab a UPS for my hobby room shuffle.  When I was there I saw they had huge 32 inch Samsung curved monitors for $219, super cheap.  I joked to Cindy on Saturday that maybe once I get my tax refund I would grab a couple.  Well when I did my bills Sunday morning I saw my tax refund was already in my account, which was amazing since it was only submitted a few days prior.   So anyway, I grabbed two of these monster monitors.
During the afternoon in addition to reworking the perch I also drug out the gas pressure washer.  Cindy had cleaned the lower areas of the pool cage but can't reach the high stuff.  Since the cage is due to be rescreened in the next week or two I wanted to make sure it got done before that happens.  It was about an hour of less than fun work but the cage once again looks white instead of a greenish hue.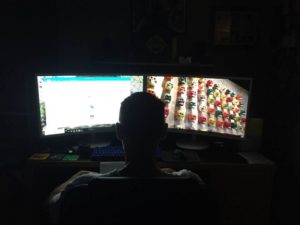 I finally got around to unboxing the first of my two monitors when I hit my first snag, the inputs were only HDMI and Display Port.  Although my video card has a DP output I did not have the cable required.  I immediately shot out to get one, striking out at Wal-mart and then having to drive another 5 miles to Best Buy to overpay for one.  So when I got home I was anxious to get my new massive monitors set up.  I opened up the second box and was in disbelief, the screen had a crack in it.
I was not pleased as you can imagine.  I angrily reboxed the monitor and immediately retraced the route I just took 30 minutes prior, going back to Sam's.  I luckily just missed what could have been another incredibly frustrating scenario as I walked in the store at 5:55.  I had no idea they closed at 6PM.  If I was a few minutes later I can't imagine what my blood pressure would have been.  Anyway, my replacement monitor was undamaged and I got everything hooked up.  The huge curved screens take some getting used to but damn it's awesome.
Sunday evening both Cindy and I were busy with hobby stuff.  Cindy has really been getting good with her Cameo and I had video footage for a couple different things that I needed to edit and get published.  We ended our weekend late Sunday night watching our first curling match of the Olympics, it was glorious.
And now with the plugs!
Ender 2 on GearBest EU Plug – https://goo.gl/v5bNRG $159 USE COUPON – "Enderen"
Ender 2 on GearBest US Plug – https://goo.gl/v5bNRG $159 USE COUPON – "ENDERC"
AnyCubic I3 MEGA – US WAREHOUSE – https://goo.gl/BKwhEu $329.99 USE COUPON – "I311GBUS"
AnyCubic I3 MEGA – CHINA WAREHOUSE – https://goo.gl/BKwhEu $315.99 USE COUPON – "I3MEGA"
CR-10 on GearBest – https://goo.gl/6M9DHi use coupon – GBCRUS
CR-10S5 on GearBest – https://goo.gl/3295a6
CR-10S on GearBest – https://goo.gl/rFztnC
GearBest US Warehouse specials! – https://goo.gl/nvL8uF
Get free cash back for stuff you are buying anyway – https://www.ebates.com/r/DUF391?eeid=28187
Esun Cleaning Filament – http://amzn.to/2zP3qwW
Creality Cr-10 3D printer – http://amzn.to/2w7yqIF
Dagoma Neva 3D printer – http://amzn.to/2hYNjoV
FlashForge Finder 3D printer – http://amzn.to/2sCllp7
Hatchbox white PLA filament – http://amzn.to/2rrIfMt
ESun white PLA filament – http://amzn.to/2sBRv42
The gimbal I use – http://amzn.to/2lJbZCa
My GoPro camera – http://amzn.to/2kkBUmJ
GoPro foam windscreen – http://amzn.to/2maDI2B
Selfie stick – http://amzn.to/2mJTJLL
Segway MiniPro – http://amzn.to/2lddTNt
Segway S1 – http://amzn.to/2A8CkQQ
DJI Mavic Pro – http://amzn.to/2kpV4Tk
My EUC protective gear
Killer 187 Wrist Guards – http://amzn.to/2p8y9m9
Triple Eight Helmet – http://amzn.to/2p8uuoH
STX Elbow Pads – http://amzn.to/2oNMrYJ
Killer 187 Knee pads – http://amzn.to/2oYtAHw
Looking for Gotway, Inmotion or KingSong electric unicycles?
Go here for free shipping! – http://ewheels.com/eucarmy
Check out all my sites!
http://eucarmy.com
http://duf.net
http://dufisthenics.com
EUC Army YouTube – https://youtube.com/eucarmy
Duf 3D YouTube – https://www.youtube.com/channel/UCBnqqxnkBqc5ISDQRr0YkiA
Social media
Instagram – @duf67
Twitter – @duf67
Cindy's site – http://fitfarmchick.com
Cindy's YouTube channel – http://youtube.com/fitfarmchick