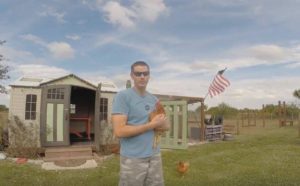 So last night after work I was outside tending to the chickens as I do most days.  As I was getting ready to dump out the dried mealworms they love so much it felt very sad to not have Peaches at my big toe, front of the line, looking up at me with anticipation.  It just doesn't feel the same.  Trips into the coop area are going to have a somber overtone for awhile I think.  The picture on the left is from my 3000 subscriber thank you video.  Peaches was the chicken I chose to hold because of course, she was right there, by my feet…
Not only is today Valentine's Day, it is also Elsa's birthday.  Well to be honest, we don't know exactly when her birthday is but we know it's in this vicinity.  Cindy thought making it Valentine's Day would be fun.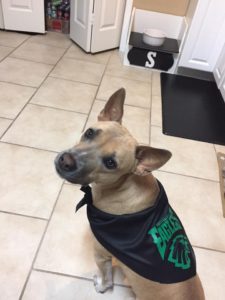 For as hesitant as I was at first about adopting another dog, you would never know it now.  Elsa and I are tied at the hip.  She is such a funny dog but also incredibly loving and sweet.  She makes every moment better, even when she is being Miss Chevious.  Cindy and I love her so much.
Since Valentine's Day is a Wednesday we aren't going out for festivities.  I do plan to stop at Carrabas on the way home to pick up dinner so Cindy doesn't have to cook.  We plan to go out to see Black Panther on Saturday as sort of a belated Vday thing.
I did my first longer print on my new AnyCubic printer, a glue gun holder for Cindy.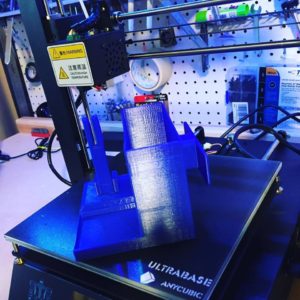 Just like my initial test print, it came out fantastic.  The I3 Mega is very quickly becoming my favorite printer in my stable of five.
The other night I had a dream about one of my EUC buddies, Marty.  I posted it on his YouTube channel but thought I would share it here as well.
I had a dream that you (marty) and some other EUC enthusiasts were in my backyard riding around. For some reason you got warm and decided to go for a swim in one of the fill pits filled with rain water in the back yard. As you dove in I saw a large alligator slide into the water behind you. I came running towards the water, screaming for you to get out. You heard me, saw the gator closing in and swam like mad towards the far side. As you were climbing up out of the water I saw the gator rise up and grab your leg. I was still running towards you looking for a weapon when I woke up about 4AM, sweating.
And now with the plugs!
Ender 2 on GearBest EU Plug – https://goo.gl/v5bNRG $159 USE COUPON – "Enderen"
Ender 2 on GearBest US Plug – https://goo.gl/v5bNRG $159 USE COUPON – "ENDERC"
AnyCubic I3 MEGA – US WAREHOUSE – https://goo.gl/BKwhEu $329.99 USE COUPON – "I311GBUS"
AnyCubic I3 MEGA – CHINA WAREHOUSE – https://goo.gl/BKwhEu $315.99 USE COUPON – "I3MEGA"
CR-10 on GearBest – https://goo.gl/6M9DHi use coupon – GBCRUS
CR-10S5 on GearBest – https://goo.gl/3295a6
CR-10S on GearBest – https://goo.gl/rFztnC
GearBest US Warehouse specials! – https://goo.gl/nvL8uF
Get free cash back for stuff you are buying anyway – https://www.ebates.com/r/DUF391?eeid=28187
Esun Cleaning Filament – http://amzn.to/2zP3qwW
Creality Cr-10 3D printer – http://amzn.to/2w7yqIF
Dagoma Neva 3D printer – http://amzn.to/2hYNjoV
FlashForge Finder 3D printer – http://amzn.to/2sCllp7
Hatchbox white PLA filament – http://amzn.to/2rrIfMt
ESun white PLA filament – http://amzn.to/2sBRv42
The gimbal I use – http://amzn.to/2lJbZCa
My GoPro camera – http://amzn.to/2kkBUmJ
GoPro foam windscreen – http://amzn.to/2maDI2B
Selfie stick – http://amzn.to/2mJTJLL
Segway MiniPro – http://amzn.to/2lddTNt
Segway S1 – http://amzn.to/2A8CkQQ
DJI Mavic Pro – http://amzn.to/2kpV4Tk
My EUC protective gear
Killer 187 Wrist Guards – http://amzn.to/2p8y9m9
Triple Eight Helmet – http://amzn.to/2p8uuoH
STX Elbow Pads – http://amzn.to/2oNMrYJ
Killer 187 Knee pads – http://amzn.to/2oYtAHw
Looking for Gotway, Inmotion or KingSong electric unicycles?
Go here for free shipping! – http://ewheels.com/eucarmy
Check out all my sites!
http://eucarmy.com
http://duf.net
http://dufisthenics.com
EUC Army YouTube – https://youtube.com/eucarmy
Duf 3D YouTube – https://www.youtube.com/channel/UCBnqqxnkBqc5ISDQRr0YkiA
Social media
Instagram – @duf67
Twitter – @duf67
Cindy's site – http://fitfarmchick.com
Cindy's YouTube channel – http://youtube.com/fitfarmchick