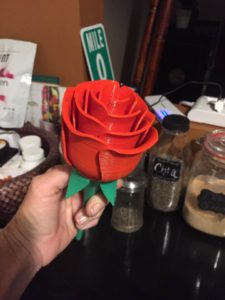 Cindy and I had a very nice Valentine's Day at home enjoying our Carrabbas on the Go dinner while we caught up on some DVR'd content.  Cindy made me a cool shirt, cool card, and bought me some skateboard sneakers that may work well for EUC riding as well.  Everything was very thoughtful and appreciated.  I only made one of my gifts to her, a 3D printed rose that came out surprisingly well.  I printed the top part on my Flashforge Finder and the stem on my CR-10.
This morning I had my consult meeting for my upcoming colonoscopy which is scheduled to go down at the beginning of March.  The appointment was pretty uneventful.  The best news is the prep isn't quite as awful as it once was.  It used to be you spent most of the prior day chugging a gallon of this disgusting tasting liquid.  With this new regimen I spend the day before on a clear liquid diet but you don't take laxatives until 6PM the night before followed up by one last shot at 5AM the morning of the procedure.  Of course it will still be an unfun experience but it sounds like it used to be worse.  The doctor was very laid back and cool and didn't give me any reasons to get more worked up about the procedure than I will be naturally.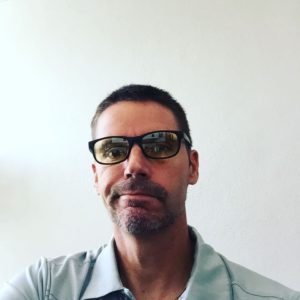 So my eyes are not great anymore.  My distance vision has been getting progressively more blurry since my early-mid 40's.  After telling myself I would get an eye exam for the last four or five years I finally am getting it done on Saturday.
In addition to the eye exam I just recently bought these blue blocking computer glasses, a clear knock off of the Gunnar glasses I tried a few years ago.  These type of glasses block much of the blue light emitted from computer monitors which can cause various eye discomfort.  Red and irritated eyes have been a pretty normal state for me for a long time.
When I tried the Gunnars before I bailed after a week or two because they had slight magnification as well which was causing me even more eye discomfort.  These knock offs have no magnification at all so I am hoping to get better results.  They cost about a third of what the Gunnars cost.  Take a look if you like. http://amzn.to/2HjrN9l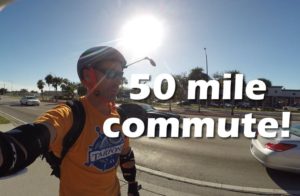 So tomorrow I am planning to attempt another epic 50+ mile commute to work on my EUC.  When I did this almost exactly one year ago I did so on my Gotway Msuper.  If you watched the video of my ride last year you'll see I was pushing the limits of the battery capacity of the wheel.  I barely made it to work because of strong headwinds.
I plan to use my huge Gotway Monster this time around which has double the battery capacity and is able to maintain higher speeds for longer duration.  I will still bring my battery charger with to charge during the day but I should be able to go as fast as I want without battery concerns which will make the ride take less time.  Even with the beefier wheel between my legs I plan to leave the house a little earlier to give me more of a time pad and get out ahead of some of the normal traffic. It should be fun.
And now with the plugs!
Ender 2 on GearBest EU Plug – https://goo.gl/v5bNRG $159 USE COUPON – "Enderen"
Ender 2 on GearBest US Plug – https://goo.gl/v5bNRG $159 USE COUPON – "ENDERC"
AnyCubic I3 MEGA – US WAREHOUSE – https://goo.gl/BKwhEu $329.99 USE COUPON – "I311GBUS"
AnyCubic I3 MEGA – CHINA WAREHOUSE – https://goo.gl/BKwhEu $315.99 USE COUPON – "I3MEGA"
CR-10 on GearBest – https://goo.gl/6M9DHi use coupon – GBCRUS
CR-10S5 on GearBest – https://goo.gl/3295a6
CR-10S on GearBest – https://goo.gl/rFztnC
GearBest US Warehouse specials! – https://goo.gl/nvL8uF
Get free cash back for stuff you are buying anyway – https://www.ebates.com/r/DUF391?eeid=28187
Esun Cleaning Filament – http://amzn.to/2zP3qwW
Creality Cr-10 3D printer – http://amzn.to/2w7yqIF
Dagoma Neva 3D printer – http://amzn.to/2hYNjoV
FlashForge Finder 3D printer – http://amzn.to/2sCllp7
Hatchbox white PLA filament – http://amzn.to/2rrIfMt
ESun white PLA filament – http://amzn.to/2sBRv42
The gimbal I use – http://amzn.to/2lJbZCa
My GoPro camera – http://amzn.to/2kkBUmJ
GoPro foam windscreen – http://amzn.to/2maDI2B
Selfie stick – http://amzn.to/2mJTJLL
Segway MiniPro – http://amzn.to/2lddTNt
Segway S1 – http://amzn.to/2A8CkQQ
DJI Mavic Pro – http://amzn.to/2kpV4Tk
My EUC protective gear
Killer 187 Wrist Guards – http://amzn.to/2p8y9m9
Triple Eight Helmet – http://amzn.to/2p8uuoH
STX Elbow Pads – http://amzn.to/2oNMrYJ
Killer 187 Knee pads – http://amzn.to/2oYtAHw
Looking for Gotway, Inmotion or KingSong electric unicycles?
Go here for free shipping! – http://ewheels.com/eucarmy
Check out all my sites!
http://eucarmy.com
http://duf.net
http://dufisthenics.com
EUC Army YouTube – https://youtube.com/eucarmy
Duf 3D YouTube – https://www.youtube.com/channel/UCBnqqxnkBqc5ISDQRr0YkiA
Social media
Instagram – @duf67
Twitter – @duf67
Cindy's site – http://fitfarmchick.com
Cindy's YouTube channel – http://youtube.com/fitfarmchick