So yesterday I called into the doctor's office to find out if it's ok to move forward with the colonoscopy despite my having a cold.  I was a bit surprised that they said it was not a problem.  As long as I am able to breathe it shouldn't be a big deal.  So I guess in an odd way I was glad to hear this as it meant I don't have to put off the procedure which has long term been on my "things to not look forward to" list.     My cold symptoms have been advancing.  A general tiredness has now been added the list which already included ridiculously runny nose, watering eyes, and sneezing. My sinuses feel like what happened when water went up your nose while swimming in a highly chlorinated pool as a kid, it just burns.
Getting the all clear meant that I could move forward with "prep day" today.  My breakfast consisted of orange jello, vegetable broth, and some peach juice.   Cindy went all out trying to organize my food, packing my lunch with more broth, jello, and some root beer.  I am currently sipping on some black coffee.
Tonight the real fun begins when I take the super laxative at 6PM and continue with my liquids only diet.  Tomorrow morning I have to set the alarm at 5AM and then take one more round of the laxative.  It is then water only until the procedure which isn't until 10:30 so I assume I will be absolutely starving by then.  I am not expecting good times, especially when teamed up with what is now pretty substantial cold symptoms.  Normally I would not even be working when I am in this condition but some things at work require my attention right now, regardless of health.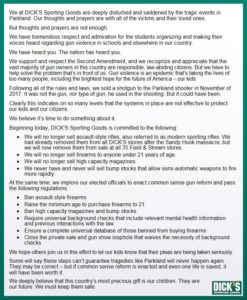 I was surprised but happy to see the statement Dick's Sporting Goods posted recently announcing a gun sale policy shift where they are voluntarily removing assault style rifles, high capacity magazines and making several other changes to do their part to not contribute to the odds of a mass shooting scenario in the future.  It was a bold move that surely will draw very loud criticism from the vocal NRA loving minority, although I will never understand why.
I just do not get how intelligent adults can not discern the difference between limiting assault weaponry and an attack on the second amendment.  These two issues are mutually exclusive.  Nobody expects the second amendment to be repealed and no sane politician would mount an effort to do so.  The government is not going to come knocking on your door to take guns away.
Would I be upset if there was a gun ban in the US similar to what is instituted in many other top tier nations? Nope, not at all, but I am aware enough to know that the gun culture in this country is so deep seated that it absolutely never would/could happen.  That genie will NEVER go back in the bottle.
I can only hope that the overzealous gun owners can make the effort to analyze the line of BS that the NRA spits out.  Limiting assault weapons is not an attack on the second amendment.  It's an effort to install some modern common sense into a policy that has been propped up by gun lobbyists for a couple decades. Repeat after me, "the government is not coming to take away your guns."  You can be rest assured that non-assault weapons will still meet the killing needs of the American populace.
I plan to give Dick's more of my consumer business as a result of this decision.  I can only hope others will do the same.  If businesses start to realize that there is a mostly silent majority that supports this type of action with their wallets, a lot more would be willing to step up as well.
And now with the plugs!
Ender 2 on GearBest EU Plug – https://goo.gl/v5bNRG $159 USE COUPON – "Enderen"
Ender 2 on GearBest US Plug – https://goo.gl/v5bNRG $159 USE COUPON – "ENDERC"
AnyCubic I3 MEGA – US WAREHOUSE – https://goo.gl/BKwhEu $329.99 USE COUPON – "I311GBUS"
AnyCubic I3 MEGA – CHINA WAREHOUSE – https://goo.gl/BKwhEu $315.99 USE COUPON – "I3MEGA"
CR-10 on GearBest – https://goo.gl/6M9DHi use coupon – GBCRUS
CR-10S5 on GearBest – https://goo.gl/3295a6
CR-10S on GearBest – https://goo.gl/rFztnC
GearBest US Warehouse specials! – https://goo.gl/nvL8uF
Get free cash back for stuff you are buying anyway – https://www.ebates.com/r/DUF391?eeid=28187
Esun Cleaning Filament – http://amzn.to/2zP3qwW
Creality Cr-10 3D printer – http://amzn.to/2w7yqIF
Dagoma Neva 3D printer – http://amzn.to/2hYNjoV
FlashForge Finder 3D printer – http://amzn.to/2sCllp7
Hatchbox white PLA filament – http://amzn.to/2rrIfMt
ESun white PLA filament – http://amzn.to/2sBRv42
The gimbal I use – http://amzn.to/2lJbZCa
My GoPro camera – http://amzn.to/2kkBUmJ
GoPro foam windscreen – http://amzn.to/2maDI2B
Selfie stick – http://amzn.to/2mJTJLL
Segway MiniPro – http://amzn.to/2lddTNt
Segway S1 – http://amzn.to/2A8CkQQ
DJI Mavic Pro – http://amzn.to/2kpV4Tk
My EUC protective gear
Killer 187 Wrist Guards – http://amzn.to/2p8y9m9
Triple Eight Helmet – http://amzn.to/2p8uuoH
STX Elbow Pads – http://amzn.to/2oNMrYJ
Killer 187 Knee pads – http://amzn.to/2oYtAHw
Looking for Gotway, Inmotion or KingSong electric unicycles?
Go here for free shipping! – http://ewheels.com/eucarmy
Check out all my sites!
http://eucarmy.com
http://duf.net
http://dufisthenics.com
EUC Army YouTube – https://youtube.com/eucarmy
Duf 3D YouTube – https://www.youtube.com/channel/UCBnqqxnkBqc5ISDQRr0YkiA
Social media
Instagram – @duf67
Twitter – @duf67
Cindy's site – http://fitfarmchick.com
Cindy's YouTube channel – http://youtube.com/fitfarmchick