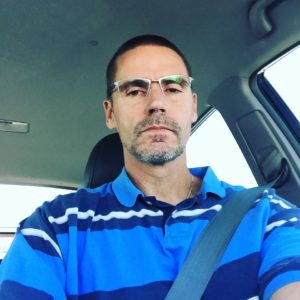 So during my lunch on Monday I decided to go to Costco to pick up my new glasses.  I figured an hour would be plenty of time.  Well silly me forgot we are in the sweaty, stinky part of snowbird season.  The parking lot was nearly full, despite it being the middle of a Monday.  The optical department was equally full.  I had at least 10 old people ahead of me.  I looked for some "express" spot to pick up glasses but they evidently had no such thing.
I waited patiently by the large screen TV's and was surprised they have once again raised the bar on monster screens.  I gawked at an 82″ behemoth set, wow.  Finally my turn came.  The clerk got out my glasses and handed them to me to try on.  Slipping them on for the first time was sort of surreal.  All that stuff that I have just become accustomed to having distortion was now suddenly laser clear.  Wow, it was a bit disorienting to be honest but I confirmed the glasses are doing what they should be and took off.
I wore them to drive and found myself constantly testing myself, reading license plates, small text on signs, and billboards, all things that used to be blurred beyond recognition.  It was very cool.  The drawback is if I need to see something close to me it is now blurry, requiring me to flip the glasses up to see it.  I don't really mind wearing the glasses and being able to have the world more in focus is a good feeling.
So since being given the dead Segway I2 I have been spending time and money getting the stuff required to bring it back to life.  Last week I received a used set of batteries.  Yesterday I received a brand new key for the unit.  I wasted little time before testing the combo out to see if the Segway was indeed functional.  I smiled as I heard the unit come to life.  A quick step on a footpad and I was wheeling around the house, very slowly.  Of course I needed to go outside.
One thing I immediately noticed was the mileage on the wheel. This thing was made in 2011 yet the odometer shows it has a grand total of 24 MILES on it. Wow, I knew it was hardly used from the description our friend gave us but this thing is basically brand new.  There are people that have 10,000 miles or more on their Segways.
It became obvious the wheel was locked in "beginner mode" that limits speed to a paltry 6MPH.  It was not clear immediately how to unlock that restriction so I just rode around as is.  Even with the restriction it was fun.  This thing is so substantial it feels like you are driving a vehicle, a very heavy duty vehicle.   I quickly took it into the back yard and had fun tooling around.  I let Cindy on it as well for a quick test, she had no problems acclimating to the controls.  It is definitely a more total body movement to control the Segway, you can really lean into it in all four directions, depending on your speed.
Just as the sun was going down I finally figured out how to bypass the speed restriction, unlocking the full 12.5mph top end.  Man, what a difference.  It is really fun.  I can't wait to take it out to some of our riding spots to see how it goes.  I suspect Cindy will be riding it more because of some of her physical issues right now but I look forward to having a blast on the grandfather tech of the electric unicycles I love so much.
And now with the plugs!
Ender 2 on GearBest EU Plug – https://goo.gl/v5bNRG $159 USE COUPON – "Enderen"
Ender 2 on GearBest US Plug – https://goo.gl/v5bNRG $159 USE COUPON – "ENDERC"
AnyCubic I3 MEGA – US WAREHOUSE – https://goo.gl/BKwhEu $329.99 USE COUPON – "I311GBUS"
AnyCubic I3 MEGA – CHINA WAREHOUSE – https://goo.gl/BKwhEu $315.99 USE COUPON – "I3MEGA"
CR-10 on GearBest – https://goo.gl/6M9DHi use coupon – GBCRUS
CR-10S5 on GearBest – https://goo.gl/3295a6
CR-10S on GearBest – https://goo.gl/rFztnC
GearBest US Warehouse specials! – https://goo.gl/nvL8uF
Get free cash back for stuff you are buying anyway – https://www.ebates.com/r/DUF391?eeid=28187
Esun Cleaning Filament – http://amzn.to/2zP3qwW
Creality Cr-10 3D printer – http://amzn.to/2w7yqIF
Dagoma Neva 3D printer – http://amzn.to/2hYNjoV
FlashForge Finder 3D printer – http://amzn.to/2sCllp7
Hatchbox white PLA filament – http://amzn.to/2rrIfMt
ESun white PLA filament – http://amzn.to/2sBRv42
The gimbal I use – http://amzn.to/2lJbZCa
My GoPro camera – http://amzn.to/2kkBUmJ
GoPro foam windscreen – http://amzn.to/2maDI2B
Selfie stick – http://amzn.to/2mJTJLL
Segway MiniPro – http://amzn.to/2lddTNt
Segway S1 – http://amzn.to/2A8CkQQ
DJI Mavic Pro – http://amzn.to/2kpV4Tk
My EUC protective gear
Killer 187 Wrist Guards – http://amzn.to/2p8y9m9
Triple Eight Helmet – http://amzn.to/2p8uuoH
STX Elbow Pads – http://amzn.to/2oNMrYJ
Killer 187 Knee pads – http://amzn.to/2oYtAHw
Looking for Gotway, Inmotion or KingSong electric unicycles?
Go here for free shipping! – http://ewheels.com/eucarmy
Check out all my sites!
http://eucarmy.com
http://duf.net
http://dufisthenics.com
EUC Army YouTube – https://youtube.com/eucarmy
Duf 3D YouTube – https://www.youtube.com/channel/UCBnqqxnkBqc5ISDQRr0YkiA
Social media
Instagram – @duf67
Twitter – @duf67
Cindy's site – http://fitfarmchick.com
Cindy's YouTube channel – http://youtube.com/fitfarmchick