So my three day weekend flew by as is often the case.  I was off Friday to take Cindy for her colonoscopy.  I felt badly for her having to undergo the same disgusting prep I had only a few weeks prior.  She did better getting the Suprep down.  She refrigerated it and drank it through a straw, two tricks I did not try.  Of course it's disgusting no matter what you do but it seems those two changes allowed her to get the stuff down faster than I could.
Her procedure was two hours later than mine so we had most of the morning at home.  I tried to be proactive and got out to do the chicken chores and the weeding around the house to give me one less thing to worry about over the weekend.  On the way to the endoscopy center I grabbed a coffee to help tide me over since we were going to eat lunch after Cindy's appointment.  I spent most of the time in the waiting room playing Hearthstone on the iPad while it was getting done.  It helped the time pass by quickly.
When they said Cindy was out and in the recovery room I went back and hung with her.  She was crying which is not an unusual reaction when coming out of anesthesia.  There were no polyps removed but a couple biopsies were done to hopefully nail down the source of some long standing issues Cindy has had.  We got out of there about 2:30 and headed straight to BurgerFi, the same place we ate after my colonoscopy.  They have some amazing quinoa burgers.
While we were sitting there we got quickly annoyed by a bunch of young guys that were getting ready to leave.  Well it was one in particular that annoyed me, the idiot kid with a shitty old BMW that apparently has no exhaust on the car.  It was RIDICULOUSLY loud and not in a cool way, it sounded horrible.  He was rev'ing it in the parking lot repeatedly.  I gave them some stink eye and was a couple more revs away from confronting them about it directly.  I already had my speech made up in my head where I would inform them I was going to ask them to knock it off nicely, once.  After that it wasn't going to be very nice.  Thankfully they left but you could hear the car that sounded like a lawn mower on nitrous from a mile away.
When we got home Cindy was wiped out and took a nap.  I continued my pro-active mindset and hopped on the tractor to mow.  It was an ab-lib mowing session that did not follow the conventional and systematic path around the property.  Because of the arid conditions there was only growth in certain patches of the yard so I just zig zagged around trying to knock them down so an overall uniform look was returned to the property.
After I did that I finally decided to take a serious look at the sprinklers.  From the looks of the grass it was clear some were not operating correctly.  I ran each zone for a few minutes to observe their performance.  A bunch of them were jammed and no longer oscillating.  I made the mental commitment to address it sooner rather than later.  What is the point of having a sprinkler system that is ineffective?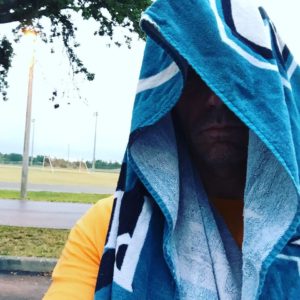 Saturday morning I headed to the track to get my run in.  There was a dramatic difference in the temperature compared to only one week prior.  Last week it was a brisk 45 degrees, on Saturday it was 70 and humid.  The higher temps definitely made the 30 minute session feel longer.
So doing the work around the house Friday cleared the slate for me to do, you guessed it, more work on Saturday.  Much like the decision to finally address the sprinkler issues I also decided it was time to reapply the white paint to the coop roof, an annual effort to make the coop not absorb as much heat.
From ground level I could tell a lot of paint was stripped off by Irma but I couldn't tell just how bad until I got up on the ladder.  It looked terrible which I was surprised by because last year I went all out and applied a full coat of primer followed by a couple brushed on layers of paint versus spray paint.  My extra work seemed to make no difference whatsoever, there was paint peeling up everywhere.  At first I was knocking loose the big chips with my hand but that immediately caused another issue.  The chickens thought paint chips were snacks.  I had to chase them away and then had Cindy help clean up what we could and rinse the rest into the dirt.
The old paint still had lots of loose spots but I just said hell with it and slapped the primer on heavy. Next year I'll have to do better surface prep with my Shop-Vac on the roof with me.  Although it has not rained in several weeks, right on cue it started to rain about 20 minutes after I finished the primer.  Luckily the rain did not appear to cause much damage.  During the afternoon I also went around and marked each problem sprinkler with a flag.  Right now I have a total of eight that seem problematic.  I bought Hunter sprinkler heads to replace the Rain Birds that are in the ground right now.  Hunter has a good reputation, the Rain Bird's I installed originally just jam up far too often in our environment.
Saturday afternoon I also got around to doing an updated tour of our chicken coop set up.  It has now been around three years since we built the coop.  There have been a lot of changes and modifications since that time as we addressed problems and learned what worked best for us.  If you have a spare 20 minutes to chill out, check it out.
Saturday night we watched a Netflix rental that Cindy wanted, Megan Leavey.  It is a true life story of a woman who served as a Marine dog handler.  She was deployed over in Iraq/Afghanistan and was responsible along with her dog Rex for sniffing out many bombs and munition stockpiles.  She was injured over there and received a Purple Heart.  Anyway the movie is touching and pulled at my emotions as most any animal related story will do.  I'd give it a wet eyed A-.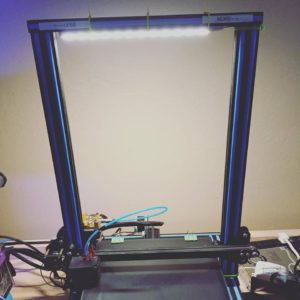 I did a mod to my CR-10 over the weekend, adding a 12 inch LED light to the top of the frame to provide great lighting for the printer.  When I relocated the CR-10 to that side of the room my lighting was pretty weak, now the light that is normally used for under cabinet illumination, lights up the base of the printer like a baseball stadium.
Sunday was Easter and April Fool's day at the same time.  I don't recall the two ever aligning in the past.  Easter has always been the minor league of holidays for me.  Hell you don't even get a day off for it.
We got out on the wheels mid-morning, combining it with my need to drop off used oil at AutoZone.  The ride included long boring straightaways on sidewalk combined with some fun bike path wheeling along with some off roading as well.
Cindy is really getting adept at controlling the big I2 Segway.  The wheel is quite capable on and off road.  During one part of the ride she swung down into a low area with high grass and the machine didn't miss a beat.  It has a ton of power.
Before our Easter dinner I was again out with a ladder at the coop, applying six cans of plastic compatible spray paint to the roof.  Just like the primer, I laid it on thick.  It will be interesting to see how it holds up.
Our official Easter celebration was very small.  Cindy made a nice dinner but only her mom could join us so we only took up a small portion of the dining room table.  Cindy's mom is very socially active so we got up to speed on the in's and outs of the local senior singles scene.  There is no way I could imagine myself being anywhere close to as social as her mom is at that age but she seems to really enjoy it.  It's all about finding and doing things that make you happy, regardless of your age.
And now with the plugs!
Ender 2 on GearBest EU Plug – https://goo.gl/v5bNRG $159 USE COUPON – "Enderen"
Ender 2 on GearBest US Plug – https://goo.gl/v5bNRG $159 USE COUPON – "ENDERC"
AnyCubic I3 MEGA – US WAREHOUSE – https://goo.gl/BKwhEu $329.99 USE COUPON – "I311GBUS"
AnyCubic I3 MEGA – CHINA WAREHOUSE – https://goo.gl/BKwhEu $315.99 USE COUPON – "I3MEGA"
CR-10 on GearBest – https://goo.gl/6M9DHi use coupon – GBCRUS
CR-10S5 on GearBest – https://goo.gl/3295a6
CR-10S on GearBest – https://goo.gl/rFztnC
GearBest US Warehouse specials! – https://goo.gl/nvL8uF
Get free cash back for stuff you are buying anyway – https://www.ebates.com/r/DUF391?eeid=28187
Esun Cleaning Filament – http://amzn.to/2zP3qwW
Creality Cr-10 3D printer – http://amzn.to/2w7yqIF
Dagoma Neva 3D printer – http://amzn.to/2hYNjoV
FlashForge Finder 3D printer – http://amzn.to/2sCllp7
Hatchbox white PLA filament – http://amzn.to/2rrIfMt
ESun white PLA filament – http://amzn.to/2sBRv42
The gimbal I use – http://amzn.to/2lJbZCa
My GoPro camera – http://amzn.to/2kkBUmJ
GoPro foam windscreen – http://amzn.to/2maDI2B
Selfie stick – http://amzn.to/2mJTJLL
Segway MiniPro – http://amzn.to/2lddTNt
Segway S1 – http://amzn.to/2A8CkQQ
DJI Mavic Pro – http://amzn.to/2kpV4Tk
My EUC protective gear
Killer 187 Wrist Guards – http://amzn.to/2p8y9m9
Triple Eight Helmet – http://amzn.to/2p8uuoH
STX Elbow Pads – http://amzn.to/2oNMrYJ
Killer 187 Knee pads – http://amzn.to/2oYtAHw
Looking for Gotway, Inmotion or KingSong electric unicycles?
Go here for free shipping! – http://ewheels.com/eucarmy
Check out all my sites!
http://eucarmy.com
http://duf.net
http://dufisthenics.com
EUC Army YouTube – https://youtube.com/eucarmy
Duf 3D YouTube – https://www.youtube.com/channel/UCBnqqxnkBqc5ISDQRr0YkiA
Social media
Instagram – @duf67
Twitter – @duf67
Cindy's site – http://fitfarmchick.com
Cindy's YouTube channel – http://youtube.com/fitfarmchick