Last night I got the idea to do a video illustrating the strength of the 3D printed stands I am selling.  I set up one of the stands and placed each of my wheels on it and one of the Minipro's.  The weight range started at 25 pounds and topped out at 55 pounds for my big Gotway Monster.  As expected the stand performed just fine, as I knew it would since I have been using these for over six months to store my wheels in the hobby room.
However I wanted to really test the stand with something I had never tried before.  I wheeled over the big Segway i2 and carefully placed the 105 pound unit on the stand.  It held it without fuss.  I really had no idea if this would work.  105 pounds is almost double what I previously tested with.  Anyway I thought it made for an interesting video and I will include the video in the product description on the store.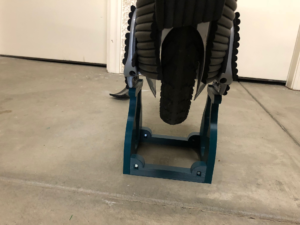 I got some disappointing news that the first stand I sold arrived intact but doesn't really work for the wheel the customer has.  He has a KingSong model wheel that has an odd configuration for it's foot pedal hinge, different than the four other brands of wheel I have tested the stands with.  The hinge makes a normal stand too narrow to support the wheel safely.
I felt badly about this oversight on my part, I assumed all EUC's were pretty identical when it came to pedal hinge design.  I made a new version last night with side supports that are each 8MM wider which should give a larger/wider support surface.  I plan to print and send it to him for free.
I have a couple 3D projects I need to try to work on tonight, it's a fun way to keep my brain engaged.
And now with the plugs!
Ender 2 on GearBest EU Plug – https://goo.gl/v5bNRG $159 USE COUPON – "Enderen"
Ender 2 on GearBest US Plug – https://goo.gl/v5bNRG $159 USE COUPON – "ENDERC"
AnyCubic I3 MEGA – US WAREHOUSE – https://goo.gl/BKwhEu $329.99 USE COUPON – "I311GBUS"
AnyCubic I3 MEGA – CHINA WAREHOUSE – https://goo.gl/BKwhEu $315.99 USE COUPON – "I3MEGA"
CR-10 on GearBest – https://goo.gl/6M9DHi use coupon – GBCRUS
CR-10S5 on GearBest – https://goo.gl/3295a6
CR-10S on GearBest – https://goo.gl/rFztnC
GearBest US Warehouse specials! – https://goo.gl/nvL8uF
Get free cash back for stuff you are buying anyway – https://www.ebates.com/r/DUF391?eeid=28187
Esun Cleaning Filament – http://amzn.to/2zP3qwW
Creality Cr-10 3D printer – http://amzn.to/2w7yqIF
Dagoma Neva 3D printer – http://amzn.to/2hYNjoV
FlashForge Finder 3D printer – http://amzn.to/2sCllp7
Hatchbox white PLA filament – http://amzn.to/2rrIfMt
ESun white PLA filament – http://amzn.to/2sBRv42
The gimbal I use – http://amzn.to/2lJbZCa
My GoPro camera – http://amzn.to/2kkBUmJ
GoPro foam windscreen – http://amzn.to/2maDI2B
Selfie stick – http://amzn.to/2mJTJLL
Segway MiniPro – http://amzn.to/2lddTNt
Segway S1 – http://amzn.to/2A8CkQQ
DJI Mavic Pro – http://amzn.to/2kpV4Tk
My EUC protective gear
Killer 187 Wrist Guards – http://amzn.to/2p8y9m9
Triple Eight Helmet – http://amzn.to/2p8uuoH
STX Elbow Pads – http://amzn.to/2oNMrYJ
Killer 187 Knee pads – http://amzn.to/2oYtAHw
Looking for Gotway, Inmotion or KingSong electric unicycles?
Go here for free shipping! – http://ewheels.com/eucarmy
Check out all my sites!
http://eucarmy.com
http://duf.net
http://dufisthenics.com
EUC Army YouTube – https://youtube.com/eucarmy
Duf 3D YouTube – https://www.youtube.com/channel/UCBnqqxnkBqc5ISDQRr0YkiA
Social media
Instagram – @duf67
Twitter – @duf67
Cindy's site – http://fitfarmchick.com
Cindy's YouTube channel – http://youtube.com/fitfarmchick