So our only white chicken, Kristen, was not acting normal yesterday.  I had noticed the night before that she may have "pasty butt", a rather disgusting scenario where the back end of a chicken gets clogged up with dried "organic matter".  Not only is it gross but it can also be lethal if not cleared.  Cindy is the one that does all the leg work when this comes up, I usually just serve a support role.
Cindy said Kristen did not want to come out from under the coop, even for treats which is a big warning flag.  She eventually got her out by using a hose and then worked on cleaning the hens backside.  When I came home I noticed Kristen was back under the coop and still not responding to me like she normally would.  I asked Cindy if we could try cleaning her some more with me helping to hold her so a more thorough inspection could be done.  Kristen was pretty calm as petted her softly while saying sweet chicken things to her.
Cindy saw some pieces of stuck on broken egg back there.  It seems like possibly an egg broke on the way out, dried, and caused the problem.  Cindy worked diligently cleaning things up.  I was worried that when I went to put the chickens to be that Kristen wouldn't be up on the perch but she was.  This morning I checked again on the coop DVR to verify she was still doing ok.  Cindy said this morning Kristen seemed to be doing well and was out and about with the other birds.  It's things like this that make me nervous about leaving the hens to go out of town for an extended period of time.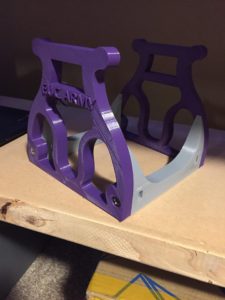 My 3D stands are selling well.  Last night I had one person order three stands, the last three of the the newer 2.1 models I had.  I may wind up putting some of the stands I am using for my own wheels up in the store if I can't keep up with demand. 🙂
And now with the plugs!
Ender 2 on GearBest EU Plug – https://goo.gl/v5bNRG $159 USE COUPON – "Enderen"
Ender 2 on GearBest US Plug – https://goo.gl/v5bNRG $159 USE COUPON – "ENDERC"
AnyCubic I3 MEGA – US WAREHOUSE – https://goo.gl/BKwhEu $329.99 USE COUPON – "I311GBUS"
AnyCubic I3 MEGA – CHINA WAREHOUSE – https://goo.gl/BKwhEu $315.99 USE COUPON – "I3MEGA"
CR-10 on GearBest – https://goo.gl/6M9DHi use coupon – GBCRUS
CR-10S5 on GearBest – https://goo.gl/3295a6
CR-10S on GearBest – https://goo.gl/rFztnC
GearBest US Warehouse specials! – https://goo.gl/nvL8uF
Get free cash back for stuff you are buying anyway – https://www.ebates.com/r/DUF391?eeid=28187
Esun Cleaning Filament – http://amzn.to/2zP3qwW
Creality Cr-10 3D printer – http://amzn.to/2w7yqIF
Dagoma Neva 3D printer – http://amzn.to/2hYNjoV
FlashForge Finder 3D printer – http://amzn.to/2sCllp7
Hatchbox white PLA filament – http://amzn.to/2rrIfMt
ESun white PLA filament – http://amzn.to/2sBRv42
The gimbal I use – http://amzn.to/2lJbZCa
My GoPro camera – http://amzn.to/2kkBUmJ
GoPro foam windscreen – http://amzn.to/2maDI2B
Selfie stick – http://amzn.to/2mJTJLL
Segway MiniPro – http://amzn.to/2lddTNt
Segway S1 – http://amzn.to/2A8CkQQ
DJI Mavic Pro – http://amzn.to/2kpV4Tk
My EUC protective gear
Killer 187 Wrist Guards – http://amzn.to/2p8y9m9
Triple Eight Helmet – http://amzn.to/2p8uuoH
STX Elbow Pads – http://amzn.to/2oNMrYJ
Killer 187 Knee pads – http://amzn.to/2oYtAHw
Looking for Gotway, Inmotion or KingSong electric unicycles?
Go here for free shipping! – http://ewheels.com/eucarmy
Check out all my sites!
http://eucarmy.com
http://duf.net
http://dufisthenics.com
EUC Army YouTube – https://youtube.com/eucarmy
Duf 3D YouTube – https://www.youtube.com/channel/UCBnqqxnkBqc5ISDQRr0YkiA
Social media
Instagram – @duf67
Twitter – @duf67
Cindy's site – http://fitfarmchick.com
Cindy's YouTube channel – http://youtube.com/fitfarmchick