So Friday evening I hung out with Shugs and the dogs at Ali's place for a few hours.  We drank a couple beers, ate pizza, and watched some baseball on the big 73 inch DLP tv that just had a new lamp installed into it by Shugs.  It really brightened up the pic on the set.  It was nice to just chill and shoot the shit.
Running the next morning was a challenge after drinking a few beers the night before.  I wore my new (to me) Forerunner 301 GPS that I bought off Ebay.  It has the same bulky form factor as my prior Forerunners but with updated electronics.  The GPS seems more accurate and as a result it confirmed I am slower than my old Forerunner said I was.  It's ok.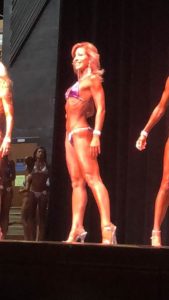 So Cindy was over on the east coast participating in what was up until this point a secret activity.  She was competing in a bikini/fitness competition in Boca Raton.  She agreed to do it after encouragement from her friend who had done her first competition in November.  She has been working hard for a couple months training, dieting, and doing all of the other unfun stuff required for such an endeavor.
Of course she was apprehensive about getting on a stage to be judged wearing next to nothing but I was confident she would do well as her fitness level is great and her personality shines through.  When she sent me a picture after her heavy spray tan was applied and her make up was done it was a pretty shocking transformation, she looked great.
The actual judging occurred Saturday morning but the "show" in front of an audience was not until Saturday night.  During the show is when you actually find out how you did.  Later in the night I received a text from Cindy with a pic of her holding three trophies.  She placed in three different categories which is amazing for a first time participant.  I told her I was very proud of her.  She couldn't believe it.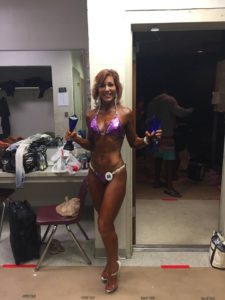 I tried to stay up until she came home.  I was up playing WoW until 1:30 AM.  She rolled in the door a little after 2 AM.  I awoke and gave her sleepy congrats.  Of course she was beyond excited, even with being exhausted. It was quite the accomplishment.
Despite going to bed so late my body awoke about 7:15 Sunday morning.  I closed the curtains to let Cindy sleep as I went out and tended to the chickens and a few other to do's.  She slept until after nine which is unheard of in Cindy's world.  One of the things I did was undo a smart switch install I did on the pool light.  I NEVER use the pool light, I thought if I installed a smart Wemo switch I could put it on a schedule so we get cool pool lighting in the evening for an hour or two.
Well when I wired the switch in I didn't read the instructions. The old switch had a black wire, a white wire, and a green ground wire.  The Wemo had a green, a white and TWO black wires.  I made an on the fly decision to simply connect the two black wires to the black house wire and match up the other colors.  The switch appeared to have power and I was even able to configure it through the app.  I assumed the pool light was working but it was hard to confirm in daylight.  After the sun had set I hit the switch and was disappointed to see the pool was dark.
I did some digging and evidently for proper operation the switch needs a second black wire which is how most normal switch circuits are configured.  I am not sure why the pool light deviated from this.  I read online about people with similar set ups getting around it by wiring the white neutral wire directly to ground which evidently is a big no no.  It may get the switch working but it also has ther potential to cause other safety issues elsewhere.  So anyway the end result was me putting the old switch back in.  Imagine my thrill when I went to test it last night and it still didn't work…
So for a few weeks I have been gathering intel regarding when Zima was going to be released for another limited production run.  They brought back my favorite alcoholic beverage last year over the summer and it sold out very quickly.  Evidently I am not alone in my love of this great tasting beverage with a 5% alcohol content, which makes it go down very easily.  Anyway, I found out that they were releasing it again this year with an official launch date of today, May 7th.
I am part of Facebook group called Zima Permanent.  As the name implies, the desire of the group is to bring back Zima as a full time offering instead of seasonally.  I would think the sales would dictate that.  On this group I saw that some locations were getting their Zima shipments early.  I used a site called brickseek.com to search local Walmarts for Zima.  I found ONE location that supposedly had 114 units.  It was in Cape Coral, almost an hour drive away but I didn't care.  Cindy was down to take the dogs on a Zima treasure hunting trip.
So after the hour drive I entered the store with a short grocery list in hand that Cindy made which was in addition to Zima.  She stayed put with the dogs in the Prius.  I grabbed a cart and walked towards the beer and wine aisle with great expectation.  As I made my first pass down the refrigerated aisle I saw no Zima.  I didn't panic, it must be on an endcap or perhaps stacked in one of the main aisles.  I slowly circled around seeing other alcoholic items on display but no Zima.  I went back to the refrigerated aisle, three times, hoping I just didn't see the distinctive packaging, somehow.  Nope, no Zima….
I was dejected as I went around the store and grabbed the handful of other non-Zima items on the list.  After doing so I made one more return run towards the beer, but from a different side.  I suddenly stopped dead in my tracks.  There it was, a full five shelves of Zima 6 packs, in an aisle three our four away from the beer aisle.  Why it was there I don't know but I didn't care, I had found it.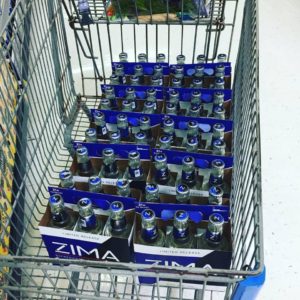 Now I have seen pictures of people doing ridiculous hoarding of Zima, one guy had 10 CASES in the back of his truck.  I was much more conservative, grabbing 12 six packs or three cases.  Yes it was a lot, especially when you factor in that each six pack was just under 10 bucks.  But again I didn't care, I found my quest item.
I was a little self conscious as I pushed my shopping cart full of Zima towards check out.  The clerk that assisted me in self check out said she used to drink Zima when she lived in New Jersey 20 years ago.  She had no idea they brought it back.  I told her she better get some while she can.
I returned to the Prius triumphantly.  I took up a good portion of normal dog laying real estate in the back as well as putting a couple six packs on the floor.  I drove with extra caution on the way home, conscious of the value of the cargo I was carrying.  Once we made it home I scattered my Zima around the house making sure I had various sources to pull from.  I am hoping three cases is enough to get me through this calendar year as I normally only drink them occasionally.  Cindy is a fan as well.  I look forward to many good Zima times during the rest of 2018.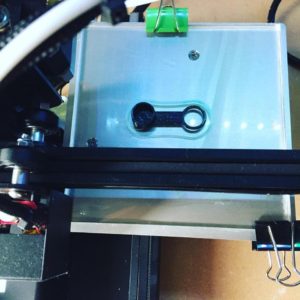 On Sunday I had my first ever successful 3D print with TPU which is rubber like, flexible filament.  I have tried printing the stuff multiple times on several printers with little to no success.  This time I tried on the Ender 2 which has a very short Bowden tube which I thought may work great with TPU.  My hunch was right as I printed a flexible cap for the charging port of my EUC.  I later printed a flexible Benchy boat which came out very well.  I am now thinking about what sort of projects would benefit from being able to print in this new flexible material.
Our roof is supposed to start having the metal installed today which should take a total of no more than three days.  Cindy and I are both looking forward to it all being completed.  I have one more related task to be contracted out, new gutters all the way around.  I hopefully have an estimate for that being done tomorrow.