So I eat my lunch at my desk everyday.  That lunch is always the same, which Cindy lovingly packs for me each morning.  Part of that lunch is a pint of almond milk which I pour into a plastic cup. I normally pour the milk into the cup and sit it on the top portion of my stand up desk.
Another cog in lunch is my cottage cheese mix which has a foil lid. Yesterday after pouring my milk I turned my attention to taking the lid off the cottage cheese.  The adhesive was being a bit stubborn so I had to apply extra force to remove it.  As my strength finally overcame the glue the foil tore off suddenly, leaving the remaining force to send my hand flying towards the desk, and the full cup of milk.
I have very quick hands, perhaps a byproduct of juggling.  Without thinking I quickly grabbed at the cup to hopefully avoid disaster.  Unfortunately my hand grabbed low on the cup, the weight of the tipping milk had already set the disaster in motion.  I had a tsunami of almond milk spill all over my desk as well as my keyboard and phone which got knocked down in the flurry of movement. I also had milk soaked pants and shoes.
I sat there stunned for a few moments at the mess before I quickly started moving things out of the way of the almond milk waterfall.  I was most worried about the phone and keyboard as you can imagine.  As I tipped the keyboard upside down a steady stream of milk flowed out of it.  Clean up of the area consumed at least a half roll of paper towels, first to absorb the milk, then a second set soaked with water to do a preliminary cleaning, and then a final round, using Windex to make sure the residue was gone.
The keyboard also got blown out with compressed air as further remediation.  Surprisingly it still appears to work although the keys definitely have a bit more resistance in their feel than normal.  Rest assured I will be much more careful with my milk placement from here on out.
This morning walking up the steps to the back door of the office I had another case of the dropsies.  As I was fiddling with the key to the door somehow my lunch box fell out of my left hand and proceeded to roll down 5 stairs, losing it's lid in the process.  Luckily all of the food and almond milk managed to stay sealed and intact.  Sure the spoon got ejected into the mulch but I picked it up before 5 seconds expired, meaning it is good to go.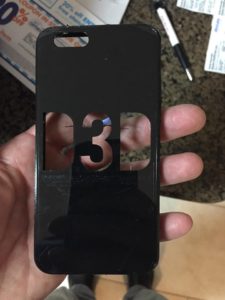 Last night I finally successfully printed a phone case out of flexible filament, something I had been trying to do since very early in my 3D printing hobby.  The print turned out well.  I need to test fit it on my phone although I don't plan to use it full time.  I paid a lot of money for the Mous case I have on my Iphone 6 and it does a great job.  However I still want to verify that what I printed actually works as I hope.
A buddy of mine from high school posted a picture of some farmland with real estate signs lined up in front of it.  Evidently the farm has been sold to a developer for houses.  When I looked at the picture further it looked very familiar.  Then it clicked, this was the farm on Hampshire Road, the road I grew up on.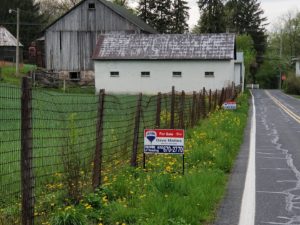 I immediately felt a sense of remorse and nostalgia sweep over me.  This farm was something I rode my bike past countless times as a child during my endless rides to Gouglersville and Colonial Hills bowling alley.  It always looked old and somewhat dilapidated but there were always animals in the fenced in field.  Seeing that property destined to become another victim of suburban sprawl is sad but not unexpected.  The road I grew up on has transformed incredibly over the last four decades but I guess that can be said of just about anywhere. Still, it makes me sad to see this staple of my childhood fade away.
The metal started getting affixed to the roof yesterday.  Unlike the rip off which had more than dozen people involved, installing the metal is a much smaller crew of only a handful of guys.  They got maybe a third of the roof covered which I documented with a drone flight after work last night.  I am hoping to see a lot more covered tonight.