Yesterday I left work early to meet up with a rep from the company that did my neighbor's gutters to get an estimate to have ours redone.  I had the roofers rip off the 4 inch gutters that I installed myself, poorly, a long, long time ago.  The replacement gutters will be the bigger 6 inch variety and seamless which will be a welcome change as the joints in my install were a constant source of leaks as they aged.
I was surprised the amount of downspouts I need are about half of what I have currently.  The guy said with 6 inch gutters you only need one downspout for every roughly 40 feet of gutter.  The price quote was good, a little less than I was braced for.  Their lead time is 4-5 weeks which isn't horrible and should have gutters back on the house before rainy season arrives in force.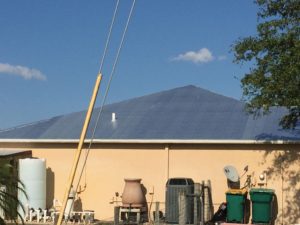 The work on the metal roof continued yesterday.  It looks like it is about 75% done at this point.  I have somewhat mixed feelings about the result so far.  It seems like the shingles that the house came with covered up a lot of warts with the decking below it. With the smooth metal panels on there you see every bump and undulation in the surface.  I also noticed last night when I was back a distance looking at the west side of the house the metal finish looked inconsistent.  It almost looked like three different types of metal were being used.
I sent a picture and a text message to the project manager, expressing my concern.  He said that all of the panels come from the same run of metal.  I couldn't get him to acknowledge the mismatch on the phone but I plan to follow up again today.  I am dropping a lot of money on a new roof, I'm not going to be very agreeable to letting things slide although I realize it could possibly be a big undertaking to replace mismatched metal. The other issue is the silver metal is not a great match with the existing house color, which we already knew.  I can definitely see a house repaint down the road that is more complimentary to the metal roof but that won't be happening this calendar year.
As I was typing this entry I came up with a possible reason for the apparent difference in the panels currently.  The metal has been sitting in multiple stacks in my front yard for over three weeks.  My theory is the panels that were on the top of the stacks are more dull in appearance due to exposure to the elements where as the panels below are untouched.  If that's the case, I would hope natural weathering would even out the appearance rather quickly.