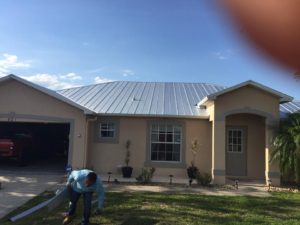 So they finished up installing the metal roof yesterday, applying the panels to the front of the house and capping off all of the seams.  I feel less stress about the panel inconsistency I saw on the west side as after a day the contrast already seems to be lessening, making me think it was just some panels being directly exposed to the elements while others weren't for three weeks.
I did not see the same variation in the panels across the front of the house which was good.  I think everything will be fine.  I am looking forward to the first decent rain to get a sense of how it will sound in the house.  I expect it to be a sound I will enjoy.
I had a long day of work yesterday, having to do some work down at our Marco Island office after business hours.  If things went well I would have been done in 15 minutes.  It took me 90 minutes so you can draw your own conclusions.
So as high tech as our chicken coop is a couple days ago I ordered something to make it even more cutting edge.  The chickens are early risers.  Usually when we get up in the morning we see the hens bunched up in the corner looking at the house for any movement.  They want to be let out of the run and into their fenced area.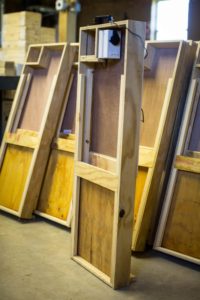 The other day I got an idea in my head that I floated past Cindy.  When we built the coop we incorporated an automatic door to the coop itself, allowing the chickens to escape in the morning while closing automatically at night to keep them safe.  My idea was to buy a SECOND unit and build it into the fenced in run, allowing the chickens to go out into the yard as early as they want without any interaction from us.  Ditto for securing them at night.  It could allow us to not require as much help if we are away as the chickens could have secured access in and out of the coop without us lifting a finger.
The unit should arrive early next week, I look forward to the next step in building the most futuristic chicken coop in southwest Florida.