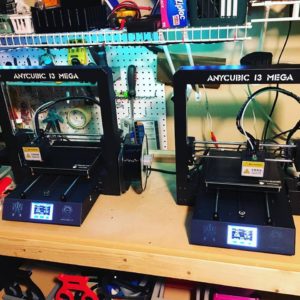 So my second AnyCubic I3 Mega 3D printer arrived yesterday.  My first one has become my favorite printer I own and a workhorse, responsible for the majority of my 3D EUC stand production.  I figured grabbing a second allows me to double productivity while giving me a back up if one goes down.  Since I already had one, setting up the new one took very little time.  Within 30 minutes I had it ready to go and it was printing it's first EUC stand.
I used the printer addition as motivation to do some overdue reorganizing of the stuff in there, especially the two work benches.  A lot of stuff got tossed out or put away.  The end result is a much cleaner looking workspace that had me going back to admire several times during the evening.
This morning around 4:45 AM we had another Elsa intestinal incident.  This time it was Cindy that felt/heard it coming.  She shot out of bed and yelled for Elsa to come outside.  Well evidently during the landing on the floor next to the bed some excrement was ejected.
We didn't bother going back to bed, after cleaning up the aftermath I did some work in the hobby room and also did the legwork to get this week's live stream converted into a podcast and uploaded/posted.  I also received notice last night that the podcast has now officially been accepted on iTunes, meaning you can now listen to the shows on the two major platforms.