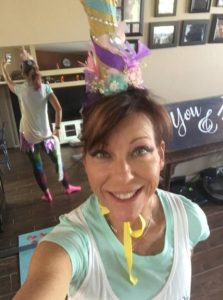 So after eating dinner last night we pushed off towards Victoria Park.  In the back of the Prius we had my 18L and Cindy's MiniPro.  We have ridden Victoria Park before during this time of year but I am not quite sure that we did it on Halloween itself.  Eh, how bad could it be?  Bad.
We parked about a half mile away as we normally do and headed in via sidewalk.  We had various obstacles along the way, namely people that weren't willing to step to a side and vehicles that parked in the grass and pulled in far enough to obstruct the sidewalk.  But hey, it's Halloween, we knew this was part of it.
Once we turned into Victoria Park it was just a mass of humanity, the type that typically makes me want to just head the opposite direction.  The Halloween music I was playing through the speakers in the wheel was immediately drowned out by thousands of people jammed into a small area.
Cindy threw together last minute a cute unicorn costume for herself.  My costune consisted of black make up around my eyes and my Soldier 76 jacket.  I thought with the temps in the mid 70's I wouldn't be too hot.  I found myself sweating through my shirt within the first 15 minutes.
I brought the 18L with me because I thought it would be fun to play music as we rode.  I didn't really give much consideration to how it would be navigating the large and heavy wheel through a sea of people.  It got very tiring very quickly trying to ride slow along with having to stop and start countless times due to a lack of space.  Cindy had a much easier time of it on the MiniPro than I did.  The crowd was so thick in spots that I really got to see nothing except the bodies all around me that I was trying to avoid.
At one point I dropped the wheel when a little girl was walking at me while looking the opposite direction.  I immediately stopped but as I was dismounting she bumped into me, causing the wheel to fall on it's side.  Luckily unlike Gotway wheels, which will immediately spin up and bounce around like a bucking bronco in that situation, the KingSong immediately shuts off once it crosses 45 degrees.  Nobody was hurt and of course my immediate reaction was frustration at the kid but I quickly corrected myself, knowing that I was the one riding a wheel in conditions that were not good.  People in large quantities are always going to result in these types of situations.
Eventually we got into some streets that weren't quite so congested which was nicer, allowing us to roll more freely. As always we got countless comments about our vehicles.  Most people have just never seen an electric unicycle before and are simply amazed by them.  Unlike years past, I made no fuss when Cindy asked if I was ready to leave around 45 minutes after we got there.  It just was not that much fun.  We both agreed that in the future, riding there sometime the week prior to Halloween is the way to go so we can actually enjoy the experience without having to focus all of our attention on avoiding human pylons.
Donald swooped into SW Florida last night, ruining Halloween for all of the unlucky kids whose parents felt being in an arena with the Supreme Big League Leader was more of a priority.  As always he basked in the chants of his fanatical followers and got them riled up with his anti-immigrant barbs.  His most impressive statement was calling the part of the constitution that deals with our laws regarding immigrants as "crazy".  It's awesome when individuals cherry pick what parts of doctrines they embrace.  While these people hold the Constitution up as the holy grail when it comes to the second amendment, when the same document offers protections for immigrants, you know the people that founded our country, the Constitution no longer is sacred.  I swear even though I have no memories of the decade I was born, in many ways it feels like a large portion of society has regressed back 50 years, courtesy of the most awesome, incredible, awesome, I mean really, really awesome President this country has ever had.