So I looked with trepidation at the annual tree trimming task as the weather forecast was not agreeable at all.  With forecast temps in the high 80's I knew it was going to be rough going.  I wasted no time Saturday morning, I was out in the yard shortly after 7, hoping to enjoy at least a couple hours of temps in the 70's.  It didn't take long until I was sweating through my shirt.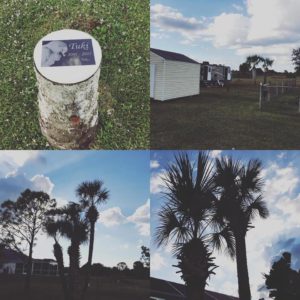 This year Cindy was home to assist me with the task and it was a tremendous help .  So although there wasn't much she could do to help me avoid hundreds of trips up and down the ladder or me putting myself in perilous positions to reach the branches on the very tall trees, she still saved me tons of time.  She used the tractor and the yard cart to take debris back to the fill pit as I kept cutting.  Her doing so made phase two of the project for me MUCH less lengthy.  I only had to make about a half dozen trips to the fill pit with the Tacoma and we were done.  As expected I was beat but all in all, Cindy's help made a huge difference.
We even had enough energy left over to move Cindy's RV to an entirely new spot in the yard, behind the small shed.  We are still actively trying to sell the RV but thought the new location closer to the house would be a nice change of scenery.
Saturday night I wanted to thank Cindy again for her help.  I took her to Pelican Larry's where we enjoyed a nice meal while college football was on all of the tv's.  When we got home we watched our Netflix rental, Tomb Raider.  It was definitely a film I would only rent but it was entertaining enough for a B grade.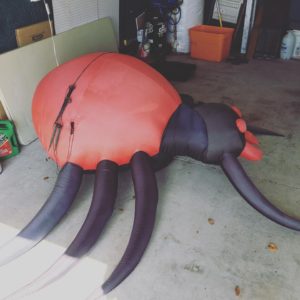 Sunday morning Cindy got out on the tractor to do a quick speed mow while I paid the bills.  I also went out in the garage to work on resuscitating our inflatable spider which died on Halloween.  I was able to find a replacement blower unit but it had some wiring differences for the accessories.  I wound up having to swap just the motors and cut/splice the wires between them.  At first I was nervous that it would work but with some persistence I got everything swapped and connected.  I plugged the spider back in and was pleased to see him quickly spring to life, complete with spinning red lights and his articulated head movement.
Late morning Cindy and I pushed out for a ride at the Greenway.  I brought my One Wheel.  I decided to take a shot at one of the off road trails that I have tackled before on my EUCs.  I had one fall into some fountain grass when I encountered a narrow gully.  I also jumped off right before entering a large muddy area.  The ride was cut a bit short due to the path that connects to downtown Naples being under construction for six months as a park is constructed.  For whatever reason Cindy and I were in silly moods as you can tell by watching the video. We stopped at a sub shop on the way home and enjoyed a couple really good sandwiches.
I had one more task to complete Sunday afternoon, greasing the fittings on the front end of the tractor.  I am embarrassed to admit that I have only performed the important task only once before.  I think I neglected the job because my grease gun didn't fit the angles I needed to get on the fitting well.  I bought a flexible hose to make the task less of a headache.  I could almost hear the front of the Craftsman sigh in relief as I injected copious amounts of black grease anywhere I could.
I had another live stream last night.  It was a disaster.  Once again I had problems with Marty's audio where he was almost inaudibly low.  After scrambling for awhile we gave up and Marty dropped off.  I continued streaming solo until a little after 9.  I was/am very frustrated since I put a lot of effort into figuring out the problems in the past.  Despite using the same settings as I had previously, it just wouldn't work.  You can see the mess for yourself below.
Speaking of mess, that was the Eagles game last night against the hated Cowboys.  The Eagles were big favorites based on their strong performance against Jacksonville, the Cowboys bad recent performances, and the fact that the Eagles were playing in Philly.  What we got was the defense once again being a doormat, allowing the Cowboys, who have struggled massively on offense, to steamroll them up and down the field most of the game.  The team just doesn't have it this year, especially on defense.  With the hardest part of their season yet to come I am thinking a sub .500 record at this point is a very real possibility.