It's time for another annual blog recap and as always, the past 365 days feels like it has flown by ridiculously quick, a by product of being around for more than a half century. So as is customary let's list the goals from last year and see how I did at hitting them.
Home improvements, getting the pool rescreened – yep got that done for a premium hurricane price.  I was happy with the work but was unhappy when Sadie decided to rip through one screen to get outside and damaged two others along the way.  I found out the guy that rescreened my pool cage 5 or 6 years ago is now going to jail for working without a license and grand theft.
We, or I should say Cindy, actually accomplished a project that was actually talked about for 207, redoing the vanity in our master bathroom.  My major role in the project was just to finance it as we bought a nice double vanity from Costco.  Cindy did the majority of the demo and reconstruction that was needed to make space for the double vanity.  We paid her neice's boyfriend to do the plumbing work.  It was odd for me not being very hands on for the project but the end result was good.
Health – stay fit, keep running – Well yes I continue my normal fitness routine and have still been running although not as consistently as I would prefer.  I will talk more about my 2018 health fun later.  I did finally get glasses for distance vision although I don't wear them as often as I should.
Expanding YouTube efforts – I have definitely been pushing hard on that.  Last year I had 3000 subscribers and I am now pushing towards 5000.  However the YouTube revenue has not grown proportionately due to the various advertiser issues that they have had this year which has cut revenue for most content creators.  I am still making more than last year however and continue to get rewarded by my Amazon Associates affiliation.  I now have well over 1000 videos on my channel.
Growing my hobbies – that indeed has happened for both of my main hobbies, 3D printing and PEV riding.  I now have seven 3D printers and opened up an online store in April where I have been selling 3D printed EUC stands pretty successfully.  I predicted I would not buy any EUC's in 2018 but that proved to be wrong with me picking up a KingSong 18L although we did also sell Cindy's Inmotion V5F. However my riding hobby went sort of crazy in this past year in other ways.
Earlier in the year we had a full size Segway transporter that we were given by a friend.  It had bad batteries and no key but less than 30 miles on it.  I spent about $1000 getting it running.  However it wasn't very practical and I wound up selling it roughly six months later on Ebay for more than I expected, to a guy in Kansas no less.  I am not sure what exactly set me down this path but in 2018 I started getting interested in non-EUC electric vehicles in a very big way. In addition to fixing the Segway, I bought a One Wheel, a Meepo electric skateboard, a 40 mph Dualtron scooter, and a Backfire Ranger X1 all terrain skateboard. I'll talk about them more later as well.
Financial goals – I mentioned nothing real specific except maybe starting a Roth IRA and continuing to pay down the home equity loan on the house.  I did not start a Roth but I have opened a stock trading account with Robinhood.  It's the first time in 15+ years I have been buying individual stocks.  I am only doing it on a very limited basis and as usual, I came in at the exact wrong time as the market has tanked majorly in the past several months.  I also converted my state retirement benefit from an investment plan where you have a lump sum of money at retirement to a pension plan where you get a monthly benefit until you die.  If I live a reasonably long life, the pension gives me a significantly higher monthly revenue stream.  Since I am now in my 19th year at my job I felt like the finish line was close enough that I should lock that benefit in.
Road trip – Nope no road trip this year.  The first seven months of the year I was buried in work commitments with a major software rollout where we migrated most of our back end systems to a cloud based vendor.  After that we just had various things coming up that never allowed for us to look at blocking off 10 days to go drive somewhere.  I also still have this internal reservation about leaving the chickens without someone I know I can count on to take care of them. It's silly I know but we will talk more about my chicken attachment later.
Ok that covers how I did hitting my goals.  As usual it was a mixed bag of success and failure.  So let me try to recall and touch on some highlights and lowlights of the year.
Early in the year I was treated to an event I never thought I would bear witness to in my lifetime, the Eagles won the Superbowl.  It wasn't only that they won the game but how they played to get there, getting through the playoffs with their backup QB and being the underdog in every game they played.  I could not have written a better script if I tried and the victory over the legendary Patriots was one of the best Super Bowl games in history.  I still get goosebumps just thinking about it.  Although this years team has gotten me plenty aggravated and angry at times I always have the SB victory to fall back upon, it was purely magic.
I addressed a few health requirements early as well getting my glasses, as I mentioned earlier as well as a colonoscopy.  The colonoscopy experience was not a fun one.  The prep, which is already miserable was made worse by the onset of a flu at the same time.  Drinking that prep liquid was intensely disgusting.  I wasn't thrilled when the doc said he found and cut out a benign pre-cancerous polyp, meaning I should come back for my next colo in 3 years instead of five or even ten.
I guess now is a good time to talk about my other mysterious health issues that to this day are undiagnosed.  It all started a couple years ago when I was doing dragon flags at the gym, a very difficult and strenuous move.  During the transition portion of one rep I got a sharp stabbing pain in my lower right side that instantly made me drop to the floor.  At that time I wrote it off and just stopped doing the move for a month or two.  A few times since then I have tried to reintroduce DF back into my routine but always had a recurrence of pain in that area.
So in 2018 for the first time I was starting to feel that pain doing other things at the gym.  Weighted pull ups, deadlifts, and even heavy shoulder press all at one time or another brought that sensation on.  I continued to just ignore it and scale back my heavy work for a short period of time and I would feel normal again.  However a new thing started to accompany the side pain, odd fatigue.  I suddenly felt really tired and low energy.  Doing cardio was very difficult.  It got bad enough that I finally made an appointment with the med clinic on our government campus.  My untrained opinion was maybe I had a hernia.
So the nurse practitioner sent me for tests, a lot of tests.  I had two huge sets of bloodwork, an abdominal xray, an abdominal CT, and a chest CT.  The blood work showed absolutely nothing significant and the CTs did not show a hernia which surprised the hell out of me.  The tests did raise some other questions.  On the xray the tech indicated I could have a partial bowel blockage although I had no symptoms consistent with that.  The CT showed a small likely benign nodule in one lung with another tech saying something about possible fibrosis which a pulmonologist later dismissed as highly unlikely.
So anyway the end result of a month of testing and medical interaction was nada, nothing determined.  So I have sort of taken a wait and see attitude about it, meaning see if anything gets worse.  I still can have episodes where the side pain starts to roll in and I back off as soon as I feel it.  I also still get more tired than I recall being before at times but it's better than it was. I can at least function normally and I resumed running a couple months ago.  It's not been a fun year health-wise, 50 is no joke.  I don't like feeling limited but I have been forced to modify my exercise program.  There is a lot less heavy lifting and a lot more cardio in there than ever before.
This year was a rough one for our pets as well.  After losing Tuki last year we had a bad time in the coop losing a total of five hens this year.  We first lost Peaches who had some sort of illness but we think actually died when she fell off the perch at night likely breaking her neck.  As a result we cut down the perch height by a foot and a half to make the possible reoccurrence less likely.
Several months later we lost Lucy.  She had swelling under her wing that we thought was from a sprain or strain.  We figured it would subside as it healed.  Instead it continued to grow.  I took her to the vet but the prognosis wasn't good.  We tried to treat her with antibiotics but it was too late.  Lucy was always very nervous and jumpy around us but as she declined she became very passive.  She would let us hold her as we tried to help her in a way that seemed like she realized we were trying to make her feel better. It was touching and sad.
In the past few weeks it was crazy.  The most shocking and tragic loss was Stephie, who was my favorite hen.  She was an outcast and picked on by most of the other birds.  As a result I gave her special treatment, giving her treats and food in secret, outside of the view of the other hens.  At night when I would go out to the coop to put the hens to bed Stephie would fight through the other birds who would be pecking at her to get up to the front so I would pet her.  It was so sweet and endearing.
One Saturday morning I went out to clean the coop shortly after 7.  The coop door to the outside was on a smart switch that opened at 6:30 AM to allow the hens outside to roam.  Stephie often was one of the first out.  Evidently somewhere in that roughly 30 minute time frame something got her.  The thing is there were no signs whatsoever of an attack.  We lost Cocoa to a coyote a couple years ago and it was obvious what happened with feathers everywhere.  This time there were no feathers anywhere.  It was even more aggravating because the coop DVR system, that I installed for this very reason, was not recording due to a problem so we had no footage to determine what happened to poor Stephie.  Now even weeks later I still think about her everytime I put the hens to bed and how I miss her fuzzy face.
In the week after Stephie's disappearance we lost two more hens, Pumpkin and Shadow to disease of some undetermined type.  Watching them both fade away just broke my heart.  My reaction to losing them was to block off access for the hens under the coop, where they would spend the majority of each day.  We are unable to maintain, rake or clean that area so I am sure it was extremely dirty which is bad for the birds.  Just last weekend I completed building two new covered areas for the hens behind the coop, both of which provide the shelter they like but are able to be cleaned by me without much hassle.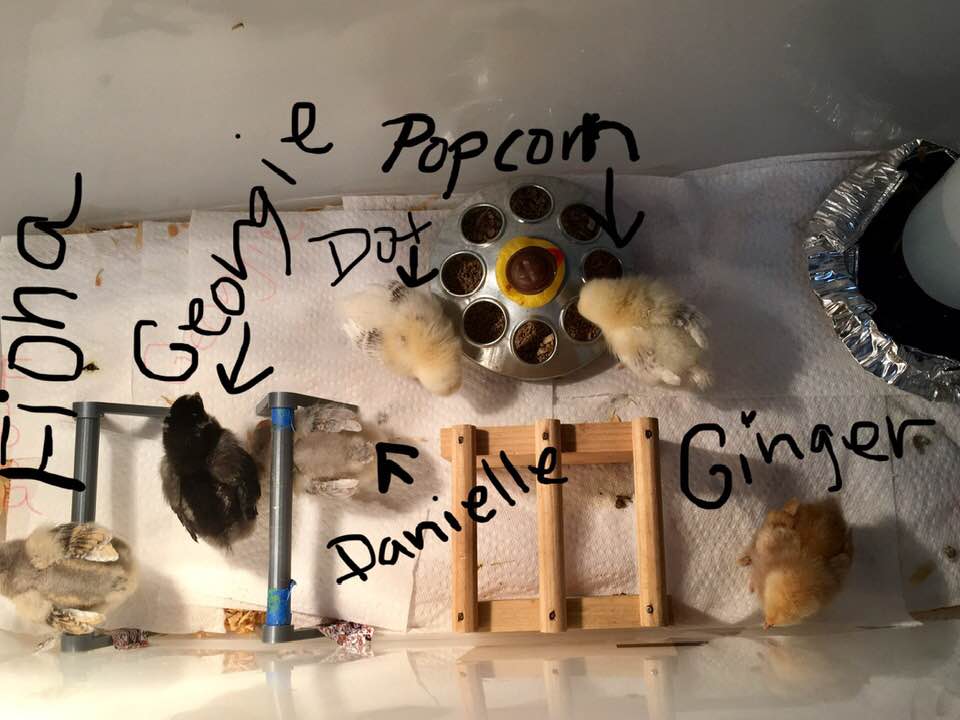 We did offset the losses with the adoption of six new baby chicks that lived in the guest bathroom for a few weeks before relocating to the garage.  The baby chicks are very cute and will add a new dimension to our 2019 chicken experience.  Cindy has been giving them the utmost attention and care.
We also have had a rough year with Sadie.  She was diagnosed with a malignant tumor on the roof of her mouth a few months back.  Ali and I agreed to have it treated aggressively.  The tumor was cut out and followed up with radiation treatment as well as a melanoma vaccine for dogs.  The cost of the treatment has now crossed into the five figures mark. Thank goodness years ago we decided to take out pet insurance on the dogs.  Doing so greatly minimizes the financial impact of treatment for your animal and gives them the best chance for care.  So far the prognosis has been good and Sadie seems happy as ever.
At the end of 2017 Cindy had just bought a 26 foot trailer.  At the time the primary intention was for it to be her space, her "she shed".  As the year progressed and the payments for the RV rolled in we came up with another option for Cindy to have her space.  We took the bed out of the guest bedroom and Cindy turned it into her own domain.  My only stipulation was that we needed to be able to put our inflatable bed in there without much hassle if we have guests.   We have been trying to sell the trailer unsuccessfully so far.  It is a nice unit and it is fun to hang out in it but it just isn't going to get the sort of use that merits the expense.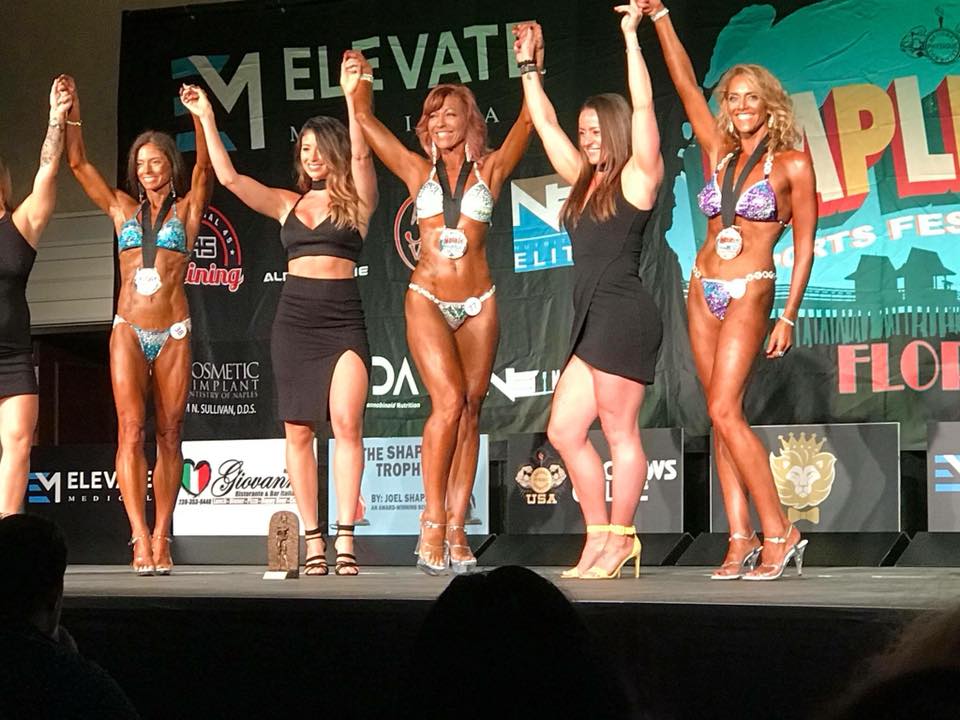 Cindy set a goal she accomplished in 2018, twice.  She competed in two bikini competitions and did quite well in doing so.  Not only did she compete but she put in countless hours creating the bikinis that both herself and her friends wore in the show.  I was very proud of her for all the hard work, discipline and dedication it took to prepare for the event.
The roof was finally replaced mid-year after sporting a blue tarp for around six months after Hurricane Irma.  The metal roof that was installed should last longer than I will although the house color probably needs to be changed at some point to better match the silver metal.  I also had all of the gutters professionally replaced, ripping out the gutters I unprofessionally installed a decade and a half earlier.
We also got a new washer and dryer set after our LG front loader washer spun a bearing that I did not feel like fixing myself.  We switched back to a top loading Samsung set which I have been very pleased with.
On the automotive front the Prius received the most attention this year.  With 220,000+ miles on the odometer it's battery pack failed.  Instead of paying roughly 4k for a brand new pack I opted for a rebuilt pack that cost about 25% of that.  It was a frustrating choice for awhile as the installer wound up putting in a total of three packs until I got one that wasn't defective but the car has been running great for the last six months or so.  It is officially the highest mileage vehicle I have ever daily driven.  In 2019 I have my sights on phasing out the Prius which I will mention in goals.
So like I mentioned earlier I went a little crazy buying electric vehicles this year.  Despite never having any real prior board sport experience I bought a One Wheel which is akin to a snowboard and two electric skateboards.  I can't really tell you why exactly I decided to add more types of electric vehicles to my collection but I am glad I did.  The One Wheel was the most difficult device for me to ride at first, partly because of a sensor problem that was making it shut off inconsistently.   Early on I had three bad falls that all resulted in my helmeted head hitting the asphalt.  However once I got over the learning curve I really love riding the board.  It is such a different experience from an EUC. The same holds true for the skateboards.  Although not as fun as a One Wheel they still deliver a much different riding experience.  Cindy has a skateboarding background so she was happy when I decided to try out skateboards as well.  We even bought Cindy a conventional skateboard for fun.
In the last couple months we received my most expensive PEV to date, a Dualtron EX scooter.  Thankfully the majority of the cost was offset by the sale of the full size Segway.  I bought this almost entirely for Cindy, despite the high performance specs of the scooter with dual motors capable of propelling you ate 40 mph.  The reason was to give her something she would be able to ride comfortably for long distances so she could go with me on my longer rides.  The Dualtron has a seat and cruise control which allows Cindy to ride in much more comfort than anything else we own.  It's funny now most of the time she is on the Dualtron I am far in her rearview mirror, I can't keep up.
My YouTube channel has brought me some prominence in the EUC community.  As a result twice in 2018 I was asked to test new EUC models, the Ninebot Z10 and KingSong 18XL from the dealer I buy most of my EUCs from.  I was honored by the request and had fun riding and reviewing the new wheels.  The videos I produced about them seemed to be well received by the community.
Speaking of the community, in 2018 I also launched a bi-weekly livestream "show" about EUCs with Marty, a fellow enthusiast.  The show has had some mild success and I even convert it into a podcast which is available on Itunes, Google Play, and Spotify.  A month or so ago I started doing the show solo which was a different challenge but it has gone pretty well also.  I look forward to building that audience in 2019.
Cindy has had a productive year as well battling through her health issues to compete in the bikini comp and maintain her fitness instructor career where her personality really helps brighten the day of people that attend her classes.  As always she works hard to contribute to our household in ways that make me smile.
A couple months ago I was surprised to find out that my dad and stepmom were actually considering moving out of western PA and back to SE PA to be close to my sister.  It's a smart move based on the workload of their current property and dad's declining physical ability to help maintain it.  I can only hope they manage to make it happen in 2019.
My sister also moved recently from Colorado to Texas.  Her and my brother in law have lived in more places than I can accurately keep track of.  I would never be able to be live with such regular upheaval but somehow they make it work.
Ok so that is all that comes to mind right now, let me lay out some 2019 goals.
Home improvements – I'd like to get all of the pool fasteners replaced and at some point the pool deck/pool is going to need some work.  I would pay someone to do it however.  I am getting to the point where the time/frustration versus money equation makes me more amenable to paying someone to do more tasks.  I need to do some more work in the chicken area to continue to try to raise the ground level in the area to reduce the amount of standing water that saturates it during wet season.
Vehicles – At some point I want to get some bigger tires/wheels on the Tacoma.  My initial thought was to do it when the factory tires wear out but since I drive the truck so little since I daily drive the Prius, I might just pull the trigger sooner.  I am also considering replacing the Prius with a pure EV next year.  At first I was targeting a Chevy Bolt but am now leaning towards a Hyundai Kona EV.  I think owning an EV would be pretty awesome and the new generation has range that makes commuting in one, even one of my distance a reasonable expectation.
Health – I have no specific fitness goals other than more of the same.  I expect my routine to stay less weight intensive and more cardio focused.  One of the things mentioned in the chest CT was some minor plaque in/on an artery.  Considering what happened to my mom, more cardio would be a good thing.
Vacation – My 2019 work schedule should be more normal this year.  As a result I would really enjoy heading back out for a road trip, provided I can secure adequate chicken care of course.
My financial goals include selling the RV and continue to pay down the HELOC while maybe grabbing some more stocks while the market is down to hopefully reap some rewards down the line.
I don't see a real need to buy more PEVs or 3D printers in the next year but you never know.
From a general standpoint I will continue to try to be more patient and less reactive to agitation, something I have always struggled with.  Without a doubt I have somewhat mellowed over time and find less interest in fighting battles if the end result has no real benefit to anyone.  I find myself quite content most of the time in our own small circle of existence, doing the things we enjoy, mostly shutting out the madness of the world around us as it unravels.
I'm sure 2019 will include it's own set of unique challenges but what would life be if there were no obstacles to overcome.  It's all about the journey, not the destination.  Thanks for being part of my year and I hope the next 365 days are some of the best you have experienced.