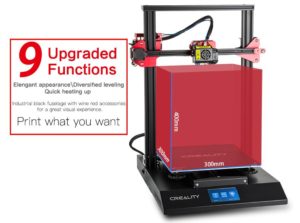 Yesterday my new 3D printer arrived, the CR-10S Pro.  This model is the latest and greatest iteration on the CR-10 that I just gave away to my co-worker.  I had a few hiccups putting the printer together including one part not being attached at all.  Luckily I had some spare screws to get it secured.
This printer basically has all of the upgrades that hobbyists have been doing to the CR-10 for years to make it better.  The first thing I noticed once I turned it on was how amazingly quiet the printer is, even when printing.  It is by far the quietest printer I own.  I love the new graphical touchpad interface instead of the archaic knob and low res LCD menus the old printers have.
The control box is now integrated into the frame of the unit instead of being an additional box that sits awkwardly to the side, taking up less desk space.  The heated bed now gets to temperature in about 25% of the time it used to take before thanks to the upgraded 24V power supply.  The filament detector and extruder are massively improved using all metal components instead of plastic.  It really seems like a great printer.  I am looking forward to digging into it more this weekend.
I have my next PEV arriving today, giving me even more things to play with over the weekend.  I have not publicly announced what it is yet but it should make for some fun tandem rides with Cindy.  Unfortunately I have to work late this evening so I will be lucky to have time to just yank the new toy out of the box.
This weekend I don't have any major projects on the docket outside of normal maintenance.  I am hoping I have ample time to dig into my latest tech/PEV additions in earnest.