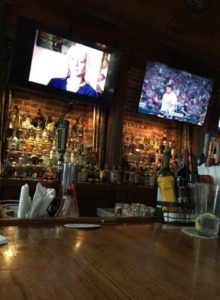 Wednesday evening after class I walked around and stumbled across a sports bar named Hattrick's.  I sat at the bar and enjoyed a very tasty grouper sandwich while watching various baseball games on tv.  I downed three potent Shocktops during the meal that left me slightly drunk but since I was walking I didn't really care.
After dinner I returned to the room to gear up for another ride, this time on the One Wheel.  I didn't mess around with riding the normal city blocks like I did on the 18L.  Instead I headed right to the River Walk area again.  I had a great time just exploring.  The One Wheel is the most fun PEV I have for slow and relaxing exploration.  During the video I talk about the current state of my Tesla problem resolution process.  I also speak about Daelin the Rooster.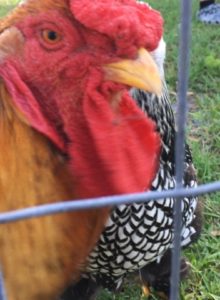 So for about a week Cindy and I have both decided it was time for Daelin to find a new home.  His constant attacks and bullying/mating with the hens had turned them into scared animals that do nothing but hide all day.  As soon as they would try to walk around the yard Daelin would come after them.  The straw that broke the camel's back was when even Kristen gave up fighting him and instead ran around the yard like she was in fear of her life.
So we were very lucky to find a friend of a freind that was actually looking for a rooster because they wanted to have baby chicks, something we do not want.  On Wednesday night when the birds were on the perch Cindy was able to grab Daelin and secure him in the cat carrier.  She then took him to her friend's place which wasn't far away and that was that, no more rooster.  I feel some sense of guilt as I know that it is unlikely Daelin will ever find a home that had the same level of accommodations but Cindy and I both felt we gave him chance after chance to prove us wrong that roosters are more trouble than they are worth in our situation.  Unfortunately he was unable to do so.
So anyway Thursday was my last day of the meeting.  I checked out of the hotel beforehand and it was very annoying for two reasons.  Evidently one of the two elevators on my side of the building was broken.  I had a luggage cart to carry everything because I had the two PEVs.  The elevator was horribly slow as everyone was trying to use it.  I waited at least 5 minutes for it to arrive the first time, only to see it was jammed with people and had no room for me or the cart.  I said ok, guess I will get the next trip and closed the doors.  So I wait another 5 minutes and AGAIN am greeted with a full elevator…..wtf.  I angrily pushed the cart to the other side of the building that had two working elevators and got down the 7 floors almost immediately.
The check out experience went ok except for the ridiculous $56 to park at the hotel for two days.  Sure the office will wind up picking up this charge but I think it is absolutely ridiculous for a hotel to not include parking a vehicle in what you are already paying for the room.
Day two of the conference went well which was more security based.  They had speakers from the FBI and law enforcement there.  The only negative was a presentation later in the day that went on for about double the time it needed to.  The guy just kept repeating the same thing over and over again in only a slightly different way.  I was extremely thankful when his time expired.
The conference broke up a little before four.  I drove there this time so I could head right out.  The drive home was uncomfortable.  After sitting in a conference for 7 hours, sitting another two and a half in the Ioniq was not good.  During the last half of the drive I found myself shifting constantly to try to relieve areas that were sore/hurting.  I also drove through four or five heavy downpours on the trip but arrived to sun and blue skies in Naples.
It was great to see Cindy and Elsa and be back in familiar surroundings although it was also a nice change of pace to get out of town for a bit.  I went out and visited the chickens, if hens could smile they would have.  They were out and about not having to constantly worry about being jumped from behind and having feathers ripped out of their necks.  It was a bit odd not having Daelin there but overall I felt relief, not having to constantly deal with his bullshit.
I also surveyed the damage to the chicken playground.  I had the heavy canopy propped open to get some sun while I was gone.  Well the storms had very strong easterly winds that were able to flip the roof all the way over.  The roof panels themselves look permanently damaged but I think I can get it repaired otherwise with some new hardware.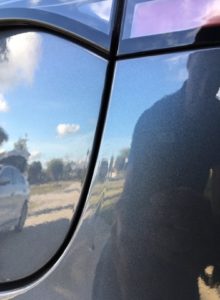 This weekend fixing the chicken playground is added to the list along with more solar panel work.  I have tilt mounts that should actually work with the bigger panels that I want to try out.  I also need to do a pretty in depth video on my thoughts about the Tesla ownership experience thus far.  That experience soured a bit more when a 3-4 inch paint drip was discovered near the rear trunk lid.