After a round of normal chores Saturday morning I headed back outside Saturday afternoon in the hot May air with temps in the low 90's.  I had two tasks to complete, the first was to repair the damage caused when the roof I made for the chicken playground got flipped over from very strong winds while I was in Tampa, I foolishly left it propped up before I left.  So when it flipped part of the frame got twisted and in the process mangled the plastic roof panels.  At first I thought the panels were unsalvageable but I thought I would at least try.
I removed all of the panels and laid them out in the yard.  I then started to press on them to try to get them back to being sort of straight.  I had surprising success in doing so.  They are far from perfect but good enough to merit not replacing them.  After panel straightening I had to reattach the section of the frame that got twisted.  I was happy with the end result and felt fortunate to be able to repair the damage.  In order to make the likelihood of a repeat incident I chopped about a foot off my prop pole.  I also plan to put some sort of stop on the hinge side to act as a safety to prevent the roof from being able to flip all the way over in the future.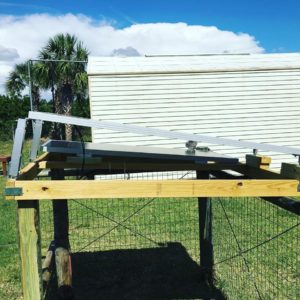 Although I was already getting sunburned and felt dehydrated, I turned my attention once again to the solar panels.  I had the correct adjustable angle mounts now so I wanted to get them installed.  I had to be a bit creative with the install to adapt it to work with my frame construction.  After maybe an hour I had the new brackets installed and was able to set the panel angle to 10 degrees which is the optimal setting for May in my zip code.  Now that I know I can make the brackets work I ordered another set to do the other 160 watt panel.
Saturday night we watched 7 Days in Entebbe, a movie based on a real incident that happened in 1976.  Some German PLO supporters were involved in hijacking an Air France plane that was destined for Israel.  They rerouted it to Uganda, the country of good old Idi Amin.  I was too young to remember the incident but it was interesting and suspenseful.  It was also a good reminder of why f'ing with Israel is never a good idea.  I'd give it a B.
Our Sunday morning was non-standard as I accompanied Cindy to an appointment to get her medical marijuana prescription.  We decided we would go to one of the dispensaries afterward but the didn't open until noon.  We killed the extra time by going to Rural King, Home Depot and Harbor Freight.  This was my first time ever going into a Harbor Freight store.  Damn it was sort of awesome, they have all sorts of tools, a greater variety than I am used to seeing at the home improvement stores.   I definitely know where to go if I want something unusual and don't want to wait for Amazon to ship it to me.
The visit to the dispensary was interesting, this was a brand new location that only opened a couple weeks ago.  Collier County still has refused to authorize medical marijuana "stores", despite it being passed in the 2016 election.  Thanks to Tricky Dick Scott, the state has language that doesn't give counties a lot of control over where these can be located so basically you have to allow them anywhere or nowhere.  Collier has opted for the latter up until this point.  Thankfully Lee County is more interested in carrying out the will of the people.
The experience was very professional and Cindy was helped by not one but two staff members that answered her myriad of questions.  Just like in Colorado, cannabis products are a cash only business for now.  Until the federal government legalizes it everywhere you will not be able to pay for the products with a credit card.  So Cindy got a few different things to try and we were out of there.  Without a doubt the cannabis industry has all sorts of opportunities for people to profit from it, including doctors.  I was somewhat surprised what it cost for the doctor to write the prescription and to renew it, which happens every 70 days.
Sunday afternoon I installed a new screen protector on the Tesla, it was expensive but seems to be worth the money.  The installation was much easier than with most screen protection and the quality of the product seems top notch.
I followed up with a video recapping my experiences with the car after a week which have been very positive except for the two issues of the misaligned steering wheel and the run in the paint near the trunk lid.  How those are going to get resolved is still a bit of a mystery.  My service request has been forwarded to the Naples remote tech group but I have no idea how or when they will be contacting me to do the work.
Last night I had my bi-weekly live stream which was dominated with Tesla talk.  The real time attendance was on the low side, not even reaching 20 simultaneous viewers.   I still enjoy doing it and will continue to do so unless viewership totally dries up.  I really do very little to promote the broadcast which is probably part of the reason for the stagnant numbers.
Tomorrow I have the day off.  I originally took it off to go to Dania Beach for the Tesla service but since that was handed off to remote techs I no longer have that trip on the docket.  I kept the day off to allow me to get whatever I feel like getting done, done.