So even though my Tesla service appointment at Dania Beach for Tuesday was cancelled and reassigned to the Naples Remote Tech group, I kept the vacation day.  Ironically, assigning me for remote service is supposed to be for my convenience, however since that was done last Friday I have received no further communication, so if I would have just kept my original appointment the issues may be resolved already.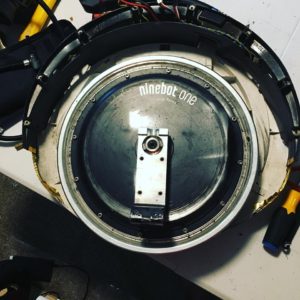 So of course I did not use the vacation day to relax.  Instead I dove right into a varied list of tasks which included a full weed whacking and mowing session which will remove the need for that chore this weekend.  I also installed the angle mount on the second solar panel so both are now pointing at a more optimal angle towards the sun.
I kept busy indoors as well doing 3D printer upgrades/repairs as well as ripping into my old Ninebot One E+, my first EUC.  A couple years ago I had given the wheel to Katie and Daniel.  It had sat unused for quite awhile so I am trying to resurrect it.  The tire was flat and the valve for the tube was somewhat mangled from being ridden on at a very low PSI.  I got the EUC disassembled to the point where I could remove the tire and tube but I have to wait for the replacement tube to arrive to reverse the process.
About 9PM I finally got to at least play a little WoW, something I hadn't taken a break to do in nearly a week.
The Wyoming news story on drones in Yellowstone aired last week with several snippets from my drone video included.  They chopped up my video and didn't use it to convey the point I was making but I already figured they would do that.  The weird thing is I heard from some employees here that they saw me on the local CBS affiliate in Fort Myers late last week in a different drone related story.  I can only assume they pulled the same clips but unfortunately I can not seem to find they video on their website to confirm what was aired.